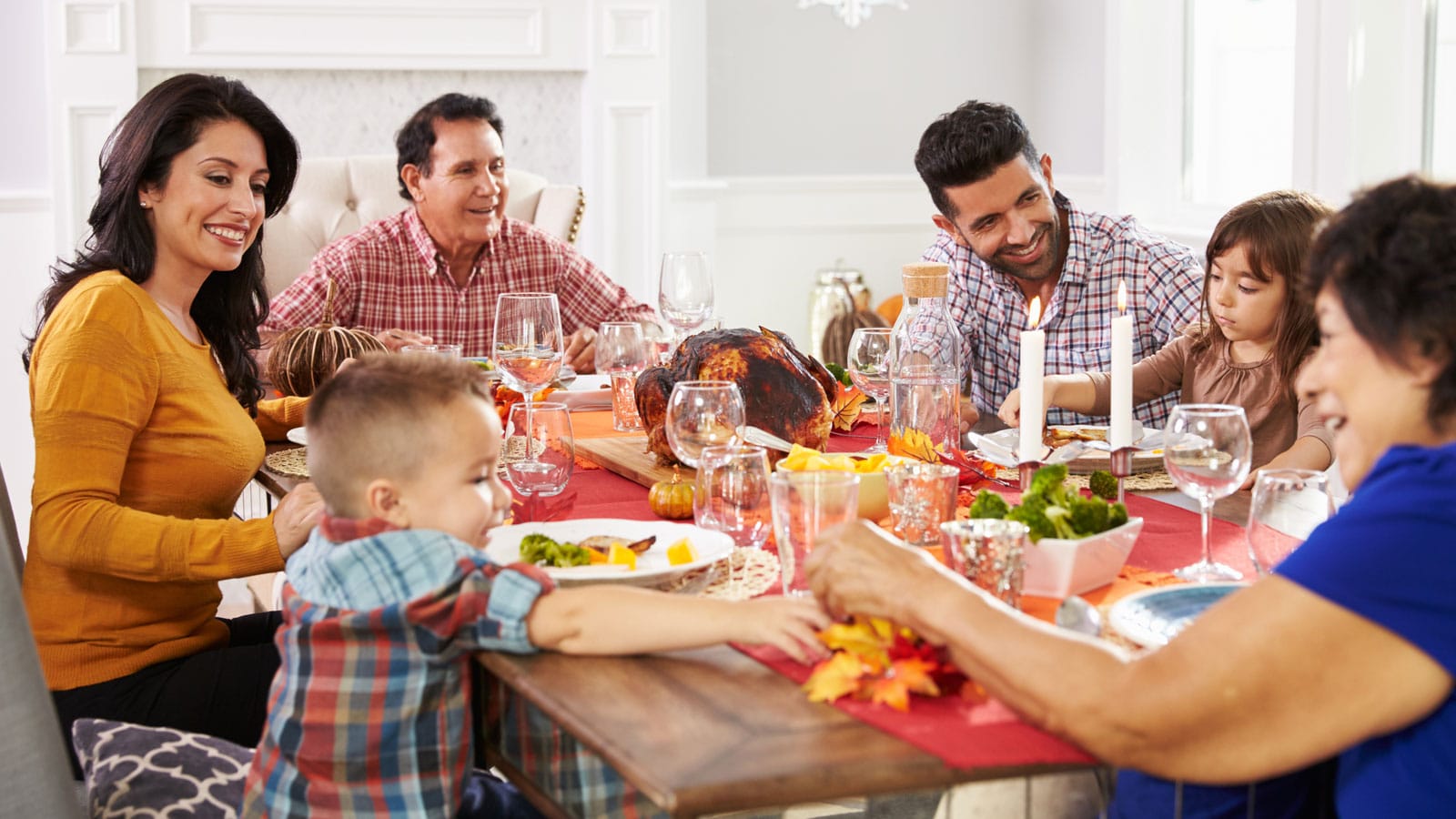 This time of year, we have a lot of things to be grateful for – but seasonal allergies aren't one of them! When we think of seasonal allergies we usually think of Spring, but 75% of spring allergy sufferers find themselves experiencing symptoms again in the Fall. If you've got symptoms like a runny nose, itchy and watery eyes, sneezing, coughing and even undereye circles, you might be a fall allergy sufferer. Here's what you need to know about fall allergies to help make this Thanksgiving allergy-free! 
Top 3 Tips For An Allergy-Free Thanksgiving
1. Invite Thanksgiving guests in – Not Indoor Allergy Triggers!
There's nothing like that crisp, fall air, but one of the first ways to control your seasonal allergies is to reduce your exposure to common outdoor allergy triggers. Though nothing may be blooming where you live,
common pollen allergens, like ragweed, can travel hundreds of miles and stick around into November
!
Some top tips are:
Keep doors and windows closed

Wear a mask when raking leaves or other outdoor activities that may stir up dust and airborne allergens

Avoid exercising outdoors at peak pollen times (usually between 5am-10am)
When you walk inside, take care not to bring those allergens in with you! Some of the best ways to leave outdoor allergens outside are to:
Take your shoes off when you come in (and here's

why you should always do this

, regardless of the season!)

Wash your hair at the end of the day to remove of outdoor allergens before sleeping

If you have a dog, allowing them to sleep on your bed can continue to expose you to allergens they bring inside with them (sorry, Fido!).
2. Reduce Your Indoor Air Pollution
You can improve your indoor quality by regularly cleaning and maintaining your HVAC system When cooler air hits and you turn your system on, settled dust can be pushed and cycled through your indoor air, triggering allergies. 
Have your system maintained at the end of the summer and the beginning of spring to make sure it's functioning correctly.

Change filters in your HVAC monthly (

and use quality filters

!)

Use a dehumidifier or air purifier to improve the quality of indoor air.

We all love the cozy smells of fall, but it's important that you

don't use scented candles

and

conventional air fresheners

. These products contain ingredients that can trigger allergies, like Volatile Organic Compounds (VOCs), and chemicals that can lead to respiratory diseases like migraines, allergies, irritation, and impaired lung function, as well as chronic conditions like COPD, asthma, and lung and other cancers. Instead,

here are some yummy fragrance combinations

you can cook up yourself!

Let plants help! Some plants, like bamboo palms and spider plants,

can actually help clean your indoor air

.
3. Don't Clean With Dirty Products
Everyone wants their home to be sparkling clean and tidy at Thanksgiving – not to mention the mess that is caused by the actual holiday! But did you know that:
Force of Nature To The Rescue!
Luckily, we're here to help you tackle all the messy fun of Thanksgiving, allergy-free! Force of Nature is the only multipurpose cleaning product you can buy that contains no allergens or irritants and is also an EPA-registered disinfectant. This hard-working cleaning system uses electricity to convert salt, vinegar, and water into a cleaning solution that kills 99.9% of germs and even deodorizes. Best of all, it's free from toxic chemicals and perfect for eliminating allergy-triggering cleaning products in your home. 
To learn more about how you can harness the power of Force of Nature as your allergy-free Thanksgiving secret weapon,
here's how to use Force of Nature to clean almost anything in your home including deodorizing, stain-treating and more
.
Be sure to check out our Eco-friendly Thanksgiving Guide, too!
And for more specific Force of Nature odor-beating techniques, check out these posts on how to: