Non Toxic Cleaning:
Our Top Asthma + Allergy-Friendly House Cleaning Tips!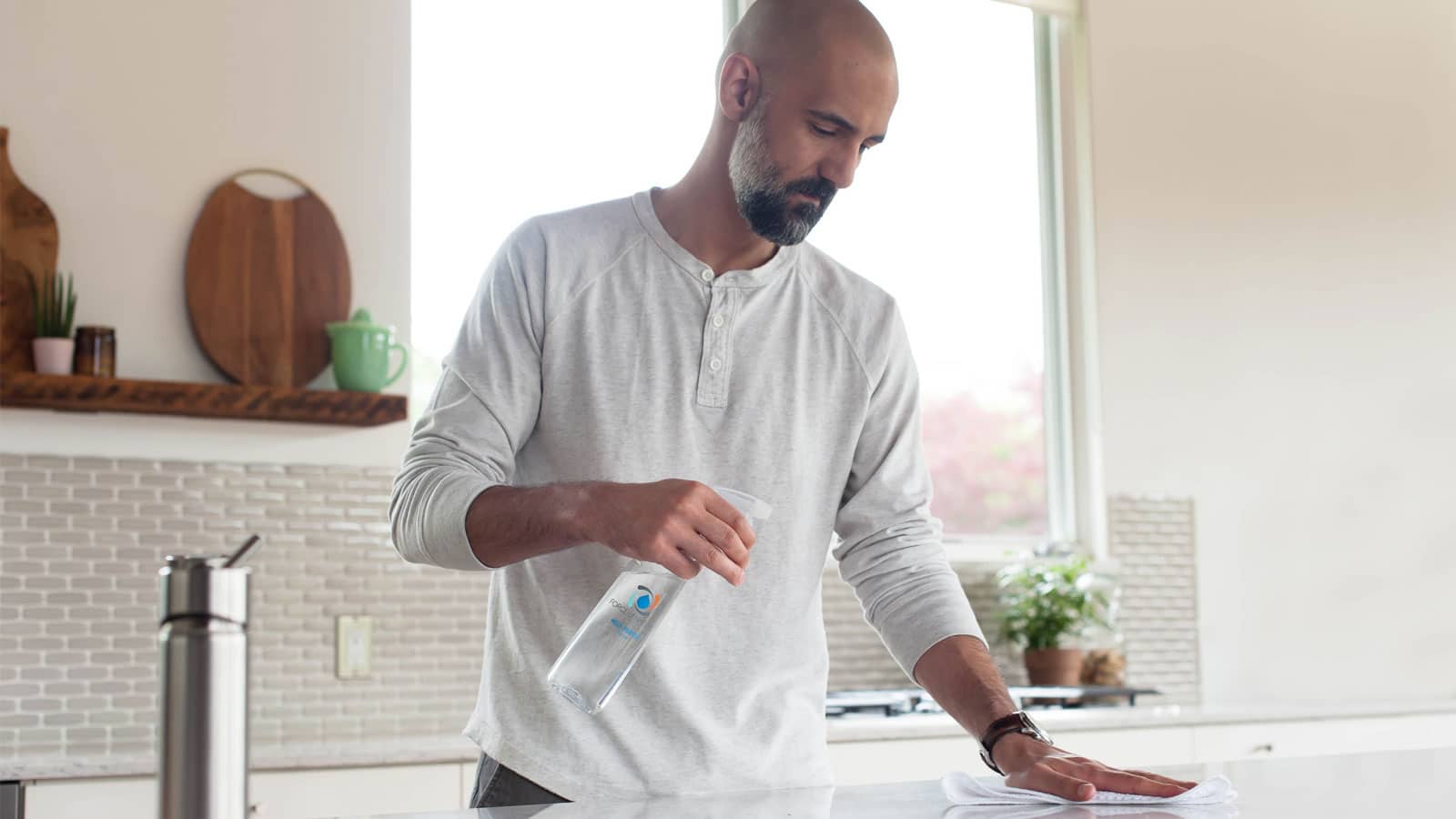 Everyone wants a clean house, but when you suffer from asthma or allergies, it's even more important to make sure your house is trigger-free. So what if we told you that some of the things you're doing to clean your house may actually be causing your symptoms? You may know of common household allergens like pollen, mold and mildew, animal dander and insects like dust mites and cockroaches, but some of the products we use to remove allergens can be allergens themselves. Read on to learn our top tips for asthma and allergy-friendly cleaning in your home.
Top House Cleaning Tips For Asthma + Allergy Sufferers
Avoid Harsh Carpet & Upholstery Cleaners
Before you break out your carpet shampoo and steam cleaner, you'll want to hear this: conventional carpet cleaners often include perfluorinated compounds (PFCs), which are highly toxic treatments used to repel liquids (like nonstick cookware). PFCs are terrible for our health as they build up in our bodies and can cause damage to our organs and endocrine systems and other issues. They also never break down in the environment. Conventional carpet cleaners are also highly fragranced (containing phthalates, which are highly toxic) and can contain toxins and allergens like ammonium hydroxide. 
Before you kick your steam cleaner to the curb, know this: Force of Nature is a powerful stain fighter and deodorizer that you can use in your carpet cleaning machine on colorfast rugs! As with any carpet cleaner, you want to start with a spot test to ensure the dyes used are truly colorfast. You can also use the Environmental Wellness Group's Guide to Healthy Cleaning to find a non-toxic upholstery cleaner. 
To learn more about how to avoid toxic carpets and carpet treatments, read our full blog post here. 
Laundry & Deodorizing
Keeping bedding and clothing clean definitely helps reduce allergen exposure – both from indoor allergens like dust and dust mites, as well as outdoor allergens like pollen that can come home on our clothes, shoes and school gear. Unfortunately, many laundry products contain respiratory irritants and residues that allow for mold and bacteria growth.
Your top tips for selecting an allergy-friendly laundry product are to (again!) avoid fragrances and use a toxin-free product for stain treating and deodorizing, like Force of Nature. 🙂 
Improve Your Indoor Air Quality
Keeping your indoor air quality up can really help reduce allergy and asthma symptoms. Start by using a HEPA air filter and high quality HVAC filters, which can reduce the amount of dust and allergens circulating around your home. Use exhaust fans periodically in the kitchen and bathrooms to help remove cooking fumes and moisture from the air.
Most importantly: don't use caustic cleaners or conventional air fresheners and candles! Conventional cleaning products contain harsh toxins that have been found to be as dangerous to our bodies as smoking a pack of cigarettes a day. Fragranced items can have a laundry list of toxic chemicals hidden within their ingredient labels (including phthalates which are used to make scents last), and even essential oils may not be safer, particularly for those suffering from respiratory conditions.
Get Rid of Mold and Mildew
Many allergy and asthma sufferers find that a humidifier can help ease their symptoms, but if you're not careful, they can also contribute to triggering symptoms. Humidifiers need to be cleaned frequently to avoid mold and bacteria growth. Rinse and replace the water in your humidifier daily and, every few days, spray it down with Force of Nature and swish around to eliminate nasty germs.
The added moisture in the air can lead to mold and mildew growth, which can then trigger symptoms. Both kitchen and bathroom tile and window sills are places that harbor mold, so frequently give them a wipe down with a toxin-free cleaning product that kills mold and mildew (hi Force of Nature!).
Our Favorite Cleaning Tip: Use Force of Nature
Force of Nature is the only multipurpose cleaning product you can buy that contains no harmful allergens or irritants and is also an EPA-registered disinfectant. This hard-working cleaning system uses electricity to convert salt, vinegar, and water into a cleaning solution that kills 99.9% of germs. Best of all, it's free of toxins and worry-free to use around your entire family, even those who suffer from allergies or asthma.  
Learn more about how you can harness the power of Force of Nature as your allergy-free cleaning buddy for pretty much everything: check out these Force of Nature cleaning tips for almost anything in your home including deodorizing, stain-treating, and more!
For more specific Force of Nature odor-beating techniques, check out these posts on how to: