Electrolyzed Water:
Daycare Cleaning Tips: 11 New Uses That Might Surprise You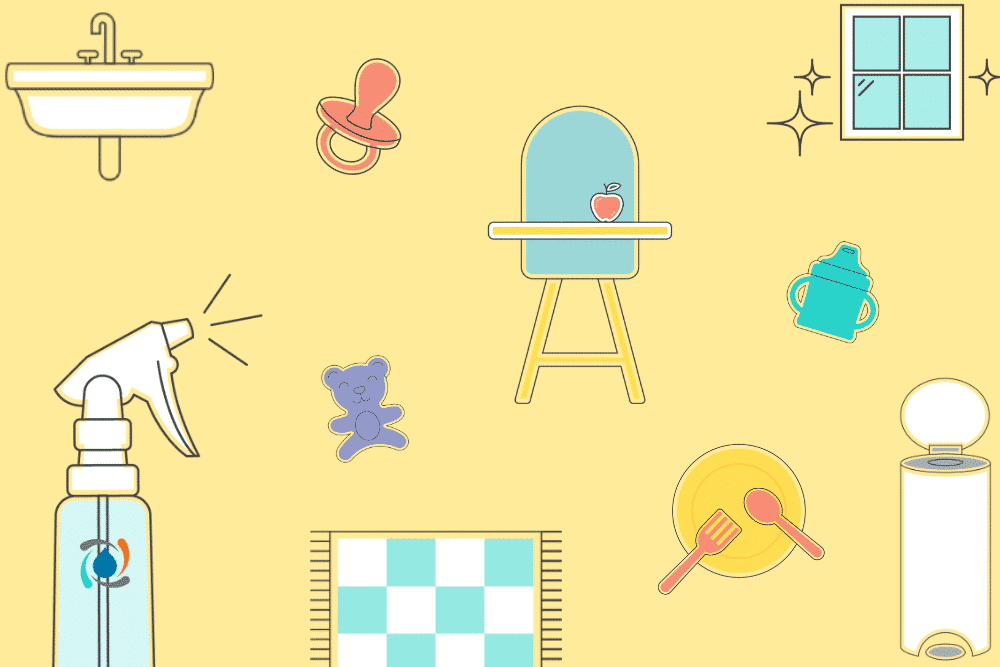 Force of Nature is a multi-tasking powerhouse that's going to be the hardest-worker in your school (besides you!). Beyond regular multi-purpose cleaning, deodorizing, and disinfecting, here are our favorite daycare cleaning tips.
Our Top Surprising Uses & Daycare Cleaning Tips
Baby gear like strollers, highchairs, carriers & bouncers
Kids serve ware & utensils: You shouldn't wash plastic serve ware in the dishwasher because the hot water can cause toxic chemicals to leach (more on this here). Instead wipe & rinse off any remaining food, then spray with Force of Nature and let dry naturally.
Rugs & furniture: Force of Nature is just as effective as Resolve with no toxic chemicals, which means you have a gentle but powerful tool in your arsenal! First test the fabric or rug in an inconspicuous spot to ensure the fibers are colorfast & let the test area dry before proceeding. Blot the spill or mess to remove as much as possible, spray Force of Nature, then wipe (repeat if necessary). If it soaked through to the back of the rug, you want to soak that too (and don't rinse).
Thermoses, straw cups & sippy cups:  All the little nooks & crannies allow liquids to fester and mold & mildew to grow. And as you just learned, you shouldn't wash any of these in the dishwasher. Spray thoroughly, shake, wait 30 seconds, then empty, then let dry naturally.
Sleeping Mats & Play Mats
Diaper changing areas: Talk about a place that needs to be sanitized! And one where you don't want any harmful fumes or residues!
Toys:  Whether it's Sophie, keys, Legos, trains or blocks, Force of Nature is here to keep them disinfected!
The fridge: Clean stuck-on messes & odors –  no need to rinse off food contact surfaces.
Humidifiers:  Talk about an impossible to clean item that really needs to be clean!  After each use, empty the humidifier, spray in Force of Nature, shake it around, wait 30 seconds, then empty.
High-touch surface cleaning: Door knobs, faucets, water fountains, stroller handles, you name it, it's got germs. Keep these surfaces sanitized with Force of Nature.
Chalkboards & whiteboards
We're proud to offer the kid-friendly, eco-friendly way to clean with no toxic chemicals. To learn more about Force of Nature, hop on over here.