Businesses:
A Business Disinfecting Spray – That Actually Works!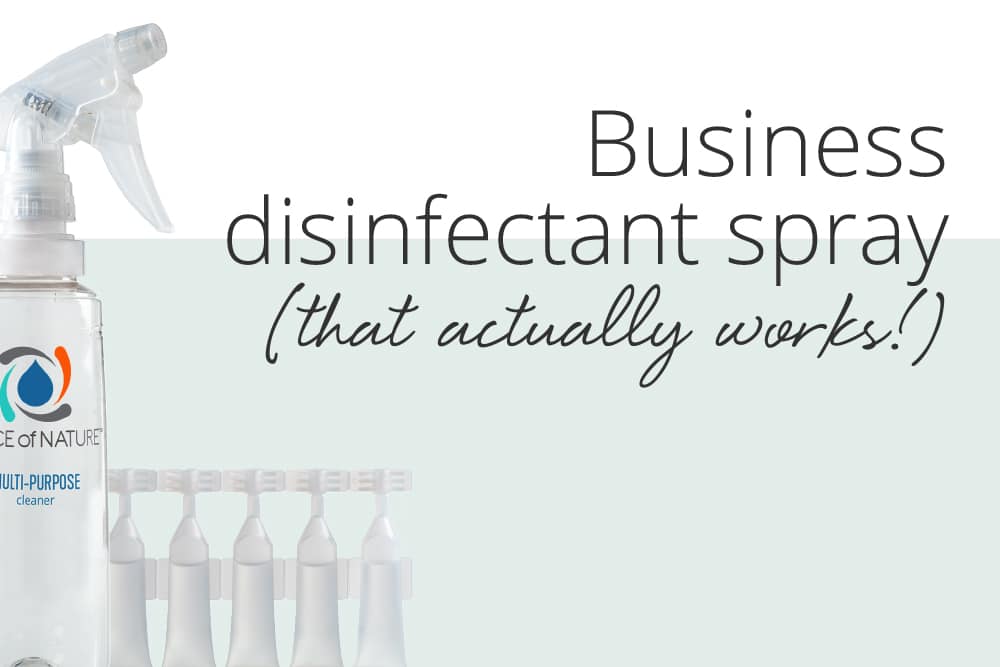 From restaurants to dentist offices, business owners are looking for effective ways to disinfect their businesses during the pandemic and beyond. When facing a shortage of disinfectant products, it can be stressful to find cleaning products that actually work – if you're lucky enough to find them at all! Luckily, Force of Nature provides an on-demand disinfecting spray that will help you keep your business clean and your customers and employees safer by killing sickness-causing germs. Here are the top things to know about Force of Nature, our EPA-registered disinfectant.
Top 5 Things You Need To Know About Our Business Disinfecting Spray.
1. You control your supply
One of the aspects we love most about our product is that it empowers business owners (and home-users) to make their own powerful disinfectant on demand, whenever it's needed. Force of Nature is a small appliance that uses electricity to convert tap water, plus a capsule of salt, water and vinegar, into a multipurpose cleaner and EPA registered disinfectant. We offer our capsules through convenient subscribe-and-save, so you never have to worry about cleaning and disinfecting products being out of stock, or having to stockpile and store large amounts of disinfectant at your business. And you don't have to worry about the price-gouging that we've all been seeing on disinfectants in stores and on Amazon. And get this – did you know that many cleaning products have a shelf life – in the case of bleach, it's as little as six months before it begins losing efficacy!
Not only is making your own convenient, but it avoids the need to try to stretch product supply by using disinfectants sparingly or diluting them, which can make them less effective and put your personnel and clients at risk.
2. It's an extremely powerful and effective disinfectant
Force of Nature is an EPA-registered disinfectant and sanitizer proven to kill 99.9% of germs, including Norovirus, Salmonella, Influenza A, Staph, MRSA & Listeria. The federal EPA has certified Force of Nature for use in hospitals, intensive care units, veterinary hospitals, daycares, schools, and more and has included the product on List N, the disinfectants approved for us against SARS-CoV-2, the virus that causes COVID-19. In independent testing, Force of Nature performed as effectively, or better, as conventional cleaning products like Scrubbing Bubbles, Lysol, and Formula 409, without harsh chemicals.
3. It's safe to use on almost any surface
Because Force of Nature does not contain caustic chemicals, like ammonia, you can use it as a disinfecting spray on virtually any surface, including sealed stones like marble and granite, without fear of etching or staining. Salons, gyms, and dentist's offices are just a few of the types of businesses that use Force of Nature to clean and disinfect the surfaces their clients and employees come into contact with.
4. You don't need to rinse it or wear protective gear to apply it
Running a business requires wearing enough hats – one of them doesn't need to be a hazmat suit! Many business owners and managers don't realize that they should be closely following the instructions on the label of their disinfectant products and that improper use can be dangerous or fatal. These precautions usually indicate the need for wearing protective gear while cleaning. Disinfectants can contain powerful chemicals, like bleach, which can cause chemical burns and injuries if used without protective gear.
Force of Nature contains no harmful chemicals or toxins – in fact, our active ingredient is the very same one that is produced by your immune system to fight infection and promote healing: Hypochlorous acid (HOCl). Force of Nature is 100% top allergen-free and is certified 100% skin-safe and best for sensitive skin by SkinSAFE, Mayo Clinic's allergy rating system. Used in medical applications for decades, HOCl is currently being used by dermatologists to treat irritation from the protective face coverings we are wearing during the pandemic.
Force of Nature does not need to be rinsed or used with protective gear.
5. It's affordable!
If your bottom line is the bottom line, you'll be glad to know that, at just .07/ounce, Force of Nature can save you up to 80% per ounce on your business disinfectant spray – giving you a gentle disinfectant at a fraction of the cost of other products. Natural or nontoxic products are often much costlier than conventional cleaning products and often still contain some harmful and toxic ingredients. The best disinfectant is one you can use regularly without fear of putting employees and customers at risk – even those with allergies, asthma, and other conditions that make them more susceptible to the chemicals in our cleaning products.
Learn More
As a small business ourselves, we're proud to offer a business disinfectant spray that can effectively clean and disinfect our workplaces without putting our clients and staff at risk from exposure to harsh and toxic chemicals. To learn more about the many ways Force of Nature can be used in your business – including in waiting and treatment rooms, on equipment and shared technology, communal eating spaces, bathrooms, and more – check out our blog, and learn more about our revolutionary device that converts water, salt and vinegar into a powerful, EPA-registered disinfectant.