Simplify Your Life:
Spring Cleaning Chores For Kids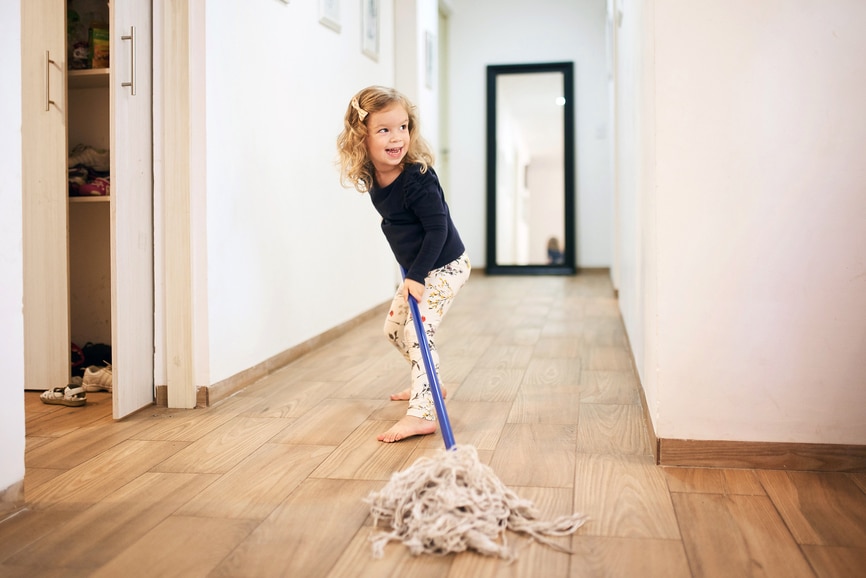 Spring cleaning sounds like it should be full of optimism and satisfaction, but it can feel more like drudgery and punishment! Well, it doesn't have to, especially if you enlist help. While it's easy to do everything yourself and ensure it gets done "right," letting your kids help with chores like cleaning is important. It teaches them life skills, reduces your stress and might even be a little bit fun, too. Here are our top cleaning chores for kids this Spring (and the rest of the year, too!).
Why is it important for kids to learn to clean?
We may think of cleaning as boring, but even very young children enjoy learning practical life skills like folding, sweeping and dusting. Some learning philosophies like Montesorri include practical life areas in the classroom for children to practice these exact things. In fact, research has shown that chores are a predictor of whether kids become healthy, happy, independent adults. Pitching in on chores helps kids feel capable, responsible and like they are important contributors to the family "team".
Cleaning in particular lets children practice important skills, and, maybe most importantly to us weary parents, appreciation for how much work goes into running a household. If you ever knew someone who was only just learning to do their own laundry while in college, you might agree that there's an advantage to learning these skills young!
Just as importantly, cleaning with your children gives you the opportunity to learn about & share with your kids the impact products have on our health.
Cleaning Products, Safety & Allergies
When you're cleaning with kids it's more important than ever to pick safe products, especially if they suffer from chronic health conditions like asthma and allergies. Our guide to choosing non-toxic cleaning products is a good place to start and if you have allergies or asthma in your family, you'll also want to check out information on the link between cleaning products and lung health.
How To Make It Fun
One last thing before we get tactical: make cleaning fun! Yes, it's possible. Here are some great ideas for how to up the fun factor, including cranking up the tunes, setting a timer and try to beat it and (how cute is this?) hiding coins or small prizes for them to find while cleaning!
A chore chart is a great way to encourage accountability without (as much) nagging. Here are some cute solutions for chore charts. Get your kids involved in picking one and building it or decorating it together!
Our Top 3 Spring Cleaning Chores For Kids (By Age)
1. Doing Laundry
Laundry detergents are some of the worst offenders when it comes to toxic products in our homes. Especially if your kids are helping, make sure you're using a non-toxic laundry detergent. Here's how to choose a non toxic laundry detergent – and 3 of our favorites.
Tasks by age:
Toddlers: put clothes in their hamper, bring them to the laundry room, put clean clothes away.
Preschoolers: match socks, fold simple things like dish towels and bath towels.
Elementary and up: sort laundry by color, spot treat stains, use the washer and dryer, hang clothes to air dry and actually put the clothes away (read: total laundry independence!).
2. Helping in the Kitchen
We all want our kitchen sparkling clean, but not at the expense of our health. To keep you and your kids safe while cleaning your kitchen, here are our top 3 swaps for your non-toxic kitchen.
Tasks By Age:
Toddlers: wipe down fridge doors
Preschoolers: set the table, clear their plates, help unload groceries, put away silverware and kitchen utensils
Elementary and up: load and unload the dishwasher, help with meal prep, wipe down counters, wash and dry dishes by hand, wipe cabinet and drawer pulls and oven knobs.
3. Cleaning Floors + More
This seems easy, but cleaning floors is one of the worst areas in our home for exposing us to harmful substances. Not only does our flooring itself often contain toxic ingredients, but so do many of the products we use to clean it.
Tasks By Age:
Toddlers and Preschool: make beds, clean up toys into bins, practice sweeping
Preschoolers: water plants, feed pets, clean their rooms, wipe windows and dust surfaces, wipe down baseboards
Elementary and up: refill coffee maker and water pitchers, weed in the garden, mopping and sweeping
What about teens?
Teens can help with all the cleaning chores younger kids can do, but you can also bring them in on some of the behind-the-scenes areas of cleaning and running a home, including budgeting for groceries, making meals and bigger tasks like mowing the lawn, cleaning and vacuuming your car and (best of all!) babysitting!
Learn More
When it comes to chores for kids, don't forget to let them take ownership of the tasks and surprise you! Spring cleaning is the perfect time to jumpstart a new cleaning routine with your kids as the heroes. And you have the perfect helper with Force of Nature, our family-friendly cleaning appliance that uses electricity to convert salt, water & vinegar into a multi-purpose cleaner and disinfectant. Force of Nature is safe to use on just about any surface and is 100% free from harmful chemicals. Even though it has no toxic fumes or residues, Force of Nature kills viruses and bacteria as effectively as bleach, so you can assign your kids the bathroom-cleaning-chores without worry!