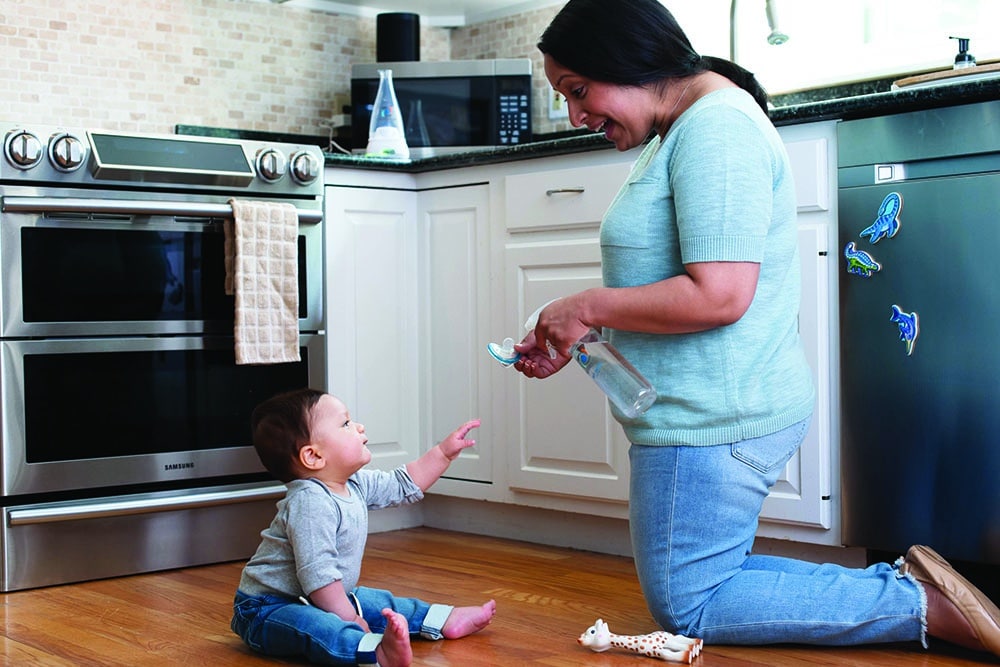 Who's excited to talk about non-toxic, natural floor coverings? Is it sad that we are
totally
excited? Let's break this down: flooring is easily overlooked, but it's an area of your home that you come into contact with every day. And some family members, like pets and crawling babies, get up close and personal with daily. There are some serious health implications to consider when choosing the materials you use for natural floor coverings – and for how you clean them, too. Here's what you need to know about choosing safe and natural floor coverings for your home. 
Top 3 Safety Watch-outs When Choosing Non-Toxic, Natural Floor Coverings
Fillers like plastic and synthetic rubber and toxic dyes in carpeting
These ingredients can contain compounds like
phthalates
, which are endocrine-disrupting and
Volatile Organic Compounds
(VOCs) that can irritate our respiratory systems. 
Treatments like fire retardants, antifungals, pesticides, stain and water repellents
Did you know carpeting can contribute to indoor air pollution?
Carpets and other floor coverings are often treated with hazardous chemicals in the form of antifungals, fire retardants, and stain repellents
. These treatments contain carcinogens like formaldehyde, benzene and other VOCs which are released into the air in your home.
Similarly, glues and adhesives used to adhere hardwood flooring or tile can contain a whole cocktail of ingredients like
fillers, plasticizers, thickeners, surfactants, hardeners and, even biocides to inhibit mold growth
. These VOCs can exacerbate asthma and allergies, so you should always look for an adhesive with the lowest VOC content and use the least amount possible.
The Best Natural Floor Coverings For Your Home
Luckily, there are some great brands creating safe, sustainable options for natural floor coverings for our homes.
Rugs
Organic cotton and sustainably sourced wool are going to be your friends in this department!
Hook and Loom
offer beautiful rugs in wool and cotton that are eco-friendly and free of dyes, chemicals, and latex.
Earth Weave Carpet Mill
craft 100% natural fiber carpets and area rugs that are made of either raw natural colored wool or dyed with organic dyes, with no toxic treatments.
Lorena Canals
create original designs for washable cotton and wool rugs using eco-friendly materials and safe, natural dyes. Did we mention they're washable? As in: they go in the washing machine? You're welcome. 
(Psst! Looking for a non-toxic play mat for babies? Check out
this roundup from The Gentle Nursery.
)
Tile
Search for natural stone tile material that can be unsealed, like porcelain or some types of slate, or ceramic, travertine, granite, soapstone or limestone tile that has been sealed with a non-toxic sealer – or may not require a sealer at all! Use unmodified grout to avoid latex additives that can off-gas after installation. For more on tile sealers,
check out this post
and don't forget to avoid toxic adhesive!
Hardwood
Look for suppliers who are transparent about disclosing the source and processing of their timber.
Green Building Supply
offer a range of bamboo, hardwood, and cork flooring made from eco-friendly materials. Their experts are a wealth of information on safer underlayment basics and adhesives, too.
Mannington
hold themselves to a high standard of safety, participating in responsible forestry and treating their hardwoods with UV and water-based finishes that do not contain VOCs. They're also certified by the FSC,
Forest Stewardship Council
, which certifies that they use environmentally appropriate, socially beneficial, and economically viable means for sourcing timber.
Learn More
We know how important (and overwhelming) it can be to select safe, natural flooring for your home – and we're learning right beside you. A great resource for natural flooring (and so much more) is the
EWG's Healthy Home Guide
. You'll find tons of information on what to choose (and what to avoid) for flooring in your home. And, of course, we're always here to help you learn more about how to make the safe choices for your family. More good news: once your natural flooring is installed, we'll help you keep it sparkling clean without exposing your family to harsh and toxic chemicals. Our revolutionary cleaning product, Force of Nature, harnesses the power of simple, household ingredients to create an EPA-registered disinfectant that can keep your floor clean enough to snuggle, crawl and play on.