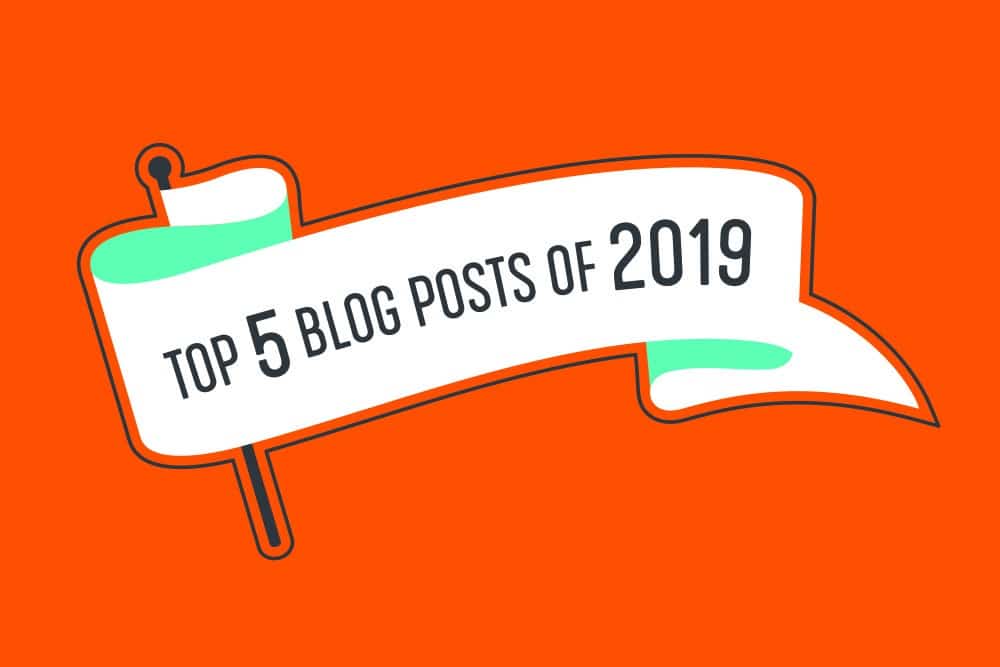 The Best of The Best! Your 5 Favorite Blog Posts of 2019
From a
Galapagos tortoise not being extinct after all to the fact that the earth is 5% greener than it was 20 years ago
, there was some good news in the headlines in 2019! Around here, our readers searched for all kinds of information on safe, non-toxic products in 2019 to help make the world and their families healthier. Here are the top 5 blog posts you loved in 2019. 
Your Top 5 Favorite Blog Posts About Safe, Non-Toxic Products  
From floor coverings to fragrances, we sure covered a lot last year in the world of safe products for natural and non-toxic personal care and cleaning! Here are the five posts that rose to the top for our readers.
1. No Poison At The Dinner Table: Our Favorite Non-Toxic Dinnerware for Kids
Because who doesn't struggle with the plastic vs. giant mess dilemma? Unfortunately, the adorable plates and utensils you'll find aimed at kids have some serious downsides when it comes to health and safety. Because plates are often heated in the microwave, it's really important that you know what they're made of and choose safe options to avoid accidentally exposing your kids to some pretty serious health risks.
This post
helps break down the challenge in finding safe products for dinnerware (like the problem with plastic!) and suggests our top 3 choices for non-toxic dinnerware. One we're really loving right now is Repurpose, a company also founded by a mom to keep families and our planet healthy. Their kid's dinnerware is super cute and made entirely from plants. It's microwave and dishwasher safe and free from BPAs, Phthalates, PVC, or PBDE.  We even snagged a promo code for you for 25% off their kid's reusable dinner sets – NONTOXICFN. Check it out!
2. The Truth About Fragrance Safety That Manufacturers Don't Want You to Know
Ah, the stinky truth about sweet-smelling fragrances. We often talk about avoiding fragrance when selecting safe products, because it's a simple way to avoid some very hazardous chemicals.
This post
digs deep into the fragrance industry and how manufacturers can use the term to avoid disclosing ingredients. 
"Manufacturers are not required to list their fragrance ingredients on product labels.  Often only one word, "fragrance", is used on the label and
can hide a cocktail of more than 100 toxic ingredients
. This is because fragrances are considered to be "trade secrets"."
3. Your Non-Toxic Dishwasher Detergent Guide (& 3 Of Our Favorites!)
Yes, it's hard to believe that a blog post about dishwasher detergent made it to the top 5, but we get it – we worry about exposure to chemicals on our plates and spoons, too!
This post
covers the key ingredients to look for (and which to avoid) for non-toxic dishwasher detergent and suggest a few safe products that we love to get you started.
"Dyes that make a dish detergent look innocently blue, yellow, orange, green aren't doing anything other than attempting to give you the perception that the product is more effective.  They don't actually make the performance of the detergent any better, and in fact introduce significant health risks that you'll want to avoid."
4. Carpeting: Avoiding the worst toxin in your home that's under your feet
A round of applause for anyone that actually searched for this, because it's certainly not the first area that comes to mind when searching for non-toxic products and recommendations. It is, however, very important, especially for children and pets who come into contact with our floor coverings (and the products we use to clean them) regularly.
This post
helps break down what to look for (and what to avoid) for safe products when carpeting your home – and how to clean it safely, too.
"In fact, the California Department of Toxic Substances Control has identified carpets and rugs as
the largest potential sources of significant and widespread PFAS exposures, especially for children
.
Mic drop. So, now that you're sufficiently freaked out, here's what you need to know about identifying and replacing your floor coverings and cleaners with non-toxic carpeting."
5. Non-Toxic Hand Soap
We're told to wash our hands to help avoid the spread of disease
, but ingredients in conventional hand soap are pretty troubling. This post breaks down how to scrub up without exposing yourself to harmful preservatives, fragrances, and surfactants. We also suggested some of our favorite safe products, too. 
"Liquid soaps are a tough category as they often contain preservatives, surfactants (which help give that amazing, foamy lather we all associate with getting our hands clean!) and fragrances. We're helping simplify with a quick rundown on what to watch out for, and a few of our current favorites."
"
Sodium Laureth Sulfate
is used as a surfactant and emulsifier to add foaming & sudsing benefits in hand soaps. The health concerns with this are
organ system toxicity
and
irritation of the skin, eyes, and lungs
.
Even more concerning is the contaminant that can form as a by-product of the manufacturing process called
1,4-dioxane
. This nasty chemical is a known
carcinogen
."
Learn More
At Force of Nature, part of our mission is to educate families on how to find high-quality, effective, and safe products to use around their loved ones without fear or exposing them to harm. We know life is busy and messy, so we want to make it as easy as we can to identify ingredients to avoid. It's also why we created our fragrance-free, toxin-free cleaning system like
Force of Nature
. This little appliance that sits on your countertop and harnesses the power of simple, household ingredients to create a powerful, EPA-registered disinfectant that is gentle enough to use around your family.