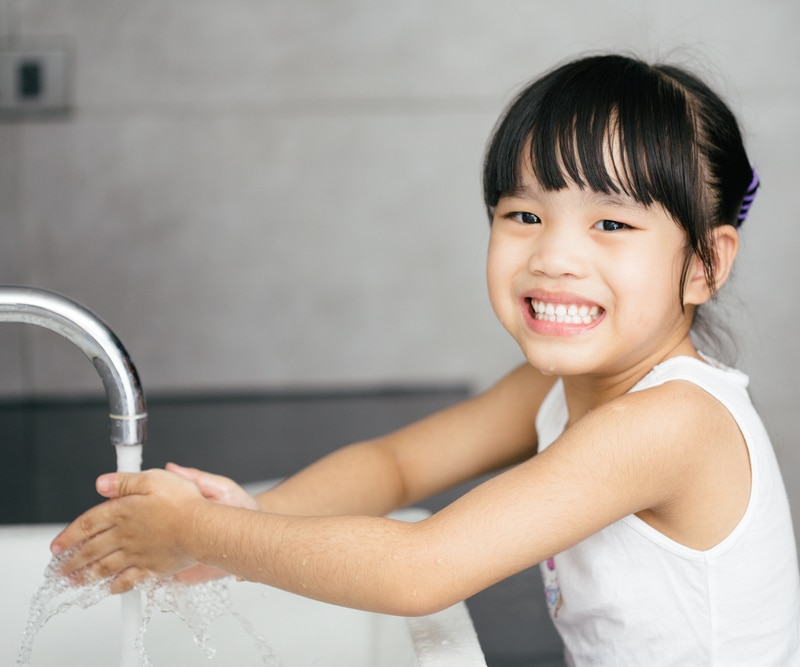 It's not easy to find a non-toxic hand soap! Liquid soaps are a tough category as they often contain preservatives, surfactants (which help give that amazing, foamy lather we all associate with getting our hands clean!) and fragrances. We're helping simplify with a quick rundown on what to watch out for, and a few of our current favorites.
Top 3 Ingredients To Avoid For Non-Toxic Hand Soap
The Toxic Ingredient Hit List: scan your labels for these top 3 bad guys.
Fragrance: These sweet-smelling ingredients seem innocent (especially if they're "natural" fragrances), but they're not as innocuous as they seem. Fragrances are linked to allergies and respiratory irritation, but, even worse, manufacturers can hide hundreds of toxic chemicals behind the 1 word "fragrance" because fragrances are considered to be "trade secrets". Fragrances are absorbed through the skin and into the bloodstream where they pose health risks including endocrine disruption, organ toxicity, allergies, asthma, neurotoxicity and cancer. They also typically contain phthalates (which won't be listed on labels), and these are associated with hormone disruption, birth defects and developmental toxicity. The reason these nasties are likely lurking in your fragranced product is that they are what allow the scent to last.
Preservatives: Designed to help your soap last longer, preservatives like parabens, methylisothiazolinone (MIT) and methylchloroisothiazolinone (CMIT) are used to inhibit bacterial growth and can cause skin irritation, lung and respiratory issues and neurotoxicity.
Surfactants like sodium lauryl sulfate (SLS) and sodium laureth sulfate (SLES) are used to help create lather and have been linked to respiratory health issues, organ toxicity and even cancer.
For a deep dive into all of these ingredients, and why it's in your best interest to avoid them, check out our Chemical Free Product Guide.
3 Non-Toxic Hand Soap Products To Check Out
So, what should you try? Here are a couple of our favorites that you might want to check out. Remember, as you search for a non-toxic hand soap, this is a tough category to find a "perfect" option, so we have included our thoughts on the downsides of each of our selections too.
Our Top Pick:
Seventh Generation Free & Clean Natural Hand Wash is 97% USDA Certified Biobased and made without triclosan, dyes, phthalates or MIT and CMIT (those bad guy preservatives we talked about above).
Nobody's Perfect: While there's an unscented option, some of the options are "naturally" scented, which are not necessarily safer than synthetic fragrances.
Next Best:
1.Attitude Natural Foaming Hand Wash and Attitude Baby Natural Foaming Hand Wash is EWG-verified, meaning it has met their considerable safety testing requirements. They also give it a score of "1," which is the highest possible score for safety in their database.
Nobody's perfect: Attitude uses potassium sorbate as a preservative, which has been linked to allergies, but data is limited on this ingredient and, overall, it's a low risk in a tough category. If you or your kids have serious allergies, you might want to use an alternative.
2.Puracy Lavender and Vanilla Hand Soap are sulfate-free and are free of the toxic preservatives mentioned above, as well as petrochemicals and dyes. We also love that it is available in a large, refill pouch so you can refill your own soap dispensers and reduce waste.
At Force of Nature, we take the privilege of being in your home and around your family seriously. Whether you're interested in our super-effective, family-safe cleaning system, or just want to learn more about non-toxic options to keep your home clean (and your family safe!), we're here for you.