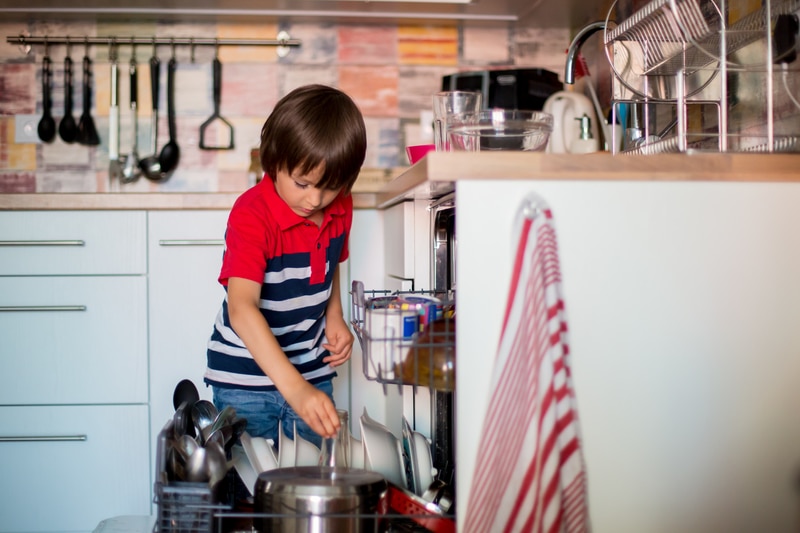 What's the most fun part of doing dishes? Yeah, we couldn't come up with one either! But the only thing less fun may be researching non-toxic dishwasher detergent!  Luckily, we love researching this stuff. So without further ado, here are the top ingredients to avoid when choosing a non-toxic dishwasher detergent and three of our current favorite products.  
The top ingredients to avoid when choosing a non-toxic dishwasher detergent
Three Non-Toxic Dishwasher Detergents We Are Loving Right Now
Our Top Pick: Seventh Generation Free & Clear Dishwasher Pods offer a safer alternative to conventional dishwasher detergents in a convenient pod form. Liquid soaps are more likely to contain preservatives, so the pod helps you avoid those, while also avoiding the hassle of powdered detergent and struggle to measure the right amount! No chlorine, phthalates or synthetic fragrances and a resealable pouch make this product one of our favorites in the category.
Nobody's Perfect: This formula is lightly fragranced with essential oils, which can be allergens. The oils are derived from citrus fruit, so should be avoided if you have family members with citrus allergies in your home.
Next Best:
Honest Company Auto Dishwasher Detergent Gel, Free & Clear is a more traditional gel detergent for those that love 'em.  
Nobody's Perfect: the product contains Caprylyl/Myristyl Glucoside which, in addition to being a really hard ingredient to pronounce, is a surfactant which helps "solubilize" oils into water (when ordinarily they would reject each other). There isn't a ton of data, and the EWG gives the product a top score, but they may be respiratory irritants, which is something to consider for those with asthma or other respiratory conditions.
Mama Suds Automatic Dishwasher Powder
is a safe, vegan, eco-friendly and 100% biodegradable formula made from simple, natural ingredients. And the brand offers
a $5 sample
so you can test it out in your machine with your water to ensure that it works for you.  
Nobody's Perfect: Sometimes natural products need a little help and don't perform as well in hard or well water. Make sure you try it out and follow their recommendation to use a little white vinegar in the rinse cycle for best results.
Learn More
Next time you're in the grocery store, make finding a non-toxic dishwasher detergent easier with the EWG's Healthy Living app. Just scan the barcode on a product to see an ingredient breakdown on it and over 200,000 other products and how they rate in terms of safety. You can also check their database here. And don't forget to check out our non-toxic product guides, created to help take the guesswork out of picking non-toxic products for your family.