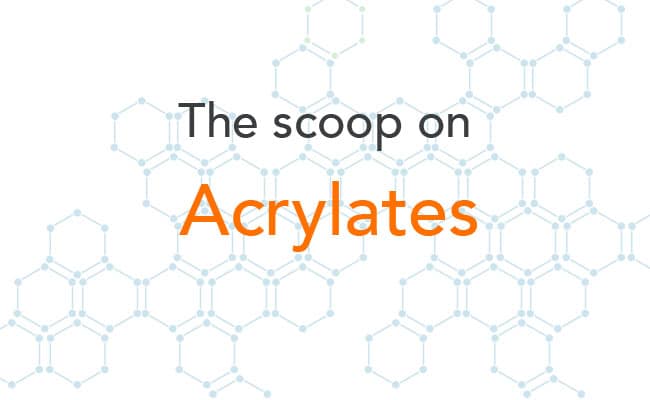 What are acrylates?
Acrylates are chemical agents composed of acrylic acid and methacrylic acid building blocks and found in artificial nail products [1] [2]. Acrylates are nonsurfactant suspending agents that have anti-static, film-forming, and binding abilities [2]. They are often used as adhesives for artificial nails and eyelashes and to help artificial nails mold to the natural nail plate.
What are products are acrylates in?
Acrylates are widely found in artificial nail products including nail builders, nail enhancing polishes, and nail and eyelash adhesives. They're also used in hair fixatives [1] [2].
How to tell if a product has acrylates
Acrylates may be listed under different names on ingredient labels including: ethyl acrylate; acrylic acid ethyl ester, ethyl propenoate, EA; ethyl methacrylate, ethyl ester, methacrylic acid, ethyl ester, ethyl 2-methyl-2-propenoate, EMA; methyl methacrylate; ethyl methacrylate; methacrylate monomer, methyl ester of methacrylic acid, methyl-2-methyl-2-propenoate, MMA; acrylic/acrylate copolymer, acrylic/acrylates copolymer [2] [1].
Risks associated with acrylates
The International Agency of Research on Cancer as well as the U.S. Environmental Protection Agency (EPA) have classified acrylates as a possible human carcinogen. Exposure to acrylates has been linked to skin, eye, and throat reactions [1] as well as more serious health consequences such as:
Cancer
Development issues
Neurological damage
Cellular damage
Reproductive toxicity
Organ system toxicity [1]
How to avoid acrylates
It's possible to avoid acrylates by not using artificial nails and avoiding salons that are not well ventilated [1]. Use toxic chemical free and acrylate and phthalate-free nail products instead.
The Occupational Safety and Health Administration recommends that nail salon workers wear filtering masks and nitrile gloves.  
Also, always do your own research on a product's ingredients by using a resource such as the Environmental Working Group's Skin Deep product
database
. References: [1] Campaign for Safe Cosmetics (2016). Available online:
http://www.safecosmetics.org/get-the-facts/chemicals-of-concern/2978/
December 8, 2016. [2] EWG's Skin Deep Cosmetics Database (2007-2016). Acrylates Copolymer. Available online:
https://www.ewg.org/skindeep/ingredient/700123/ACRYLATES_COPOLYMER/
December 8, 2016.