A Completely Different Natural Cleaner & Deodorizer
Force of Nature contains zero dyes, fragrances, preservatives or surfactants.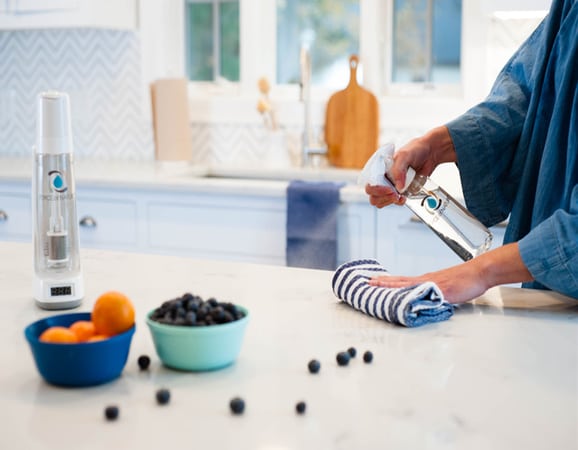 A Truly Non-Toxic Cleaning Product
While natural cleaners can be somewhat safer than conventional cleaners, most contain toxic chemicals like dyes, fragrances, preservatives, skin & respiratory irritants and allergens. Why?
There are no federal regulations dictating standards for products labeled "natural".
Manufacturers aren't required to list all their ingredients on product labels.
Force of Nature starts with just salt, water & vinegar – ingredients you can actually pronounce. It's even safe on skin, no gloves or rinsing needed.
A Family-Friendly Alternative With No Harmful Chemicals
Force of Nature is hypoallergenic & free of the harmful chemicals contained in many "natural" cleaners.

See How Your Favorite Brand Compares to Force of Nature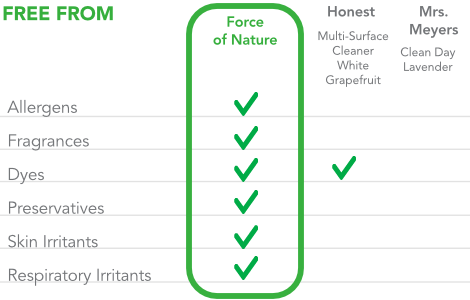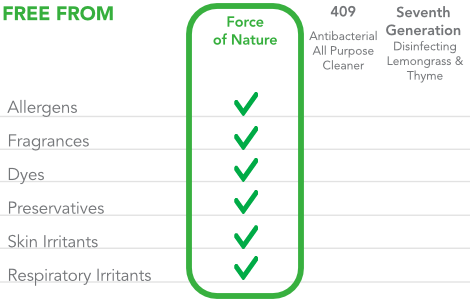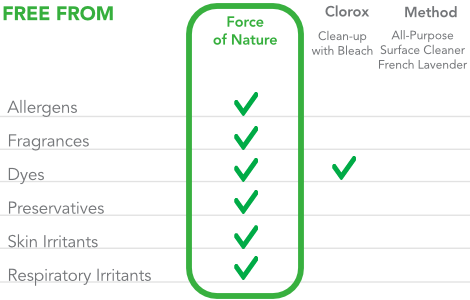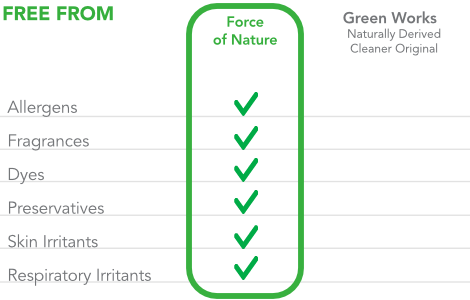 A Natural Cleaner That Stands Up To The Test
There's a good reason why electrolyzed water has been used in the industrial space for so long – because it stands up to tough cleaning jobs. Even though it's 100% free of toxic chemicals, Force of Nature cleans as well as these brands:

On grease
Formula 409 & Clorox Clean-Up

On glass
Windex

On odors
Febreze

On soap scum
Scrubbing Bubbles

On rugs
Resolve
Save up to 80% on every ounce when you switch to Force of Nature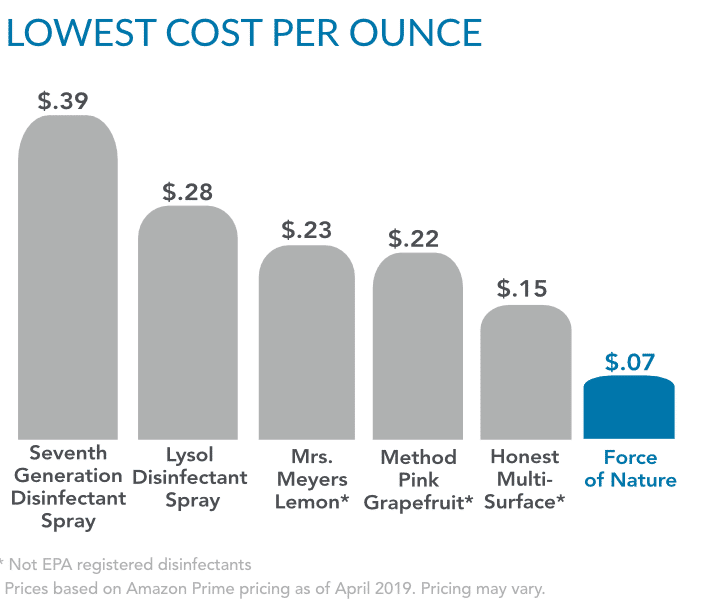 Cost per ounce only

7¢

Can save money in the first year, even after buying the Starter Kit
Replaces bleach, deodorizers, kitchen, bath, glass & rug cleaners
Savings assume 12 ounces used per week, which is the average customer usage
How Force of Nature Stacks Up Against Vinegar
FORCE OF NATURE
✓
Surfaces
Can be used on all sealed surfaces
Requires no rinsing
Safe for plants
✓
Use Around Children
If used as directed, no risk to skin or eyes
✓
vs.
HOMEMADE VINEGAR CLEANERS
x
Surfaces
Must not use on stone surfaces due to dulling risk
Requires rinsing to prevent corrosion over time on surfaces like window seals and grout
Can cause plants to grow more slowly or even kill them
x
Use Around Children
Can burn open wounds, the esophogus, stomach and damage eye tissue
x
Cost
Typically $.08 or more per ounce, mixed cost depends on recipe