Force of Nature Starter Kit
Force of Nature can save you up to 80% on every ounce vs typical natural cleaners. At just $.07 per ounce, it can save you money within the first year, even after buying the Starter Kit. The Starter Kit comes with:
5 Activator Capsules, enough to make 5 bottles

Activator Base

Power Cord

12 oz Spray Bottle

Quick Start Guide

User Manual
Each Force of Nature Capsule makes one 12 ounce bottle of multi-purpose cleaner, disinfectant & deodorizer that lasts 2 weeks. Light, clean scent and no added fragrances. We promise you'll love it – 100% Happiness Guaranteed.
* Free Shipping within Continental US & Hawaii
Save up to 80% per ounce when you switch to Force of Nature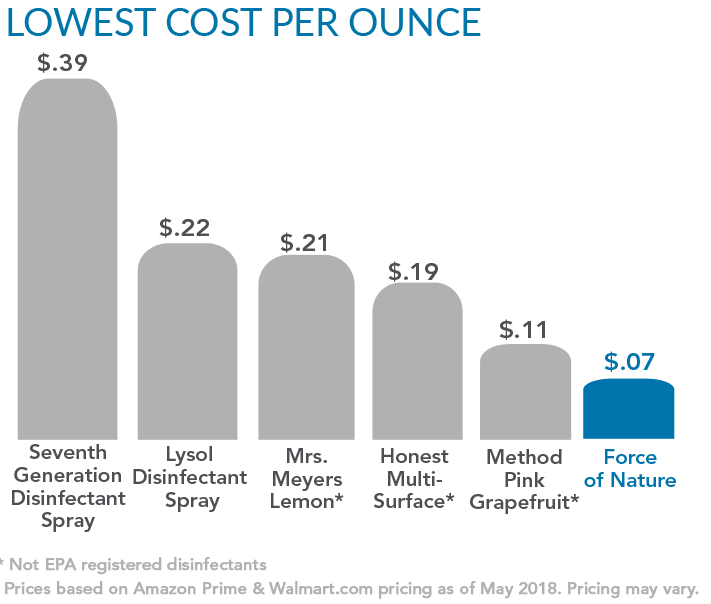 Cost per ounce only

7¢.

Can save money in the first year, even after buying the Starter Kit.
Replaces bleach, deodorizers, disinfectants, kitchen, bath, glass & rug cleaners.
(Savings assume 12 ounces used per week, which is the average customer usage.)
Add to Cart
No toxic chemicals yet just as effective as bleach. No dyes, fragrances, preservatives.
Kills 99.9%
of germs: Staph, MRSA, Salmonella, Norovirus, Influenza A, Listeria when used as directed
Cleans soap scum as well as Scrubbing Bubbles with no harmful chemicals.
Powers through grease as well as Formula 409 & Clorox Clean-Up
Streak-free clean & shine. Cleans glass as well as Windex
Stops odors as well as Febreze but without toxic chemicals & fumes
Add to Cart
A Natural Cleaner That Stands Up To The Test
There's a good reason why electrolyzed water has been used in the industrial space for so long – because it cleans virtually any surface & stands up to tough cleaning jobs. Even though it's free of toxic chemicals, Force of Nature cleans as well as these brands:

On germs – bleach

On grease – Formula 409

On glass – Windex

On odors – Febreze

On soap scum – Scrubbing Bubbles

On rugs – Resolve
See lab test data here

100% Happiness Guarantee
Love it or return it within 30 days
You'll get a full refund minus the return shipping cost. Just call us at (888) 985-8099 Monday-Friday, 9am-5pm EST or email [email protected]
Add to Cart
Truth in cleaning.
Many people don't know there is no standard definition of "natural" in cleaning products & that manufacturers aren't required to list every ingredient on their labels. Force of Nature contains no toxic chemicals.

See How Your Favorite Brand Compares to Force of Nature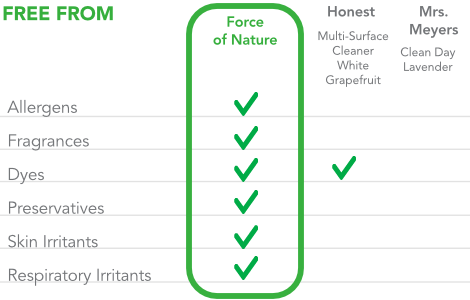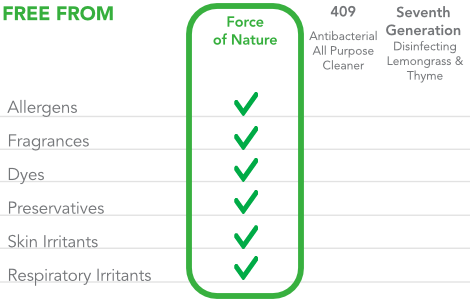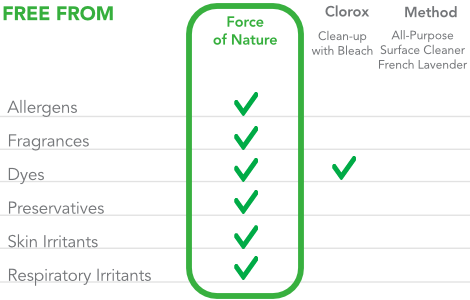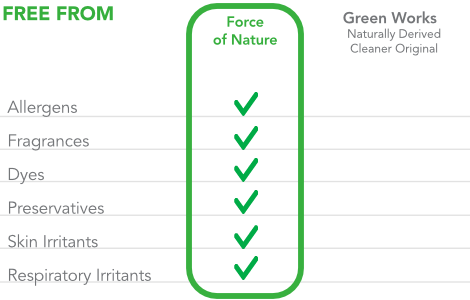 Add to Cart
Easy to use.
Force of Nature is super simple to use. With its little chemistry show each time you make it, your budding scientist will be captivated!
Fill Force of Nature activator with tap water.
Add 1 Force of Nature capsule, push the button, wait about 6 minutes.
Pour into the spray bottle.
Add to Cart
Product details.
| | |
| --- | --- |
| Shipping Weight | 1.9 pounds |
| Product Dimensions | 13.0 x 8.5 x 3.5 in |
| Activator Base | 8.25 x 3.0 x 4.25 in |
| 12 oz Activator Bottle | 11.0 x 3.5 x 2.75 in |
| 12 oz All-Purpose Spray Bottle | 11.0 x 3.5 x 2.75 in |
| Capsule 5 Pack | 4.5 x 3.0 x 0.4 |
| Power Cord | 5.1 x 4.6 x 3.2 |
Add to Cart
Questions and answers.
Q: Does it have a scent?
A: Force of Nature has zero added fragrances so it's a great option for families struggling with asthma and allergies. It has a light swimming pool scent that is naturally created when salt, water & vinegar are electrolyzed. The scent is from the active ingredient, hypochlorous acid, which is the same active ingredient commonly used in wound, eye & veterinary care products.
Q: Why does the cleaner only last 2 weeks?
A: Just like bubbles in a carbonated drink, hypochlorous acid starts to dissipate over time. To be absolutely sure Force of Nature is at its optimal power, you should use it within 2 weeks. The bottle is 12 oz, vs a typical cleaner which is around 26-32 oz. Most families use about a bottle a week when they use it for all their cleaning, disinfecting & deodorizing needs (replacing bleach, deodorizers, kitchen, bath & glass cleaners). Families who also use it on floors & rugs use even more. There is a date on the base that counts down the 14 days to remind you.
Q: Does it work with hard water or well water?
A: If you have hard water (> 100ppm), we recommend a water softener, or bottled water instead of tap water. This is because the minerals in the hard water can shorten the life of the appliance.
Q: On what types of surfaces does it work?
A: It works on virtually any surface – sealed stone counters like granite, marble & quartz, wood, laminate, stainless steel, glass, grout, tile, porcelain, plastic, rubber & even on high chair trays & cutting boards. It's also effective on kitty litter, pet toys & bedding and has no fumes or residues to harm your furry friends. It's great to use on washable fabrics, rugs, furniture, stuffed animals & clothing. Always test first for color fastness in an inconspicuous spot & let dry before proceeding and don't use on fabrics labelled "only non-chlorine bleach". Because Force of Nature has no whiteners like bleach or titanium, it won't remove rust or hard water stains, or stains on grout. With soap scum, depending on build up & surface porosity, you may need a mild abrasive like baking soda with your scrub brush the first few times. This is because soap scum builds up in layers & can require a few applications to break down.
Q: How do I use it to disinfect or sanitize?
A: On hard, non-porous surfaces, clean surface of soil or residue. Spray Force of Nature on surface until thoroughly wet. Allow surface to remain wet for 10 minutes. Wipe surface with clean cloth or towel or let air dry.
Additional Information
| | |
| --- | --- |
| Weight | 1.95 lbs |
| Dimensions | 12.31 x 8.5 x 3.25 in |