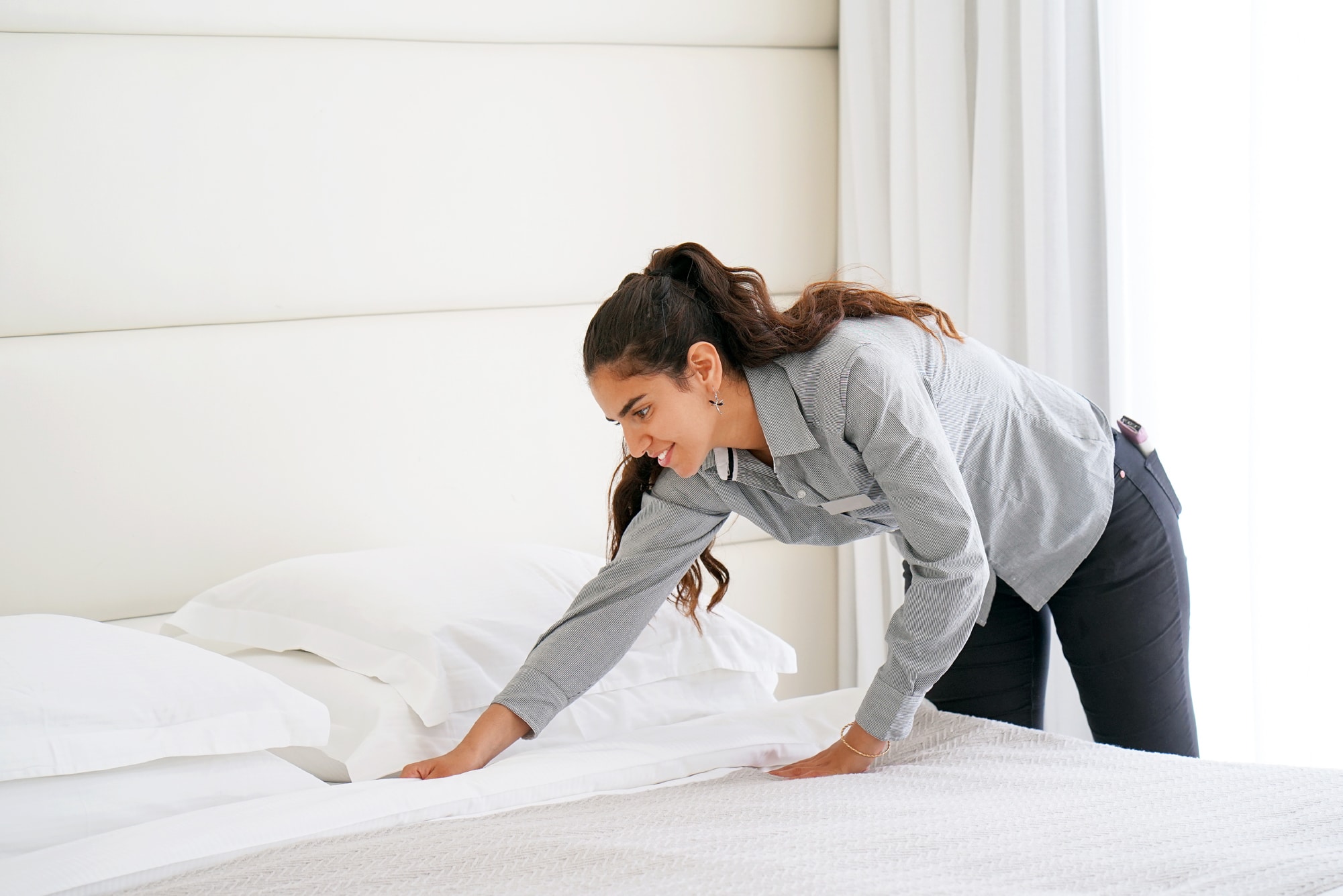 Today's post-pandemic consumers have made cleanliness a top priority wherever they go, including in restaurants, gyms, and especially hotels. In a study of hotel search behavior,
61% of travelers
said a hotel's cleanliness was extremely important when selecting a property. Hoteliers who fail to clean up their act could be left in the dust – but not just any enhanced cleaning practice will do. Traditional commercial cleaners contain dangerous ingredients that can harm our health, like
endocrine-disrupting phthalates
and
asthma-causing bleach
, just to name two. There has to be a way to meet heightened standards for hotel cleanliness without compromising the health and safety of your guests and staff alike – right? YES! Happily, Force of Nature is a powerful, toxin-free disinfectant that works as well as typical bleach and quat-based cleaners without the scary health risks.
3 Reasons to Use Force of Nature in Hotel Rooms
As travel becomes more and more common again, adventurers are making up for lost trips and experiences they've missed out on over the last two years. But as people check off their next bucket list location and check into their hotel, they could unintentionally become exposed to the array of harmful chemicals often found in conventional hotel cleaning products and disinfectants. Here are three reasons to consider using an EPA-registered disinfectant free from toxic chemicals in your hotel rooms to protect your guests and cleaning staff:
1. No Harmful Chemicals In Sight
Using electricity, Force of Nature's electrolyzer device turns salt, water, and vinegar into
hypochlorous acid
, the do-it-all cleaning solution and disinfectant that's gentle enough to use around sensitive populations like kids, the elderly, or those with conditions like asthma or allergies (which alone makes up a whopping
30% of US adults and 40% of US kids
). The
CDC recommends that those with asthma or allergies shouldn't be around cleaning products with bleach or quaternary ammonium compounds (quats)
, which are the two most common disinfecting ingredients found in conventional cleaning products, so many hotels' cleaning practices may be impacting the health of their guests without realizing it. Force of Nature offers a toxic-free alternative without sacrificing cleaning efficacy. No quats, no bleach, no scary, hard-to-pronounce ingredients – it starts with just water, salt, vinegar, and electricity. Imagine the satisfaction of a guest who calls a few days before check-in to ask about an allergy-friendly room. You could proudly say that ALL of your hotel rooms are allergy-friendly and asthma-friendly, thanks to Force of Nature. But don't let its toxic-chemical free nature fool you, hypochlorous acid (
HOCl
) is a serious germ-buster! It's the same chemical that the human body's immune system creates to fight infections, and it's this same naturally occurring substance that Force of Nature harnesses to tackle almost any surface as effectively as bleach. Our powerful disinfectant is
EPA-approved for use against Covid-19 and is on List N
. It also
kills 99.9% of germs
including Influenza A, Norovirus, Salmonella, Staph MRSA, and Listeria.
2. No Protective Gear (or Rinsing) Needed
Though the EPA regulates the term "disinfectant," cleaning products aren't as closely monitored or regulated as you might think. We're exposed to some pretty serious, harmful chemicals in conventional cleaning products and regular exposure to these chemicals has been shown to be as dangerous as
smoking a pack of cigarettes a day.
 That's why it's always crucial to follow exact instructions on product labels, avoid mixing products, wear protective equipment, and always keep the area well-ventilated when using caustic cleaners and disinfectants. You can take a deep breath (literally!) when cleaning with Force of Nature, because there's no need to don protective gear like gloves or masks when using it, and you don't need to rinse surfaces before your guests come into contact with them. It's even certified
100% Top Allergen-Free
by the Mayo Clinic's SkinSafe rating system, so there's no worry about exposing your skin to freshly cleaned surfaces. Even doctors who treat those with the most delicate skin –
dermatologists, vets, and eye doctors
– trust Force of Nature to fight germs and bacteria without causing any harm.
3. One Product, Countless Uses
Force of Nature eliminates the need for a housekeeping cart full of different products. With just one powerful, people-friendly product, you can clean and disinfect almost every surface in your guest rooms to ensure they are spick and span before the next check-in. Some of the dirtiest places in hotel rooms you can use Force of Nature on include:
High-Touch Areas: Spray light switches, remotes, door handles, phones, and drawer/cabinet pulls.
Bathrooms: Disinfect bathroom surfaces like faucets, sinks, counters, toilets, floors, towel rods, shower tile, etc.
Chair and Desk: Use it to disinfect and deodorize the chairs found in hotel rooms and clean the desk, where respiratory viruses can linger for up to four days.
Curtains: Spray Force of Nature on room curtains to deodorize them (just test in an inconspicuous spot first to ensure the fabric is colorfast).
Ice Bucket: While intended to keep drinks chilled, the gross but true reality is that ice buckets are often used as a receptacle for guests to get sick, and they can retain tons of germs.
Flooring: Clean linoleum, tile, wood, or stone flooring by adding Force of Nature into a refillable spray mop in-between room changes.
Room Accessories: Keep the little things, like room service menus, remotes, tray tables, coffee makers, and mini-fridges free of viruses and bacteria by spraying with Force of Nature.
Force of Nature – The Hotel Cleaning Secret Weapon
As business owners ourselves, we know how intimidating it can be to find a cleaning system you can trust to protect your clientele and staff, and we can imagine how much more daunting it becomes with guests checking in and checking out constantly! Force of Nature offers a new way to disinfect with the effectiveness you need and without the scary health risks that come along with conventional cleaners. We have 2 size options to meet the needs of both smaller and larger organizations: our 12 ounce Force of Nature for smaller workplaces and homes, and 
our new large-capacity, commercial-grade Force of Nature Pro
 that makes 32 or 64 ounces. Both appliances use an electronic control system that senses and automatically adapts to accommodate differences in water chemistry and temperature to ensure that every batch made meets the EPA's strict germ-kill standards.With our powerful yet gentle formula, you can be confident you're effectively disinfecting and cleaning your hotel without putting your employees or guests at risk from conventional cleaning chemicals. Purchasing for a large business or organization? We can customize pricing, assortment and training for you! Just click 
here
 to get started.