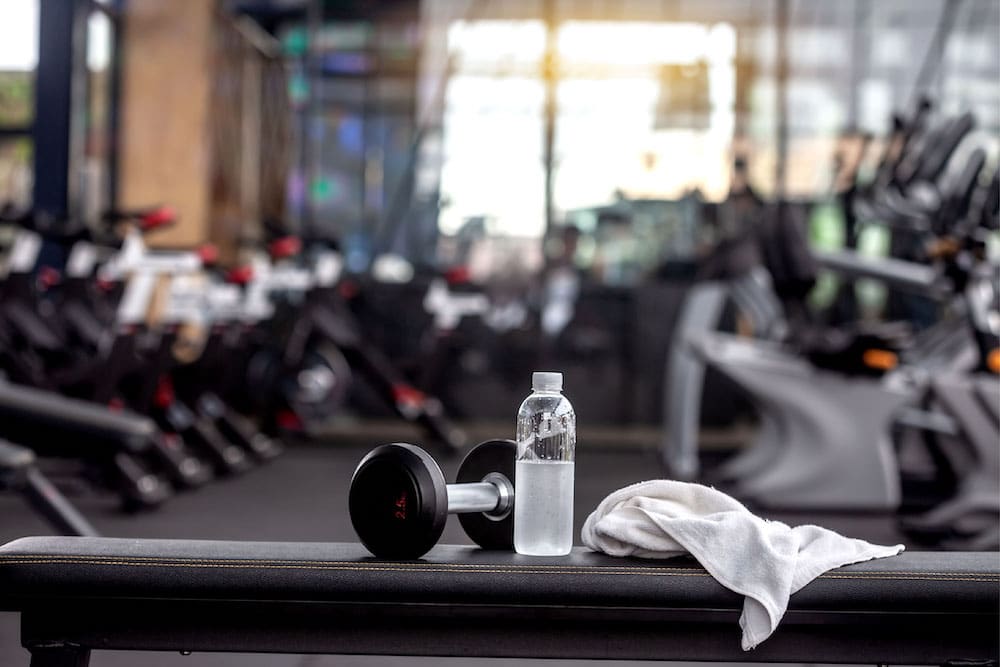 As a fitness center owner working to support, train and nurture athletes, we know your top concern is keeping them safe and healthy. Unfortunately, so most commercial cleaning and disinfecting products contain harsh and harmful chemicals that can have a lasting negative impact on the health of your clients and staff. One major study found that daily exposure to the most common disinfectant ingredients like bleach and quaternary ammonium compounds can be as dangerous to our lungs as 
smoking a pack of cigarettes a day
over the long term. If you have staff or members who suffer from asthma or allergies (
30% of US adults)
, these toxic chemicals are an even bigger concern. In fact, 
the CDC recommends not using cleaning products with quaternary ammonium compounds, bleach, or fragrances around this population
. The single-use plastic bottles from typical cleaning products are causing health problems too -a recent study showed that we're ingesting about a credit card's worth of microplastics a week! Our highly-effective EPA-registered disinfectant has been adopted by homes and businesses of all kinds to clean, sanitize and disinfect. Recently, we launched
Force of Nature Pro
, our new, commercial-grade high capacity solution for businesses. Coaches and trainers working with athletes in their facilities aren't the only ones interested in leveraging Force of Nature's solution that's free from toxic chemicals – our active antimicrobial ingredient, hypochlorous acid (HOCl), has long been trusted by hospitals, NICUs, veterinary practices, and more. Here's how you can use Force of Nature and Force of Nature Pro in your athletic facility to protect your team members, clients and the planet.
Top 5 Things To Know About Using Force of Nature In Your Athletic Facility
1. What is Force of Nature and Force of Nature Pro?
Both are cleaning systems that produce the same EPA-registered disinfectant, deodorizer, and multi-purpose cleaner from tap water and Activator Capsules of salt, water & vinegar. They use an electronic control system that senses and automatically adapts to accommodate differences in water chemistry and temperature to ensure that every batch meets the
EPA's stringent 99.9% germ-kill requirements.
Our formula is an 
EPA registered sanitizer & disinfectant
that is on
List N
, the EPA's list of disinfectants approved for use against COVID-19.
Force of Nature is our small appliance that makes 12 ounces, and Force of Nature Pro is our commercial-grade, high capacity appliance that makes 32 or 64 ounces. Both systems allow you to reduce your plastic waste by 97% by eliminating single-use plastic bottles and are Green Seal Certified for meeting the highest standards in protecting human health, preserving the climate, ensuring clean water, and minimizing waste. Force of Nature Pro is perfect for cleaning and disinfecting surfaces and equipment in athletic facilities because it can save up to 80% per ox vs typical disinfectant sprays and won't corrode your equipment.
2. How Does Force of Nature Stack Up To Conventional Products Like Bleach?
You'll be able to use Force of Nature to clean and disinfect virtually every surface that you would use bleach or other conventional disinfectants on, but without the damaging and corrosive effects of typical chemicals. Our all-in-one cleaner is powerful enough to replace bleach, all-purpose cleaners, deodorizers, disinfectant sprays & wipes, sanitizers, and glass and bathroom cleaners. It's proven in
3rd party independent testing
to be just as effective as the leading brands on everything from glass, grease and odors to soap scum, rugs, and oil. Most importantly, Force of Nature kills
99.9% of germs
including germs like Staph and MRSA that are highly problematic for athletic facilities.
3. Where Can I Use Force of Nature In My Athletic Facility?
Your equipment and supplies are expensive and an investment in your business. Many conventional cleaning solutions can cause serious damage and corrosion to equipment over time. Additionally, harsh chemicals
need to be rinsed off
to avoid damaging surfaces and before coming into contact with your clients' skin to avoid irritation and health risks. Here are some of the ways you can use Force of Nature in your business to simplify your cleaning routine and protect your equipment.
Yoga and Exercise Mats
Studio Floors and Floor Mats Floors and mats don't just harbor viruses, they can allow the spread of conditions like athletes' feet and ringworm. Gross! Force of Nature is safe to use on hard flooring as a disinfectant and sanitizer. One solution we love: filling the canister of a refillable spray mop which you can then use to mop the flooring throughout your business.
Exercise Equipment and Props From treatment tables used for stretching and physical therapy to expensive equipment like rowers, reformer equipment, stretching racks and barres, athletic facilities are packed with areas that your clients interact with and need to a gentle, yet effective disinfectant solution.
Exercise Equipment and Props You can use Force of Nature to clean smaller exercise equipment including:

Yoga blocks
Yoga straps
Supports
Weighted balls
Rings and bars

Locker Room, Lockers and Benches, and Waiting Areas Waiting areas and locker rooms are an important place to keep clean and disinfected. The warm, humid air can provide an environment for germs and bacteria to grow and thrive. They can also harbor odors from sweaty athletic gear and lack of ventilation. Having a clean and fresh-smelling locker room helps promote your image as a high-end facility, so use Force of Nature to clean, deodorize and disinfect your locker room.
You can also use Force of Nature to clean and disinfect shared items like hair dryers, shared technology for check-in areas, and employee lounges and shared spaces.
4. How Does Making Force of Nature On-Demand Impact My Business?
Having an on-demand disinfecting solution is a real point of reassurance for our customers, who have faced supply chain disruptions over the past two years. We are proud to offer businesses an on-demand solution to their disinfecting, cleaning, and sanitizing needs that doesn't require sourcing and storing large amounts of harmful and toxic chemicals in your athletic facility. It also means that you can completely eliminate single-use plastic bottles, and reduce your plastic waste by 97%. It's a small change that can make a quick, big impact when it comes to carbon reduction. Fitness facilities also appreciate reclaiming their storage space. Just one small box of our Activator Capsules makes the equivalent of 6 gallons of cleaning products and eliminates the pollution from producing, shipping and disposing of those bottles. And, with our 
convenient subscribe-and-save program
, you'll never need to worry about having our effective solution on hand, when and where you need it.
5. Is Force of Nature Pro Eco-Friendly?
Force of Nature Pro is
Green Seal Certified
, which means it meets the highest standards for protecting human health, preserving the climate, ensuring clean water, and minimizing waste. And we're also proud to partner with
Carbonfund.org
in supporting carbon reduction projects around the world.
When It Comes To Disinfecting, Play To Win
There is no need to settle for bleach or quit-based products anymore when it comes to your clients, their health, and the health and safety of your team members. We're proud to offer an EPA-registered disinfectant that has none of the harmful chemicals we've all grown to expect in cleaning products. With Force of Nature and the launch of Force of Nature Pro, athletic facilities and businesses now have access to all the options they need for an on-demand, highly-effective, EPA-registered disinfectant that can protect their clients, staff, and equipment investments.
Shop for your Force of Nature here,
or if you're purchasing for a large business or organization, we can customize pricing, assortment and training for you
here
.