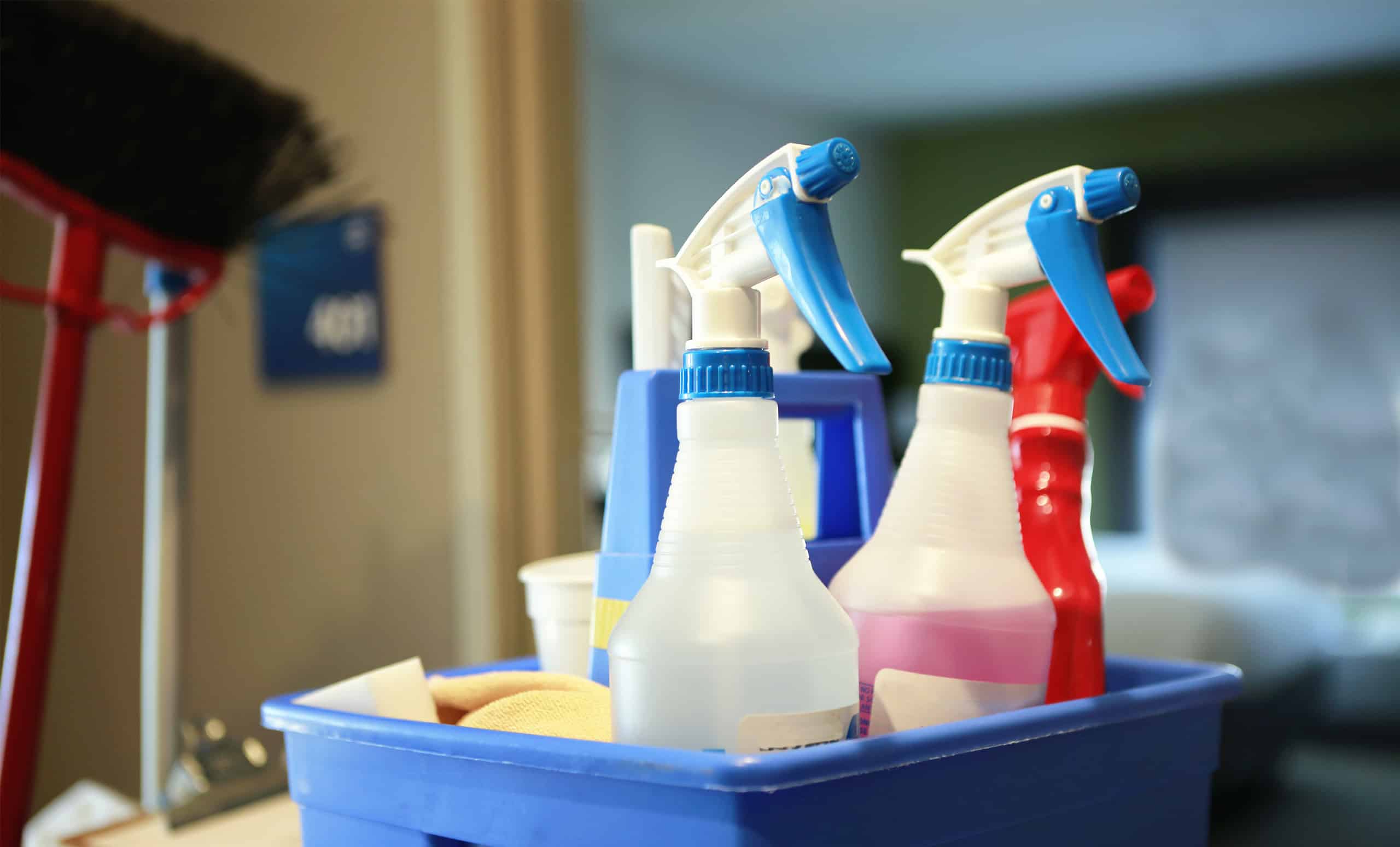 When it comes to keeping your business clean and free from sickness-causing germs, the products you use matter. Not only do your products determine how effectively you'll be able to kill sickness-causing germs, but they also dictate which toxic chemicals you expose your employees, cleaning staff, and clients to. Sadly, not all cleaning products are created equal. Many conventional cleaners are full of toxic ingredients, like
bleach
and
quaternary ammonium compounds
(quats), which have proven to be harmful to human health. Others may seem compelling because of their attractive "natural"  or "green" labeling, but they typically lack the disinfecting power you need to keep your workplace germ-free. It's easy to feel stuck between a rock and a hard place when choosing effective cleaning products without harmful chemicals for your business. Luckily,
Force of Nature Pro
gives you the best of both worlds as an EPA-registered disinfectant that's free of toxins.
Risks of Using Conventional Cleaners and Disinfectants
When you rely on conventional cleaning products and disinfectants that contain ingredients like
bleach
,
quats
,
phthalates
, and
fragrances
, you put the cleaning staff and anyone who works in your facility at risk of developing health problems. Exposure to toxic chemicals has been linked to health risks including
COPD
,
allergies, hormone disruption
, and
endocrine disruption
. And, if you use an ineffective product, you risk leaving viruses and bacteria lurking in your workplace. Some of the most common ingredients in conventional cleaners and disinfectants include bleach and quats, which
the CDC recommends
not to use around people with asthma or allergies. With about 30% of the US population falling into this category, it's hard to protect these sensitive populations. In another word of caution to protect healthy lung function, the
American Lung Association
also recommends avoiding products with fragrances, irritants, and 
flammable ingredients
. Following these guidelines would exclude many traditional commercial cleaning products from your options. As if you needed another reason to ditch the toxic cleaning products, one recent study even found that routine use of commercial cleaning products may
deposit pollutant particles into respiratory tracts at a similar (or higher) rate than car exhaust
! Taking it a step further, prolonged use of conventional products with harmful chemicals by cleaning staff can be just as bad for their health as
smoking a pack of cigarettes per day
. We know you care about your business and the people who drive it, which is why we made Force of Nature Pro, a toxin-free yet hard-working and effective disinfectant perfect for keeping your business protected from germs and health-compromising chemicals.
Benefits of Cleaning With Toxin-Free, Eco-Friendly Force of Nature
Let
Force of Nature
be your all-in-one, go-to cleaning product for just about every surface in your workplace, from high-touch, germy areas like doorknobs and light switches to desk equipment and bathrooms. It's free of harmful chemicals, EPA-registered to kill 99.9% of germs, and available on-demand so you'll never worry about running out.
Gentle and People-Friendly: The electrolyzer appliance converts tap water plus a tiny capsule water, salt, and vinegar into a detergent and hypochlorous acid, which has been used and trusted by medical professionals in a variety of settings for decades (veterinary medicine, wound healing, hospitals, dermatology, etc.). It's also certified 100% free from all the top allergens by Mayo Clinic's allergy rating system. And while your cleaning staff may be used to using protective equipment with your current products, there's no need for a mask, gloves, or other safety gear when using Force of Nature. Just spray and wipe, no rinsing needed.
Powerful and Effective: Just because Force of Nature is gentle enough to be used around the most sensitive populations doesn't mean you have to sacrifice cleaning efficacy. While many cleaning products are just that – cleaners that remove dirt and debris, not true disinfectants – Force of Nature is an EPA-registered disinfectant that kills 99.9% of germs, viruses, and bacteria and is on the EPA's List N, which means it's approved for use against COVID-19. In independent, third-party lab testing, Force of Nature was found to be just as effective – if not more effective – on a variety of soil types as compared to conventional cleaners, despite not having any harmful chemicals.
Easy to Make and Keep in Stock: Force of Nature Pro, our large-capacity commercial-grade cleaning system makes it easy to create large batches of 64 oz at one time so you can disinfect everything throughout your business. And, with easy reordering and subscription options, we can help ensure you always have the appropriate level of Force of Nature in stock so you won't run out. Even better, it's saves you money too – up to 80% per oz vs the top brands of conventional cleaning products.
Sustainable: Talk about a simple change that can make a big impact on carbon reduction – Force of Nature Pro eliminates single-use plastic bottles and reduces plastic waste by 97%. Plus, just one box of our Activator Capsules makes the equivalent of 6 gallons of cleaning products and eliminates the pollution from producing, shipping and disposing of those bottles. Think about all that storage space you get back too!
A Cleaner, Sustainable Workplace with Force of Nature
Force of Nature takes the guesswork out of keeping your business clean and your employees healthy. Without using scary chemicals that can lead to serious health problems, you can feel confident that your cleaning routine is killing off germs and bacteria and protecting the people who make up the heart of your business. Our appliances come in 2 sizes, 
Force of Nature
 which makes 12 ounces at a time, and 
Force of Nature Pro
, our newest system for large and high traffic spaces which makes 64 oz at a time. If you're purchasing for a large business or organization, we can customize pricing, assortment and training for you! Click 
here
 to get started.