Businesses:
Bars and Restaurants Are Disinfecting & Keeping Customers Safe With This Toxic-Free Disinfectant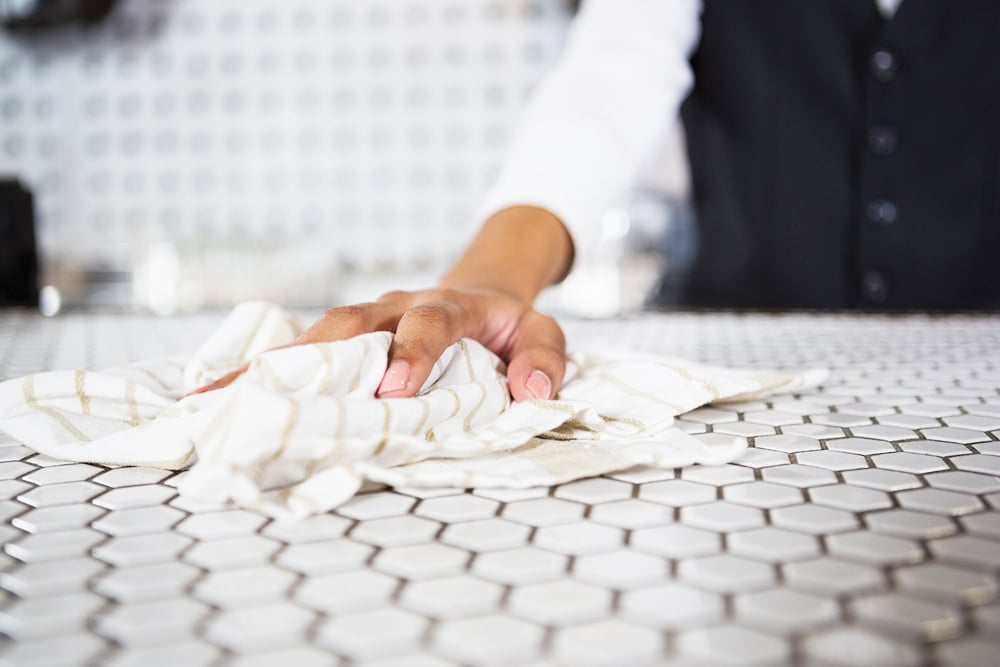 Keeping our businesses safe from germs is our top priority, but what happens when the products you're using to disinfect can make your customers and staff sick, too? Disinfectants have to meet anti-microbial standards set forth by the Environmental Protection Agency (EPA), but that doesn't mean they're safe or healthy to use on bare skin or around children or people with asthma or allergies. In fact, they can contribute to scary health effects — as much as smoking a pack of cigarettes a day! Here's how businesses are using Force of Nature to disinfect without exposing their clients and staff to harsh chemicals with a toxic backlash.
3 Reasons To Use Force of Nature For Safely Disinfecting Bar & Restaurant Surfaces
It is a joy to break up the monotony of the COVID-19 universe by visiting a favorite restaurant for a delicious meal or meeting a friend at a bar for a craft cocktail. However, while your customers and staff venture out into the newly opened world, they can unknowingly come into contact with harmful chemicals common in conventional disinfectant products like bleach and quaternary ammonium compounds (quats). Here are some of the top reasons to use a safer EPA-registered disinfectant that does not contain harmful chemicals for your bar or restaurant.
1. No Harsh or Harmful Chemicals
Force of Nature harnesses the power of Hypochlorous Acid (HOCl) which is the same substance our immune systems create to fight infection. We create hypochlorous acid by using electricity to change the chemical composition of salt, water and vinegar into a solution that is as effective as bleach, but gentle enough to use around children, the elderly, and those with medical conditions like allergies, asthma, and COPD. About 30% of US adults and 40% of US children have asthma or allergies, and the CDC recommends that bleach and quats not be used around people with asthma or allergies. The 2 most common disinfecting ingredients are bleach (sodium hypochlorite) and quaternary ammonium, which means that many businesses are unknowingly impacting the health of the customers and staff.
Don't let the gentleness of hypochlorous acid fool you – this is a serious germ-killer! Our gentle, yet powerful, disinfectant is on the EPA's list N, the list of disinfectants approved for use against SARS-CoV-2, the cause of Covid-19. It also kills 99.9% of bacteria and viruses including Salmonella, Listeria, Norovirus, Staph MRSA and Influenza A.
2. No rinsing or safety equipment needed
A lot of people believe that cleaning products are regulated by a controlling body like the Environmental Protection Agency for ingredient safety, but, while the EPA does regulate the term "disinfectant," the overall industry is poorly regulated and we're exposed to some pretty dangerous stuff. This is why cleaning products contain very specific directions on their packaging that must be followed closely. You should always wear the protective gear recommended (like gloves and masks) and work in a well-ventilated area. You should also never mix or combine products unless specifically instructed by the manufacturer, because mixing products like bleach and ammonia can create harmful and dangerous gases which can be poisonous and deadly. Make sure you follow instructions around how to prepare the surfaces for use again following disinfecting – most need to be rinsed after disinfecting before it's safe to expose your skin directly to the surface.
Happily, Force of Nature does not need to be rinsed off after use and can be used without protective gear like eye coverings, gloves, or masks. It's gentle enough for your clients and staff to come into direct contact with our solution, and it's certified 100% skin-safe and best for sensitive skin by SkinSAFE, Mayo Clinic's allergy rating system.
How cool is this: experts in dermatology, ophthalmology, veterinary medicine, and wound care are all harnessing the gentle strength of hypochlorous acid to fight bacteria without causing harm to delicate skin tissue.
3. It Takes Multi-Surface To A Whole New Level
You can use Force of Nature throughout your bar or restaurant on virtually any surface without concern, including:
Sealed stone and marble countertops without needing to rinse and without concern of etching or staining.
Bathrooms and all bathroom surfaces like door handles, faucet handles, sinks, countertops, soap, and paper towel dispensers, hand dryers, toilet flushers, and tile floors and walls.
Flooring including wood, stone, tile, and linoleum can all be cleaned with Force of Nature. Using a refillable spray mop makes this task easy to complete, even between customers, because there's no need to rinse.
Kitchen surfaces and prep areas can be disinfected without needing to rinse (it's even a produce wash!) including countertops, butcher blocks, and cutting boards.
Plastic and plexiglass partitions can be sprayed and wiped down frequently.
Tables and seating like chairs, booths, bar tops, and stools can all be sprayed and wiped down to disinfect between customers.
Trays, baskets, menus, and condiment holders can be sprayed with Force of Nature between uses or storing.
Technology like computers, tablets, keyboards, phones, and reservation system screens can all be disinfected with Force of Nature between uses. Spray a cloth with Force of Nature first, then wipe down screens to clean and disinfect.
Beepers used for patrons waiting for tables can be disinfected with Force of Nature, just wipe down with a cloth that has been sprayed.
We're here to help.
We are dedicated to helping businesses like bars and restaurants disinfect without toxic chemicals on surfaces, without exposing their clientele and team members to hazardous chemicals that can cause serious adverse health effects. Learn more about our revolutionary, on-demand disinfectant, Force of Nature, and our top tricks and tips for using Force of Nature for your business, on our blog.