Non-Toxic Product Guides:
How To Find A Non-Toxic Toothpaste (And 3 Of Our Faves!)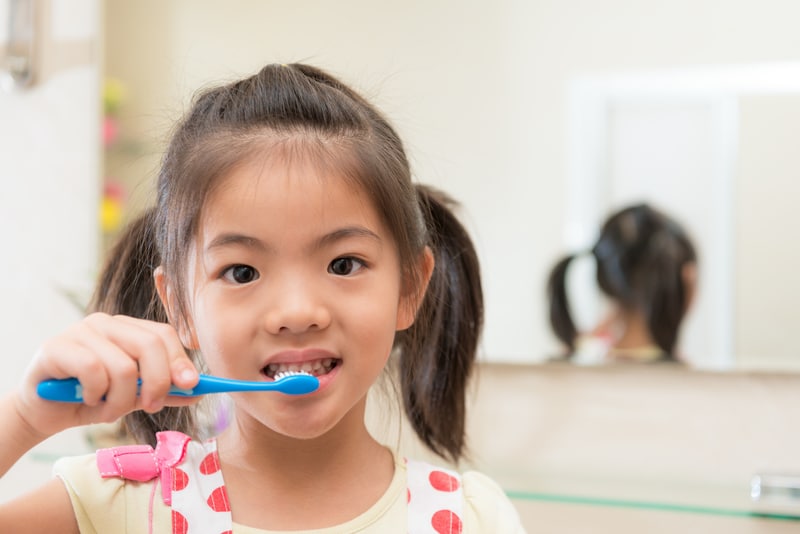 Next to the candy aisle, the toothpaste section of your drugstore may have the most bright colors, flavors and cartoon characters of any area of the store, and as many questionable ingredients. Never fear, we're here with our non-toxic toothpaste guide to tell you the biggest things to watch out for when you're avoiding toxic chemicals and a few recommendations to narrow down your search.
How To Find A Non-Toxic Toothpaste (And 3 Faves!)
Let's start with what you want to avoid. These are some of the most common bad guys (other than the cartoon movie villains, of course!) that you'll see on toothpaste packaging.
Foaming Agents & Stabilizers
Diethanolamine helps to create foam in toothpastes as well as in household cleaning products. It's been banned in the EU in products like toothpaste and is associated with hormone-disruption, cancer and organ toxicity.
Sodium lauryl sulfate is a detergent used to make products foam and is associated with skin irritation, allergies and toxicity to aquatic life. Studies have also shown that SLS can bring on canker sores and slow down the healing process.
PEG's (or polyethylene glycols) are petroleum-based compounds used in toothpastes to help keep ingredients stable and enhance the penetration of other active ingredients. PEG's are associated with the carcinogenic contaminant 1,4-dioxane which can lead to a number of health concerns including cancer,  liver damage, and kidney damage. Propylene glycol is used to smooth out the texture in toothpastes, and it's also used in antifreeze & paints. Not surprisingly, it's linked with skin irritation and organ toxicity.
Preservatives and Antimicrobials
Triclosan is an antimicrobial agent that is used to fight plaque & gingivitis, and it's associated with liver damage, cancer & endocrine disruption. It's been banned from several types of products, but unfortunately it is still alive & well in toothpastes.
Parabens are preservatives added to toothpastes to stop fungus and bacteria from growing in them. The CDC has detected parabens in almost all Americans tested, and they're linked to cancer, endocrine disruption, reproductive toxicity, neurotoxicity and skin irritation. To avoid parabens, look for and avoid ingredient names that contain the word "paraben" contain paraben, like methylparaben, propylparaben, ethylparaben, and butylparaben.
Artificial Colors
If it has a bright fun color, skip it. They don't add to the cleaning benefits in any way, and synthetic dyes derived from petroleum and coal tar can accumulate over time in the body to cause organ system toxicity. The most common dyes are D&C Red 30, FD&C Blue 1 and D&C Yellow 10.
A Note About Fluoride (Sodium Fluoride): Sodium fluoride is the hero anti-cavity ingredient in many toothpastes and it's not without controversy. Those against it say it's not needed if good dental hygiene practices (regular brushing and flossing, avoiding sugary foods & drinks) are followed and that it's linked with irritation to the skin, eyes, or lungs, organ system toxicity & even neurotoxicity. They also say children are over-exposed to it given its presence in water, and also cite the risk that young brushers will swallow toothpaste. Those advocating for fluoride say that the dosages in toothpastes are low enough to be safe and that it really does help keep teeth strong. This is a good summary of the arguments. Given the debate, we recommend checking out some of the research yourself then weighing that against the dental hygiene practices of your family. If you have consistent brushers & flossers who don't eat a lot of sugary foods (hats off to you!), then you might want to avoid it.
Three Non-Toxic Toothpastes We Are Loving Right Now
Our Top Pick:
Primal Life Organic Tooth Powder is a gentle formula that polishes and cleans your teeth as well as provides vital and trace minerals that are important for dental health. To use it, you dip your damp toothbrush into the powder, or use the included wooden scoop to apply it. We especially loved the Black Spearmint powder that is supposed to help with whitening the appearance of your teeth.
Nobody's Perfect: Some people prefer a traditional paste to a powder, but we actually like this quirky, old-fashioned method. Also, some people are nervous about the metals (like lead) present in bentonite clay, one of the ingredients in some natural toothpastes. This blog post from Wellness Mama provides a lot of insight into why this concern is largely unfounded, as the metals present in the clay are not bioavailable to us.
Next Best:
Tom's of Maine

is a well-loved natural brand and they don't disappoint here with

high safety rankings

on the EWG database for non-toxic toothpaste. With a variety of flavors and formulas, Tom's has something for everybody –

here's

one with fluoride, and

a whitening version without fluoride

.
Nobody's Perfect: There is a range of ingredient safety within the line's toothpaste products, so make sure you're reading the label and avoiding ones with flavorings (a term that can be used to describe an ingredient added to mask or produce a flavor) or fluoride, if desired.
Dr. Brite

has a

wide range of flavor and formula options

, including mouth spray and wash, all with natural flavorings that keep them squarely among the EWGs safest toothpaste options. And the adorable branding will look high-end on your bathroom counter (next to your toddler's electric Elmo toothbrush, obviously!).
Nobody's Perfect: even natural flavorings and ingredients can trigger allergic reactions, so make sure you're scanning the labels of this (and all!) non-toxic toothpaste brands for any allergens that might affect your family, like coconut or citrus oils.
Learn More
Things are changing all the time and, luckily, there are more (and better!) non-toxic toothpaste products on the market every day. Make sure you're checking in with up-to-date resources like the EWG Skin Deep Database for their top ranked non-toxic toothpastes to find a product you love. To learn more about how to choose all kinds of toxic chemical free options in cosmetics, personal care, laundry and cleaning products, check out our Chemical Free Product Guides here. And we're always here to help you reduce your family's exposure to toxic chemicals at Force of Nature. We're dedicated to helping educate families on ingredient safety and we help support other brands that are offer non-toxic solutions. You can learn more about our non-toxic, family safe cleaning system that's as effective as bleach here and visit our blog to learn more about chemical safety.