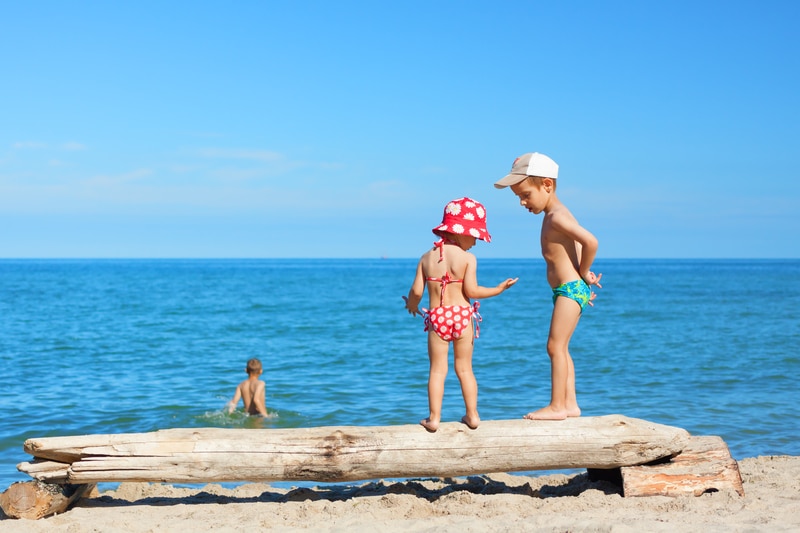 It is a universally known fact: sunscreen is important! Sadly, you can't just grab that convenient can of high SPF spray to protect your skin from harmful rays. Conventional sunscreens aren't as tightly regulated for safety as you might think. The FDA allows sunscreen manufacturers to sell products under the assumption that they are "GRASE" (Generally Recognized As Safe and Effective) which, sadly, many of their ingredients are not. Recent testing by the FDA revealed that 6 of the most common UV filters in chemical sunscreens – avobenzone, oxybenzone, octocrylene, homosalate, octisalate, and octinoxate – are easily absorbed by the skin,
even in just one application
, and can remain in detectable levels for weeks. Yikes! The agency has also reported that
only 2 of the commonly used ingredients
are generally considered safe and effective: zinc oxide and titanium dioxide. The rest, which includes homosalate, octinoxate, octisalate, octocrylene, cinoxate, dioxybenzone, ensulizole, meradimate, padimate O, and sulisobenzone, need additional testing to determine their safety and effectiveness. These ingredients, some of which have serious suspected health concerns associated with their use, are found in up to 60% of sunscreens! As the FDA works to enforce new guidelines that require sunscreen manufacturers
to prove they are using safe and effective ingredients
, we've utilized the Environmental Working Group's invaluable
Guide To Sunscreens
report to provide you with some of the top picks for sunscreen for the summer of 2021!
Our Top Non-Toxic Sunscreens for Summer 2023
Because we know you don't use sunscreen the same way every day, here are some of our favorite non-toxic sunscreen products for summer 2021 – for the beach, the boat, the playground, and the tennis court, too.
Recreation
For your active beach days – because, let's be honest, if you have kids, the beach is not that relaxing!
Attitude Plastic Free Mineral Sunscreen Stick SPF 30
is a mineral-based sunscreen that uses non-nano Zinc Oxide to provide broad-spectrum protection. We love that it's plastic-free, fragrance-free, biodegradable, and safe for use on children and infants. It's a
top scorer for safety
on the EWG's Guide to Sunscreens, too. Badger Sport Mineral Sunscreen Cream, SPF 40 has an easy-to-apply formula that is lightweight and moisturizing. It provides broad=spectrum UVA/UVB protection, is water-resistant for at least 80 minutes, has no added fragrances, and
scores top safety ratings
from the EWG.
Face
Mineral sunscreens can be drying and irritating, so finding a non-toxic sunscreen that can also keep your face looking and feeling good is a challenge!
Beautycounter Countersun Daily Sheer Defense for Face, SPF 25
, has a top
EWG safety rating
and uses non-nano zinc oxide to provide Broad Spectrum SPF 25 protection from the UVA/UVB rays. It leaves no white cast behind – hurray! Another option is
Alba Botanica's Even & Bright Moisturizer Broad Spectrum SPF 15
offers a breathable sunscreen shield without oxybenzone or octinoxate, parabens, phthalates, sulfates, or synthetic fragrances and
scored a high rating for safety
with the EWG.
Kids
All Good Kid's Sunscreen Butter Stick, SPF 50+
offers a stick option that is just how it sounds – buttery and moisturizing! This gentle, easy-to-blend formula has UVB/UVA sun protection and organic chamomile to soothe sensitive skin. It's also got HEV (blue light) protection, so you can swipe it on before your next zoom. Oxybenzone-free and made with Reef-friendly ingredients, this mineral sunscreen is a great option that
scores top ratings
with the EWG for safety.
Babo Botanicals Baby Skin Mineral Sunscreen Lotion, SPF 50
, is a fragrance-free mineral sunscreen that provides water resistant broad-spectrum UVA/UVB protection for up to 80 minutes and designated a
Top Sunscreen
by the Environmental Working Group. It's also great for adults with sensitive skin.
A Great Brand With Something For Everyone
Solara Suncare
is committed to protecting and nurturing skin, in their words: "Suncare. Skincare. Always both. Always clean." Founded by a mom who wanted to create safer products that looked and felt great on her kids' sensitive skin and without the allergy-triggering chemicals found in conventional sunscreens,
Solara offers a broad range of product options
including scented and unscented face, body, and lip protectant sunscreens that feature safe, wellness-driven ingredients.
Drugstore
It's hard to find nontoxic alternatives at the drugstore, but here are two options that can be easily found when you find you left your sunscreen (or your whole beach bag) at home!
Banana Boat Kids Sport Sunscreen Stick, SPF 50+
has a wide stick format, is lightweight, absorbs quickly, and is Reef Friendly (no oxybenzone or octinoxate). For a tinted option, Eucerin Sensitive Mineral Face Protection, Tinted, SPF 35 is a solid option with
good safety ratings
from the EWG that's also an easy-to-locate brand. The formula is hypoallergenic and free from fragrances, dyes, parabens, PABA, phthalates, oxybenzone and octinoxate.
Don't Forget: 4 Tips For Avoiding Toxic Sunscreens
1. Be wary of spray sunscreen, but, before you run away, clutching your spray sunscreens to your chest, hear us out! Spray sunscreens create – obviously- a spray, which releases nanoparticles in the air. Even safe mineral products, like titanium dioxide, are not designed to be inhaled and can pose a risk to our lung health. Many of the ingredients used in chemical sunscreens are not safe for our skin and organs and this risk is magnified when inhaled, so they must be handled carefully, particularly on windy days and anywhere around open flames, if used at all.
2. Toxic UV-filters, UVB-filters, and UVB-absorbers like Oxybenzone, Octinoxate, Homosalate. Oxybenzone and Octinoxate increase the skin's ability to absorb other potentially toxic chemicals from the environment and can disrupt hormonal function and even cause organ system toxicity. Research has shown that homosalate may be an endocrine and hormone disruptor, and has been shown to increase the absorption of pesticides from our precious coral reefs and marine life to pregnant or breastfeeding women, nursing infants, and anyone who is regularly exposed to large quantities of pesticides.
3. Retinyl Palmitate is a form of vitamin A that's used as a skin conditioner and an active ingredient in sunscreen products. Oddly enough, retinyl palmitate is a possible carcinogen that responds to light, possibly promoting tumor growth, so it could actually be responsible for causing and accelerating UV-related skin damage. It also has the potential for causing reproductive toxicity.
4. Fragrances – The one word "fragrance" is a blanket term used to designate the presence of what can be hundreds of toxic ingredients. Fragrance chemicals can pass through the skin and enter the bloodstream. They are manufactured from petroleum and coal tar and are classified as carcinogens, hormone disruptors, neurotoxins, skin, and respiratory irritants.
Extra-credit: for a deeper dive on these ingredients, check out our
Chemical Free Sunscreen Product Guide
, and read up on
why higher SPFs aren't better
and may give you a false sense of security.
Learn More
The sunscreen aisle is overwhelming and, with all the bad news out there about conventional sunscreen ingredients, it's hard to trust that you're in good hands. Luckily, the FDA is awake to the concerns and is actively trying to regulate the industry. Until then, we highly recommend the
EWG's yearly Guide to Sunscreens
as well as their
Skin Deep database
to research products and find ones that are safer for you and your family –  not just this summer, but all year long! We're here to help you find better, non-toxic products for your family, starting with our toxic chemical-free, revolutionary 3-in-1 cleaner, sanitizer, and disinfectant, Force of Nature. It's a small appliance that uses electricity to convert tap water, plus a capsule of salt, water and vinegar, into an all-in-1 cleaning, deodorizing, sanitizing, and disinfecting formula that kills 99.9% of viruses and bacteria. We're proud to be the only carbon neutral certified EPA registered disinfectant. We designed Force of Nature to save families money and be accessible to everyone who wants to reduce plastic waste and the health risks associated with typical cleaning products. Check out the planet-friendly way to clean
here.