Non-Toxic Product Guides:
How To Choose A Non-Toxic Sunscreen (& 3 Of Our Faves, including a SPRAY!)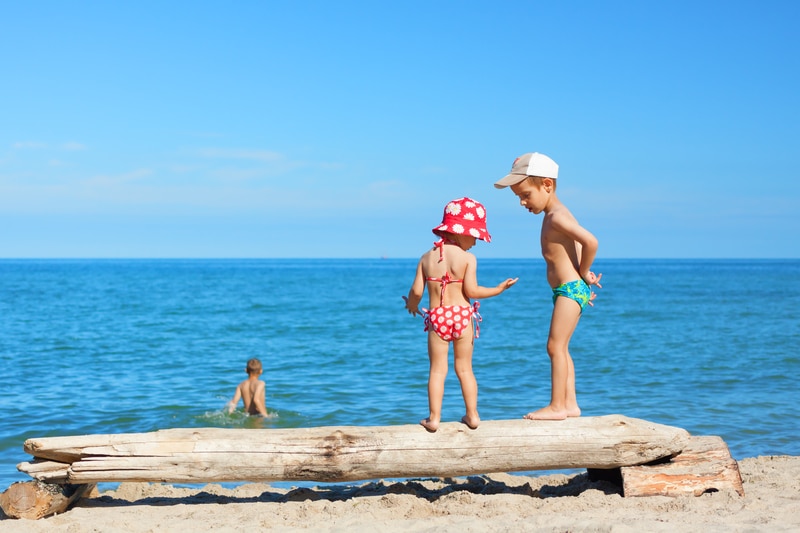 Remember the old days, when you could hose yourself and your brood down with a convenient spray can you bought at the gas station? Alas, we know better, so we must do better. Luckily, there are more convenient, effective eco-friendly and non-toxic sunscreen options on the market than ever before. To help you find the best one for your family, here's a handy rundown on what to avoid and three of our top picks for your new favorite non-toxic sunscreen!
Top 3 Things To Avoid For A Non-Toxic Sunscreen
Toxic UV-filters, UVB-filters and UVB-absorbers like Oxybenzone, Octinoxate, Homosalate. Oxybenzone and Octinoxate, ubiquitous in conventional sunscreens, increase the skin's ability to absorb other potentially toxic chemicals from the environment and can disrupt hormonal function and even cause organ system toxicity. Research has shown that homosalate may be an endocrine and hormone disruptor, has been shown to increase the absorption of pesticides from the environment and is particularly harmful for pregnant or breastfeeding women, nursing infants, or anyone who is regularly exposed to large quantities of pesticides.

Retinyl Palmitate – Retinyl palmitate is a form of vitamin A that's used as a skin conditioner and an active ingredient in sunscreen products. Retinyl palmitate is a possible carcinogen that could actually be responsible for causing UV-related skin damage. It also has the potential for causing reproductive toxicity.

Fragrances – The one word "fragrance" is actually a blanket term used to designate the presence of what can be hundreds of toxic ingredients. Fragrance chemicals can pass through the skin and enter the bloodstream. They are manufactured from petroleum and coal tar and are classified as carcinogens, hormone disruptors, neurotoxins, skin and respiratory irritants.
Extra-credit: for a deeper dive on these ingredients, check out our Chemical Free Product Guide, and read up on why higher SPFs aren't necessarily better (we stick with SPF 30).
Three Non-Toxic Sunscreens We Are Loving Right Now
Our Top Pick:
Beautycounter Countersun Collection is the brand's revamped sun protection line, which still boasts an effective non-nano zinc oxide formula, a physical mineral barrier that shields your skin from UVA, UVB and Blue Light rays, as well as antioxidant-rich California Poppy. The reef-safe line is available in three formulas, one of which is a spray (we know, we're excited too!):
SPF 30 Lotion, no sticky white residue.

SPF 30 Face Stick, swipes on like deodorant for no-mess application.

SPF 30 Mist, a spray sunscreen that is air-propelled, avoiding toxic accelerants and respiratory irritants.
Nobody's Perfect: the formula contains some natural oils like citrus and peppermint, which can trigger allergies in people who are sensitive to them.
Next Best:
Adorable Baby Sunscreen SPF 30+ is a mineral-based sunscreen that goes on clear, contains no synthetic or chemical ingredients, and is water-resistant for up to 40 minutes. Their non-toxic sunscreen formula is highly rated for safety in the Environmental Working Group's database and contains only 1 and 2 scoring ingredients, the best possible scores.
Nobody's Perfect: Like other non-toxic sunscreens (and conventional sunscreens, too) be careful not to let the bottle overheat as the formula can break down and lose efficacy.
Blue Lizard Australian Sunscreen is mineral-based sunscreen that is formulated for the demanding conditions of the Australian sun. They're available in a huge range of formulas (baby, kids, sensitive, and more) and size (even a gallon jug!). They've also earned top scores from the Environmental Working Group for sun protection and safe ingredients.
Nobody's Perfect: the brand uses PEG-7 and Phenoxyethanol, two ingredients on which there is limited data, but may pose some health concerns.
Learn More
Non-toxic sunscreen is an ever-evolving category, so utilize resources like the EWG Skin Deep Database and their yearly Guide To Sunscreen to find a product you love. To learn how to find toxic chemical free options in cosmetics, personal care, laundry and cleaning products, check out our Chemical Free Product Guides here. See you on the beach!
Enjoy this post? Share with a friend!