Toxic Chemical Glossary:
What is Homosalate: Chemical Free Living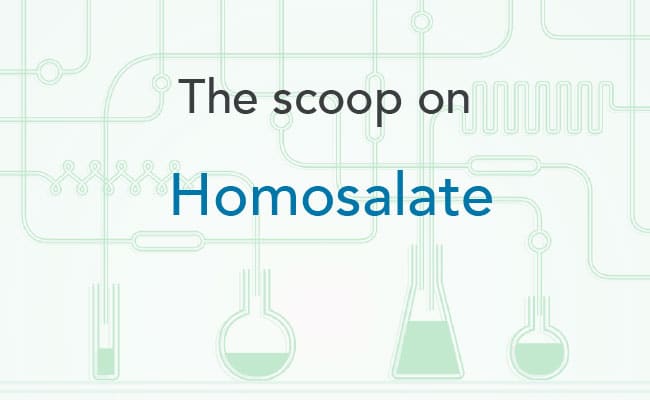 What is homosalate?
Homosalate is an ingredient used in sunscreens and fragrances. It is a UV-absorber, filter, and a skin conditioner [4]. It absorbs UVB rays specifically.
What products is homosalate in?
Homosalate is found in fragrances and sunscreens [4].
How to tell if a product has homosalate
Be aware the homosalate may be listed on ingredient labels under other names including: heliopan; filtersol "a"; 3,3, 5-trimethyl-slicylate cyclohexanol; 3, 3, 5-trimethylcyclohexyl 2-hydrobenzoate; caswell no. 482b; 3,3,5-trimethylcyclohexyl salicylate; ccris 4885; coppertone [4], homomenthyl salicylate, HMS, HS [5]
Risks associated with homosalate
Homosalate has been restricted for use in cosmetics in Japan because of the health issues associated with this ingredient [4]. It is also classified by Canada as likely to be toxic or harmful to organs,  suspected to be an environmental toxin as well as bio-accumulative [4].  Risks associated with exposure to homosalate include:
Estrogen, progesterone, and androgen disruption [1]. Homosalate effects the estrogen system. For example, a study showed that homosalate exposure led to 3.5 times more cell growth in

 human breast cancer cells, which multiply in response to estrogen.[5]

Organ system toxicity [4]
Endocrine disruption [4] – This is especially concerning given that homosalate has been identified in breast milk samples, where the mother's use of sunscreens was highly correlated with the level of homosalate in breast milk. [5]
How to avoid homosalate
To avoid homosalate, read labels and choose toxic chemical free sunscreens that don't contain homosalate or any of the other synonyms (see above) that indicate its presence in sunscreen or products that contain fragrances [4].
There are several ways to avoid exposing yourself or your children to homosalate and other toxic ingredients. If possible, simply avoid sunscreen by covering up and staying in the shade [2]. Or choose toxic chemical free sunscreens that contain minerals like zinc and titanium rather than chemicals [3].
References:
[1] EWG (2007-2016). The Trouble with Oxybenzone and Other Sunscreen Chemicals. Available online: http://www.ewg.org/sunscreen/report/the-trouble-with-sunscreen-chemicals/ December 20, 2016.
[2] Healthy Child Healthy World (2016). Worst Scoring Sunscreens for Kids. http://www.healthychild.org/worst-scoring-sunscreens-for-kids/ December 20, 2016.
[3] Healthy Child Healthy World (2016). Practice Safer Sunscreening. Available online: http://www.healthychild.org/easy-steps/practice-safer-sunscreening/ December 20, 2016.
[4] EWG's Skin Deep Cosmetics Database (2007-2016). Homosalate. Available online: https://www.ewg.org/skindeep/ingredient/702867/HOMOSALATE/ December 20, 2016.
[5] Campaign for Safe Cosmetics Chemicals of Concern: Homosalate. Available online: http://www.safecosmetics.org/get-the-facts/chemicals-of-concern/homosalate/ January 23 2017.