Toxic Chemical Glossary:
What is Sodium Polycrylate: Chemical Free Living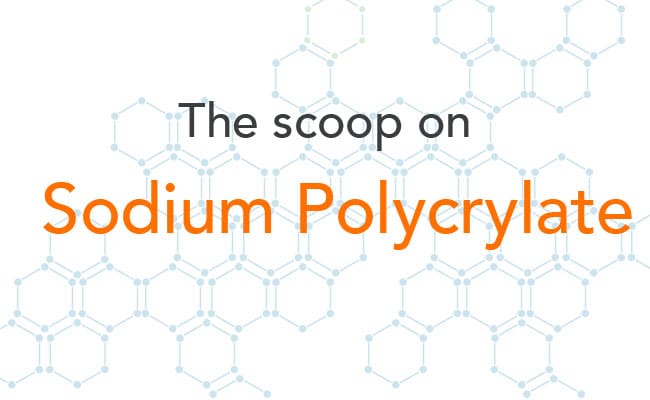 What is sodium polyacrylate?
Sodium polyacrylate is an absorbent polymer that is used as an emulsion stabilizer, a hair fixative, a film former, skin conditioner, and a viscosity agent [1]. You will see them as the gel like crystals in baby diapers, which are makes them  absorbent. In detergents it works as a chelating agent, which neutralizes the heavy metals in water & dirt so that the detergent can be more effective at cleaning. It is also used as a thickening agent because it can absorb and hold onto water molecules. 
What products is sodium polyacrylate in?
Sodium polyacrylate is common in diapers, dish and laundry detergents, stain removers, bleach products & shower cleaners.
How to tell if a product has sodium polyacrylate
Sodium polyacrylate may be listed on ingredients labels under the following synonyms:  sodium salt polyacrylic acid; 2-propenoic acid, homopolymer, sodium salt; 2propenoic acis, homopolymer, sodium salt; rhotex gs; acrylic acid homopolymer sodium salt; polyco; homopolymer sodium salt 2-propenoic acid; polyacrylic acid, sodium salt; propenoic acid, sodium carbonate polymer; sodium polyacrylate; sodium salt 2-propenoic acid, homopolymer [1].
Risks associated with sodium polyacrylate
The Environment Canada Domestic Substance List classifies sodium polyacrylate as "expected to be toxic or harmful" [1]. Small particles of sodium polyacrylate, if inhaled may irritate the airways, cause lung irritation with prolonged exposure [2].  The manufacturing process can create contaminants like acrylic acid, which is associated with skin burns, eye damage & skin corrosion [3].
How to avoid sodium polyacrylate
Read the ingredient labels to avoid sodium polyacrylate and manufacturing contaminants like acrylic acid. Be sure to avoid products that contain all synonyms for sodium polyacrylate like those listed above. Instead, use toxic chemical free detergents and alternatives like cloth diapers if at all possible.
References:
[1] EWG's Skin Deep Cosmetics Database (2007-2016). Sodium polyacrylate. Available online: https://www.ewg.org/skindeep/ingredient/706159/SODIUM_POLYACRYLATE/ December 22, 2016.
[2] NIOSH (2015). Polyacrylic Acid, Sodium Salt. Available online: https://www.cdc.gov/niosh/ipcsneng/neng1429.html December 22, 2016.
[3] EWG Guide to Healthier Cleaning: Sodium Polyacrylic. Available online: http://www.ewg.org/guides/substances/5654 January 24, 2017.