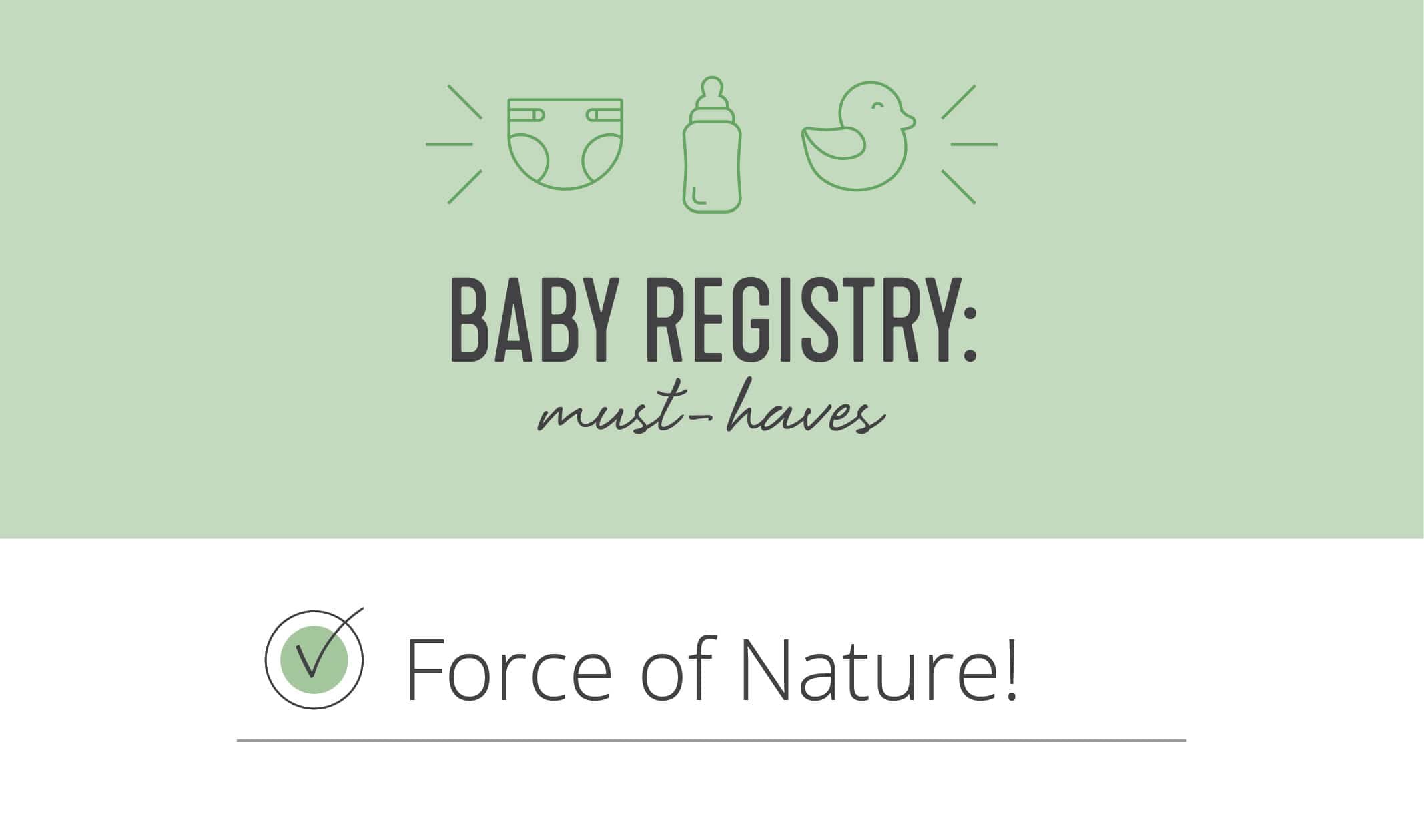 Whether this is your first registry or you're a SKU-scanning pro, we can all agree that baby registries can get overwhelming and fast! When you throw in exhaustive research to find the safest, non-toxic, organic, GMO-free, eco-friendly gear for your little one, it can be a full-time job – and nobody has time for that. The good news is there are more eco-friendly, non-toxic products on the market today than ever before, so we've combed the interwebs for some of the cutest and most useful products for your baby registry – as well as highlighted some of the over-hyped or toxic losers that you can absolutely live without (we promise!).
Our Very Favorite Baby Products That You Actually Need.
Here are some of the brands we are currently loving for the hip, nontoxic-product loving, earth-friendly parent you are – or want to be! You should pat yourself on the back for working to avoid toxic products for your children because babies and kids are
more susceptible to toxins
due to their smaller size and developing bodies – and
those toxins can build up over time
. And, remember – don't put too much pressure on yourself. Even if everything you pick isn't perfectly nontoxic and sustainable, it's certainly better to use more nontoxic products than none at all. You're doing the best you can and that is enough!
Of course, we want to be invited to your baby shower! Our family-friendly all-in-1 cleaning system, Force of Nature, is a little appliance that uses electricity to convert salt, water & vinegar into a multi-purpose cleaner, deodorizer and  EPA-registered hospital-grade disinfectant that kills
99.9% of germs
. It's EPA-registered for use in hospitals, daycares, schools, and more. We're proud to be on the EPA's List N, the disinfectants approved for use against SARS-CoV-2, the cause of COVID-19. With no harmful fumes or residues to rinse, Force of Nature earns the highest possible rating in Mayo Clinic's allergy safety rating system and is certified
100% free from the top allergens
. It's free from skin and respiratory irritants and is so gentle it can even be used to clean produce! So you can feel good spraying Force of Nature on pacifiers, high chairs, and anything else that your baby comes into contact with. Add Force of Nature to your registry with
Babylist
! Babylist makes it easy to add anything from any store to your online registry, including Force of Nature. You can add items from other stores as well as gift cards for meaningful gifts you can't buy – like gifts of house cleaning, dog walking, and home-cooked meals. And, for when you want to go deep in research mode, their site is packed with guides and reviews to help demystify the baby product world.
Comotomo designed their bottles to be "breastfeeding in a bottle," mimicking the nursing experience to help babies transition easily without "nipple confusion." They also designed them with all kinds of smart features like non-leaking dual air vents that prevent colic, a truly wide-neck design for easy cleaning, and a hygienic silicone material that contains no toxic chemicals. And they're super adorable, too. We're not the only ones that love Comotomo – they've taken home awards from The Bump Best of Baby Tech 2017, Babylist's Best of 2016, and many more.
Let's get this out of the way: this bassinet contains some less-than-optimal materials like polyester and polyurethane foam, but Halo states they do not use any flame retardants in their products, which are the chemicals you are going to be most concerned about in a sleeper. On the many plus sides of the Bassinest, it swivels 360 degrees, so you can easily move it to safely pick your baby up and lay them down while you're in bed. If you're a c-section mama, the ability to easily lower the drop-down side walls with just your forearms makes it much easier and more comfortable to pick up your baby in those early days post-surgery. The bassinet has breathable mesh sides and a flat mattress for sleep safety – as well as provides an option that is as close to bed-sharing as it gets without having your baby in bed with you. They also offer an
organic cotton-covered replacement mattress
, which helps you sleep easier knowing your baby isn't sleeping on a toxic mattress.
Esembly Cloth Diaper Try-it Kit
Cloth diapering is one of those things that is easier than it sounds – despite what people tell you when they're trying to scare you! If you want to give it a go without investing in a full system, Esembly has the perfect solution: the Try-It Kit. This adorable kit lets you try out cloth diapering before making a full commitment and gives you everything you need to road test the process including 3 inners, 1 outer, 1 washing powder, and a super adorable Day Bag.
If cloth diapering isn't your thing (and that's okay!) EcoPea's natural diapers are crafted using sustainable and biodegradable bamboo sheets. They're hypoallergenic, dermatologist-tested, and made without harsh chemicals and fragrances, and chlorine – they're designed specifically for sensitive skin. Despite being eco-friendly, these diapers are luxuriously soft and extremely absorbent. They also include the bells & whistles such as a wetness indicator, size label, blowout guard, and snug-fitting technology. They're also vegan, cruelty-free (not tested on animals), and made without gluten. They use environmental protection water-based ink and come in biodegradable packaging and the company's shipping process is carbon neutral, too!
There's a lot no one tells you about the joys and challenges of breastfeeding and pumping – and maybe you can't understand until you do it yourself. One of the biggest learning curves for new mothers is using a breast pump. Getting it set up to eliminate pain and discomfort can take some trial and error, but BeauGen breast pump cushions are a game-changer. These silicone inserts that fit into your flange provide a thin, pillowy layer between you and the hard plastic of your pump. They work with most major pump brands and the team of moms behind Beaugen is there to help make sure you have the most pleasurable pumping experience possible by joining the thousands of BeauGen Moms worldwide who have made peace with their pumps!
This nursery staple is a must-have. While the brand has expanded into a broad line of great carriers, pregnancy pillows, breastfeeding accessories, baby loungers, travel products, and more, they're best known for their u-shaped pillow that makes nursing and feeding your infant easier and safer. The pillows do not contain harmful flame-retardant chemicals and the company offers organic cotton covers in a
range of patterns and colors
.
When you're trying to boost your supply, you'll try pretty much anything – and "galactagogues" (milk-supply-boosting foods and teas) don't always taste great! Cafe Baby Lactation Cookies, on the other hand, taste amazing and we think are working checking out. Dreamed up by Cafe Baby's co-founder, Jessica, these cookies are freshly-made, delivered to you, and are soft, chewy, and delicious. They come in Oatmeal Chocolate Chip and Coffee Chocolate Chip and you can order the dry mix to bake up at home, too.
The moment your baby is born, you go from worrying about yourself to being consumed by caring for this new little person. The truth is: you and your body deserve care and attention, too – particularly after birth or while nursing. An option to consider is MaryRuth's Probiotic Postnatal+, which us made with non-GMO, organic ingredients and contains vitamins, minerals, botanical ingredients, and probiotic strains to support the essential nutrient needs of new mothers.
What You Can Live Without
Just as there are some amazing, ingenious baby products out there, there are also some overhyped products, or just plain toxic ones, that you can live without.
Wipe Warmers
These devices keep your baby wipes (
here are our favorite nontoxic ones
!) warm for late-night diaper changes.
What works just as well:
rubbing the wipe between your hands for a few seconds to take the chill off. Problem solved!
Diaper Genies
There are so many diaper pail systems out there and the heavily fragranced plastic bag refills are expensive and terrible for the environment, all so you can have dirty diapers hanging out in your house for a week?
What works just as well:
A regular trashcan with a lid, emptied once a day and sprayed with Force of Nature. Force of Nature is a powerful deodorizer because it kills the bacteria that causes odor. When you take a bag out, spray the inside of your trashcan with Force of Nature before you add your clean bag. For a stinkier pail, spray with Force of Nature and wipe clean to remove any residue, then spray again and let air dry for maximum deodorizing and germ-killing.
Diaper Stackers
Diaper stackers are an accessory you buy to stack your diapers in. They take up space and don't make it any easier to grab a diaper than if it were in your changing table drawer or a nearby basket (that you probably already own). Who has time to be repackaging diapers out of their store packaging?
What works just as well:
a drawer in your nursery changing table or dresser or a small basket.
"All in one" or "grows with you" systems and accessories
Travel systems and long-term car seats or play stations that promise to "grow with you" sound great in theory, but often they don't do any one thing particularly well, are expensive, and you end up replacing them or wanting something different anyway. It's okay to just take your time and select things as your baby grows, based on how you live your life. Everyone is different and each stage is different. Don't get sucked in thinking that one $700 stroller system is going to work for you at every stage.
Baby-specific Personal Care, Detergent, and Cleaning Products
Sadly, the cleaning industry is poorly regulated and many conventional products contain ingredients that are harmful to humans and, in particular, to babies who are
10 times more vulnerable to these chemicals than adults
. Even products that are marketed for use for babies can have harmful toxins like fragrance, phthalates, and
quats
.
What works just as well:
you're better off using resources like the
EWG Skin Deep database
 to search for products that are
safe to use around people of any age
– not just baby-specific products- and reducing your use of fragranced products overall in your home. You should be particularly careful when it comes to cleaning and disinfecting in your home and choose a gentle, family-friendly, EPA-registered disinfectant for these tasks, like Force of Nature. Here are our
Top Tips For Disinfecting At Home
.
Learn More
Building a registry, like being a parent, can be overwhelming and stressful. Luckily, there are more sustainable, responsible products being created every day to help families thrive. We are so proud to be part of a community of incredible brands that are dedicated to supporting families with products and information. We created our multi-purpose cleaner and EPA-registered disinfectant because we knew there was a better way to clean and protect our homes from sickness-causing germs without putting our family members at risk.
Learn more about the science behind our powerful little appliance
.