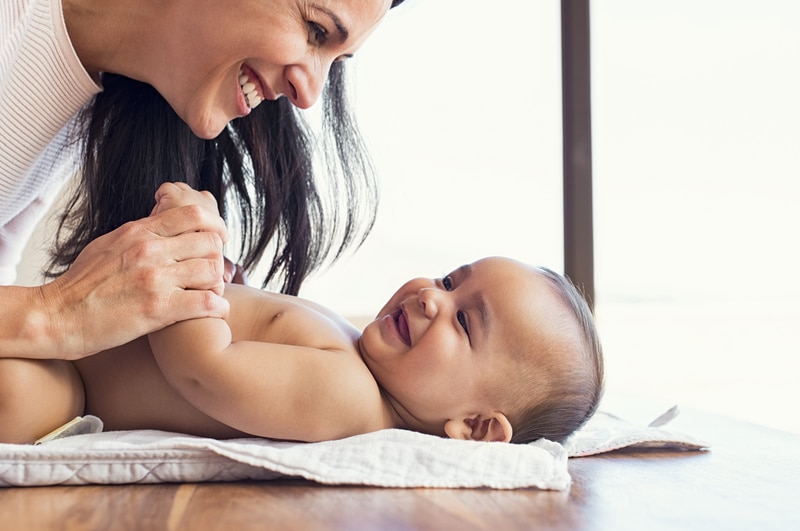 The baby wipe is the ultimate multitasker and is rightfully beloved by parents everywhere. Unfortunately, many popular wipes brands (even seemingly natural ones) are exposing our babies to toxic chemicals during a developmental stage when they're more susceptible to hormone and endocrine disrupting toxic chemicals. Here are a couple of our current favorite brands of non-toxic baby wipes to check out for yourself, as well as a rundown on which ingredients to avoid.
Top 3 Ingredient To Avoid For Non-Toxic Baby Wipes
1. NO FRAGRANCES! First of all, babies smell delicious all by themselves. Beyond that,
fragrances
are linked to a staggering number of
health risks
. Across multiple research studies, chemicals used to make fragrances are classified as
allergens, hormone disruptors, asthma triggers, neurotoxins
and
carcinogens
. What's worse, the fragrance industry regulates itself and manufacturers are not required to list their fragrance ingredients on product labels.  Often only one word, "fragrance", is used on the label and
can hide a cocktail of more than 100
toxic ingredients. This is because fragrances are considered to be "trade secrets".
Fragranced products also often contain
phthalates
, which help fragrances last longer and aren't listed on ingredient labels. Phthalates have been banned for use in products in the European Union, but the United States still permits their use despite the fact that research has shown that these chemicals cause
hormonal disruption
as well as
developmental and reproductive toxicity
. They're dangerous and
carcinogenic
. Another reason to skip any fragranced baby wipe!
2. Watch out for preservatives like
parabens
, which are synthetic preservatives used in baby wipes as well as cosmetics and personal care products  and are linked to a
multitude of health risks
including cancer, endocrine disruption, reproductive toxicity, neurotoxicity and skin irritation. To avoid them, avoid wipes with ingredients ending in -paraben.
Also avoid 
phenoxyethanol
, which is used to limit bacterial growth. Exposure to phenoxyethanol has been associated with a variety of health issues ranging from moderate concern to severe,
life-threatening problems
including
allergic reactions
, skin, eye and lung irritation and neurotoxicity. To avoid it, skip any baby wipes with it (or it plus a number) or ingredients that have "-phenoxy-" as part of the name listed on the label.
3.  Memorize these three skin irritants and allergens.
Cocamidopropyl Betaine
is a synthetic detergent and surfactant that is linked to allergic skin reaction, contact dermatitis and environmental toxicity. Increasing rates of sensitization in the population led to cocamidopropyl betaine being named Allergen of the Year in 2004 by the American Contact Dermatitis Society.  
Propylene Glycol
is a skin conditioner found in baby products, cosmetics & detergents and is associated with skin irritation, eye and lung irritation with frequent or prolonged contact and organ system toxicity.  To avoid it, skip any baby wipes listing these ingredients: propylene glycol, 1,2-dihydroxypropane, 1,2-propanediol, 2-hydroxypropanol, methylethyl glycol, proane-1,2-diol, 1,2-dihydroxypropane, 1,2-propylene glycol, alpha-propyleneglycol, dowfrost, or methylethylene glycol. 
1,4 Dioxane
is a by-product of the ethoxylation process by which manufacturers attempt to make harsh, raw petroleum-based ingredients less irritating to the skin. In Canada, 1,4-dioxane has been banned for use in cosmetics because of research that's linked this chemical to the development of
cancer and birth defects
. 1,4-dioxane can easily and rapidly be absorbed through a baby's skin in toxic amounts. 1,4-dioxane won't be listed on the label, so stay away from wipes listing these ingredients: polyethylene, polyethylene glycol, sodium laureth sulfate, ceteareth, oleth, oxynol, -xynol, and PEG.
Now for the good news, there are great non-toxic baby wipe brands out there! Here are a couple of our favorites.
3 non-toxic baby wipes brands we are loving right now
Our Top Pick: WaterWipes are made using purified water and a drop of fruit extract. WaterWipes are suitable for use on the skin of newborn babies, and have been awarded the Seal of Acceptance from The National Eczema Association. With only two ingredients (one of which is water!) and no fragrances, we love the clean and simple nature of this product.
Nobody's Perfect:  This verges on nitpicks, but these non-toxic baby wipes include grapefruit seed extract as an antimicrobial. There is some concern around GSE and it can be contaminated during processing with toxins like benzalkonium chloride, parabens, and triclosan. That said, the concentration is so low in this product that the EWG gives WaterWipes their top safety score.
Next Best:
1.Attitude Baby Natural Wipes are EWG-verified, meaning they have passed their testing and met their rigorous standards. They're also fragrance-free and have a relatively short ingredient list.
Nobody's Perfect: the product contains Potassium Sorbate,  which is used as a naturally occurring preservative to inhibit bacterial growth. There is some limited data that this ingredient is connected to organ system toxicity.
2. Bets and Emy Wipes, like WaterWipes, include just water and GSE. They're EWG-verified, which means they've independently verified the safety of the ingredients in the formula.
Nobody's Perfect: As with WaterWipes, this formula contains GSE. However,  they've been vetted by the EWG and deemed safe, making these a great option.
Learn More
Brands are constantly revising their formulas and releasing new products, so it can be helpful to use resources, like the EWG Skin Deep Database, to help make your search for non-toxic baby wipes a little easier. For more information on safer products to use in your home, check out our product guides here. And, remember our family-friendly and effective cleaning system, Force of Nature, is here for any of your baby, pet and just-plain-life messes that the universe throws your way.