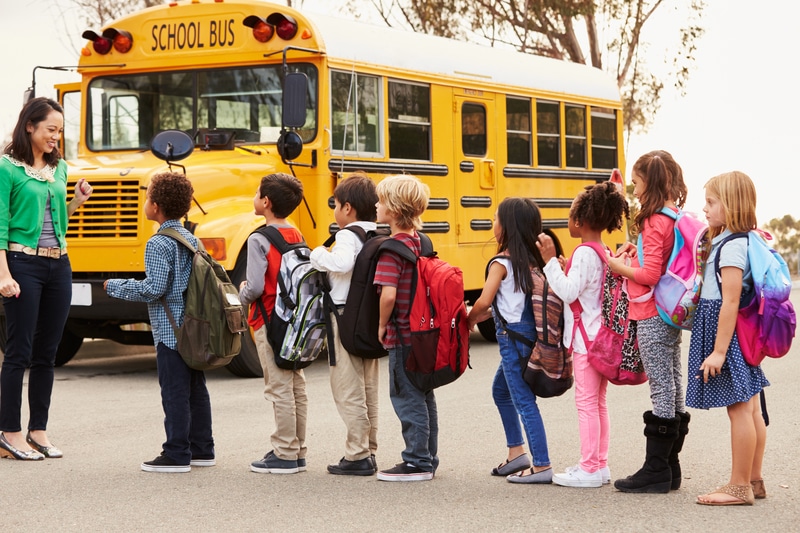 Back-to-school is an exciting time for kids and parents alike. They look forward to their new classmates and teachers, while you look forward to some consistency in your schedule after what always ends up being a crazy-busy summer! Part of the fun of preparing for the upcoming school year is back-to-school shopping, but unfortunately, many of the products we typically send our kids off to school with are full of harmful toxins and chemicals that can pose a threat to their health, the health of those around them, and the environment. And with health top of mind, there have been more rigorous cleaning and disinfecting practices at home and school, which can have unintended and harmful consequences due to the chemicals found in traditional cleaning products. Kids are
at a greater risk
of developing health problems from the toxins found in cleaning products because they're much smaller than us and their bodily systems are still developing – and
these risks compound over time
. Going into the 2022-2023 school year, it's on us to make the best decisions possible to protect kids from the risks associated with the toxic chemicals found in school supplies and cleaners. By buying toxin-free school supplies, including our kid-friendly, eco-friendly
all-in-one cleaner, sanitizer, and disinfectant
, you can equip them with the tools they need for a safer school year free of scary chemicals and sickness-causing germs.
Backpacks
There's been a lot in the news lately about PFAs – the dreaded "forever chemicals" – and the negative impacts they can have on human health. They can lead to a
higher risk
of developing liver and immune system damage, testicular cancer, high blood pressure, and high cholesterol, to name a few. Sadly, PFAS can be found in a lot of the products we outfit our kids with, especially water-proofed fabrics like those used on backpacks and lunch boxes. The trouble is that most manufacturers won't say whether they use PFAs, so it can be hard to know what products are safe bets. Additionally, you have PVC to look out for, which contains dangerous additives such as phthalates and is described by Greenpeace as the
"most environmentally damaging plastic."
The best option will always be choosing a backpack made of natural fibers that are not treated with stain- and moisture-repellants.
Our Top Choice:
We've done the digging for you to research the best options on the market, and our top backpack pick comes from Fluf, a sustainable bag producer that uses certified organic cotton canvas and recycled water bottles to create ethically handmade and non-toxic items that your kids (and you!) will love. All of Fluf's products are independently tested to be free of all PFAS and PVC, but you also won't find any
endocrine-disrupting and cancer-causing phthalates
, heavy metals, fire retardants, BPA, or formaldehyde. Talk about easing a parent's mind! Their
B Packs
are available in ten colors so your kid can show off their favorite in the hallway.
Lunchboxes
When it comes to lunchboxes, the goal is to avoid harmful plastic chemicals and the risks they can carry. Chemicals from plastic can
leach into your kids' food
and cause health problems such as fertility issues and metabolic disorders.
Our Top Choice:
SoYoung is a Canadian brand that creates whimsically designed lunch boxes and bags made with toxin-free materials (and never any PVC, PFAs, phthalates, lead, or BPA). The exterior of their
lunchboxes
is a linen/cotton blend, and on the inside, you'll find an easily removable insulated liner that makes it simple to keep clean between school days. (Hint: Just remove and spray with Force of Nature to eliminate any germs that are still stuck from school!) Their fun patterns and designs feature astronauts, sea creatures, rainbows, and dinosaurs, so there's something to tickle every kid's fancy.
Water Bottles
Disposable plastic bottles have been replaced by reusable plastic bottles in most cases today, but even these reusable options can be chock-full of plastic chemicals that can
leach into the water
you drink. You have to worry about
BPA
(which can disrupt the still-developing endocrine systems of young ones), phthalates, and other plastic-derived chemicals that can lead to
adverse neurodevelopment
, cognitive development, and motor development in kids. To keep things simple, avoid plastic water bottles altogether and opt for a non-toxic material, like stainless steel!
Our Top Pick:
Our top pick for water bottles is the Sippy or Straw Bottle from
Pura
, which offers the amazing ability to grow and adapt with your little one as they get older! Every bottle fits every lid, including a nipple, sippy lid, straw, and sports top – you just select the size and color you want and adjust your lid to
configure your bottle
as needed! What's even better is you can feel good about the materials used. With just food-grade stainless steel and medical-grade silicone, there's "zero plastic, zero yuck," as Pura says. Like with the lunchbox, you can keep your lids and bottles clean by spraying with Force of Nature – or, simply throw the bottle in the dishwasher with no fear of it melting or leaching chemicals!
Grab-and-Go Cleaning and Disinfecting
Giving your kids the tools to keep their environment clean and germ-free is a great way to empower them to look out for their own health and safety, but conventional versions of on-the-go cleaners come with a host of health and environmental concerns that outweigh the convenience. For mess-free disinfecting, many people turn to wipes, but these can leave harmful chemicals (like
quats
) behind on surfaces if not rinsed off. Lingering cleaning chemicals can cause asthma and allergies, and hand sanitizers contain
harmful chemicals linked to health effects
like cancer, neurotoxicity, hormone disruption, asthma, and more. Instead of these options, reach for Force of Nature's travel-size solution.
Our Top Choice:
Our
Travel-Sized Bottle 3-Pack
comes with 3 2-oz bottles that you can fill with Force of Nature as you make it on-demand and toss in your kid's eco-friendly backpack. It's an easy, people-friendly, and planet-friendly way to
kill 99.9% of germs, viruses, and bacteria
on their desk, school supplies, bus seat, lunch tables, and more! Force of Nature is certified
100% skin-safe and best to use on sensitive skin
by Mayo Clinic's allergy rating system, SkinSAFE. It contains no respiratory or skin irritants and can even serve as a quick hand cleaning option if needed (without the toxic downsides of
conventional hand sanitizer
).
Back to School: Get Prepared and Stay Protected
We know the past few school years have been a roller coaster for parents, students, and teachers. As we send our own kids back to school this fall, we're proud to provide parents like you with a solution that gives us the peace of mind that we're protected–both from germs AND toxic chemicals–when we clean and disinfect our homes and schools. With no irritants or toxins, you can feel good knowing Force of Nature can be used around kids, pets, babies, and sensitive family members with immunological conditions like asthma or allergies (and it's gentle on the planet, too). Ready to check our on-demand, make-at-home disinfectant off your back-to-school shopping list?
Shop Force of Nature now
.