Eco-Friendly Home:
Lunches, Backpacks & More! Head Back To School Safely With These Eco-Friendly School Supplies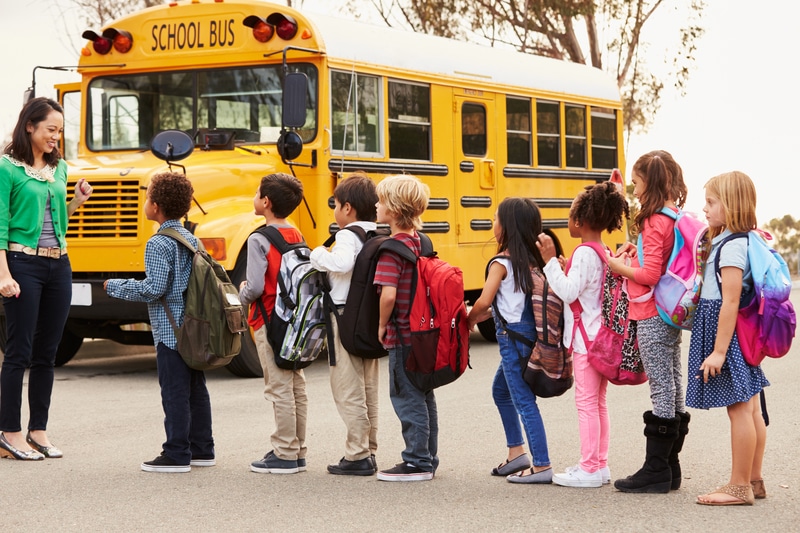 We have a lot on our minds as we send our kids back to school this fall – and our list of school supplies feels a little less joyful when you're shopping for sanitizer, disinfectant, and face masks. While there is a lot out there we can't control, we can choose the safest, most eco-friendly products for our kids to use, protecting them from harmful chemicals and toxins. Because we're disinfecting more than ever, kids are exposed to more chemicals in their daily life. Unfortunately, children are disproportionately at risk from the toxins in cleaning products because of their smaller size and rapidly developing bodies and these risks accumulate over time, so it's important to make the best decisions we can when it comes to purchasing products they use every day. We're here to help! Not only do we have our eco-friendly, kid-friendly 3-in-1 cleaner, sanitizer, and disinfectant, but we're coming in hot with a handy roundup of some of our favorite back-to-school supplies for a safer, ecofriendly school year!
Our Favorite Eco-Friendly Back To School Finds
1. Adorable Backpacks
Conventional backpacks are often made out of polyester and treated with stain and moisture repellant chemicals that are harmful to our environment and our health. When washed, these backpacks can shed microplastics into our waterways, which are harmful to aquatic life and also pollute the air we breathe. Fabric treatments like stain and moisture repellants contain a harmful chemical called PFOA which does not break down in the environment and can be absorbed into our bloodstream. Animal data indicate that PFOA can cause tumors, neonatal death and may have toxic effects on the immune, liver, and endocrine systems. Instead, choose sustainably made backpacks that are made from natural fibers and not treated with fabric treatments.
Our pick:
State is a certified B-Corp and their backpacks are hands down the cutest things we've ever seen. They come in a broad variety of sizes and colors and are made to last in recycled polyester and canvas materials with features like extra pockets, water bottle holders, and padded straps. Every purchase gives back thanks to their Give. Back. Pack. program, which supports American children and families in need with initiatives like donating fully-packed backpacks and partnering with charities and schools.
2. Lunchboxes
Your main goal here is to avoid plastic for many reasons, not the least of which is that harmful chemicals can leach into the food your kids are eating causing health problems like metabolic disorders and reduced fertility. Even BPA-free plastic is not a safe alternative, so we recommend sticking with a non-toxic, eco-friendly alternative like stainless steel. When you get home, you can use Force of Nature to spray down the inside and outside of lunchboxes to eliminate any germs that came home from school!
Our pick:
When it comes to an eco-friendly lunchbox, we have long been adoring fans of the Planetbox Rover! This stainless steel lunchbox has four main compartments and one special treat spot, so you can create lunches that even the pickiest "no-food-touching" eater will love. You might even be able to sneak in a veggie or two – no promises! Planet Box makes additional stainless steel containers and accessories as well as cute bags to carry your Rover in with a convenient strap to go over little shoulders. Trust us, you'll even want one for yourself.
The Planet Box Rover's features include:
Toxic-free: contains no lead, PVC, phthalates or BPA material.
Easy to clean. Just stick it in the dishwasher. Make sure to remove magnets first!  You can store them on the refrigerator or another convenient spot when the lunchbox is not in use.
Includes 2 leak-proof containers, Big Round Dipper and Little Round Dipper, for a variety of "wet" food possibilities.
5 compartments to make packing a variety of foods easy with separation.
3. Water Bottles
Like lunchboxes, plastic has no business anywhere near your kids' (or your own!) water bottle. Disposable plastic bottles and reusable plastic bottles can allow plastic chemicals to leach into the water you drink, including BPA (which can cause endocrine disruption, which is particularly worrisome for kids and their developing bodies), phthalates (also endocrine disruptors), and other chemicals that can cause adverse neurodevelopment, cognitive development, and motor development (and even language delays) in children. Plastic doesn't break down for hundreds of years which is why there's currently a floating island of trash in the pacific that is 3 times the size of France. Bottom line: go with a stainless water bottle for your child!
Our pick:
Yeti's Rambler Jr 12 oz Kids Bottle
This 12 oz small-and-mighty kids bottle is stainless steel and as Yeti says "over-engineered for your little wild ones." It boasts double-wall vacuum insulation that locks in ice-cold water, has a Straw Cap that's leak-resistant when closed, and both the bottle and cap are dishwasher safe. It's durable and will withstand many bus rides, carpools, lunchtime, and even an epic bottle flip (not recommended).
4. On the Go Cleaning and Disinfecting
Conventional versions of convenient on-the-go items like disposable disinfectant wipes and hand sanitizer bring with them a whole host of health and environmental concerns that are not worth the convenience. Disinfecting wipes are often used incorrectly and can leave harmful chemicals (like quats) as a residue that lingers long after you're done cleaning. These chemicals can trigger asthma, allergies, and other health concerns. Hand sanitizers contain harmful chemicals like SLS, Triclosan, phthalates, parabens, and alcohol, which are linked to conditions like cancer, hormone disruption, asthma, neurotoxicity, and more. Here's what we'd recommend instead!
Our pick:
Force of Nature Travel-Sized Bottle 3-Pack
Our 3-pack of 2 oz bottles are ready to be filled with Force of Nature and tossed in a backpack to give your kids an eco-friendly way to kill germs, viruses, and bacteria on their school supplies, desks, chairs, bus seats, and more. Force of Nature is certified 100% skin-safe and best for sensitive skin by SkinSAFE, Mayo Clinic's allergy rating system. It's free from skin and respiratory irritants, and can even be used as quick hand-cleaning option if you don't have easy access to wash your hands – and one that doesn't pack the toxic punch of conventional hand sanitizer.
A Note About COVID-19:
Force of Nature is an EPA-registered disinfectant that kills 99.9% of viruses and bacteria (or 99.9% of viruses, bacteria, and germs, or 99.9% of germs) and is EPA approved for use against SARS-CoV-2.
Let's Do This!
We know this past year has been hard on parents and teachers in so many ways. With our own kids heading back to school, we're honored to be able to provide you with a solution that helps us feel safer and more reassured when cleaning and disinfecting in our homes and on the go. With no toxic chemicals or irritants, you can feel good about using Force of Nature around babies, children, pets, and family members that experience allergies, asthma, and other immunological conditions – and it's friendlier for the planet, too. If you're ready to snag our on-demand disinfectant you can make in your own home, shop Force of Nature here.