Electrolyzed Water: A scientifically proven technology now available for at-home use
New Force of Nature allows you to make this powerful yet safe all-purpose cleaner right on your countertop.
Shop Now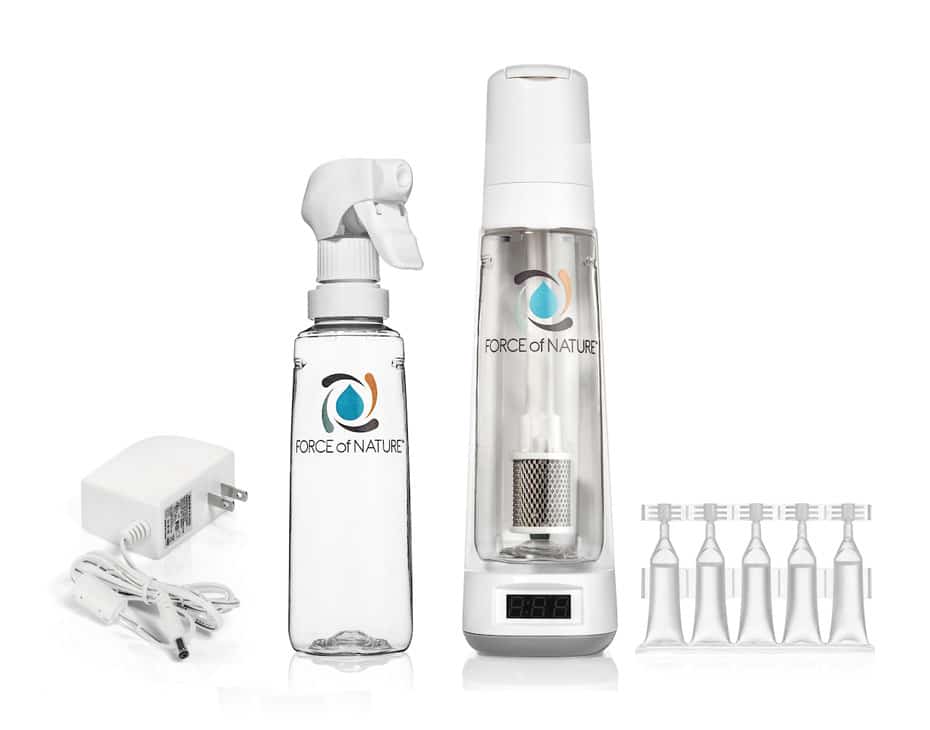 Nature's Powerful All-Purpose cleaner & deodorizer
electricity + salt, water, vinegar = electrolyzed water
Scientists have long known that electrolyzed water is one of nature's most effective cleaners & deodorizers.  It's simple chemistry where tap water plus a capsule of salt, water & vinegar are processed at a low level of electricity, which changes the solution's chemical composition into a super-safe all-purpose cleaner & deodorizer.
Learn more about electrolyzed water
A Natural Cleaner As Powerful As Bleach
Without Toxic Chemicals.
Electrolyzed water has been used for years in the industrial space for its effectiveness & safety.  Creating it used to require industrial equipment costing $10,000+. Force of Nature brings this technology to your home with a small appliance that fits on your countertop.
It has zero dangerous chemicals yet is as effective as bleach. See 3rd party lab test results here.
Shop Now
A natural cleaner & deodorizer as effective as bleach.
When salt, vinegar & water are electrolyzed, 2 non-toxic cleaning ingredients are created: 
Sodium hydroxide: a commonly used detergent but without the bubbles– cleans even grease, grime & soap scum. Contains a safe concentration of only .

0000003

%, yet cleans as well as major brands which can contain up to 5%.
Hypochlorous acid: a cleaner & deodorizer as effective as bleach but with no harmful chemicals. Stops even the most offensive odors at the source, like in diaper pails, trash cans, cat litter & musty sports gear.
Shop Now
A Natural Cleaner That Stands Up To The Test
There's a good reason why electrolyzed water has been used in the industrial space for so long – because it stands up to tough cleaning jobs. Even though it's 100% free of toxic chemicals, Force of Nature cleans as well as these brands:

On grease
Formula 409 & Clorox Clean-Up

On glass
Windex

On odors
Febreze

On soap scum
Scrubbing Bubbles

On rugs
Resolve
Shop Now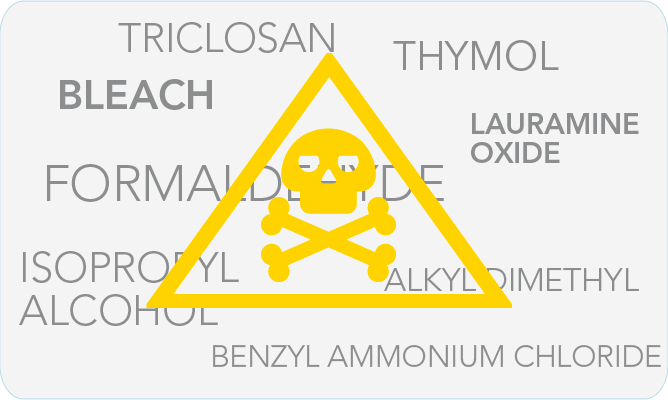 A natural cleaning product free of allergens & irritants
Because there are no federal regulations dictating standards for "natural" cleaners, many contain toxic ingredients like dyes, fragrances, preservatives, phosphates, formaldehyde, triclosan, thymol, SLS, ammonia & phthalates. Check the label – if you can't pronounce it, that's probably a red flag!
With Force of Nature, you don't have to worry about exposing your family & pets to toxic ingredients.
Shop Now
A Natural Cleaner that's much kinder to our environment.
Force of Nature is kinder to our environment than conventional cleaners & deodorizers in 3 ways:
No toxic chemicals to go into the water system.
Zero plastic bottles to be transported or disposed of – you simply refill and re-use your spray bottle. Our bottles are free of both BPA & BPS.
All shipping materials 100% recyclable.
Shop Now