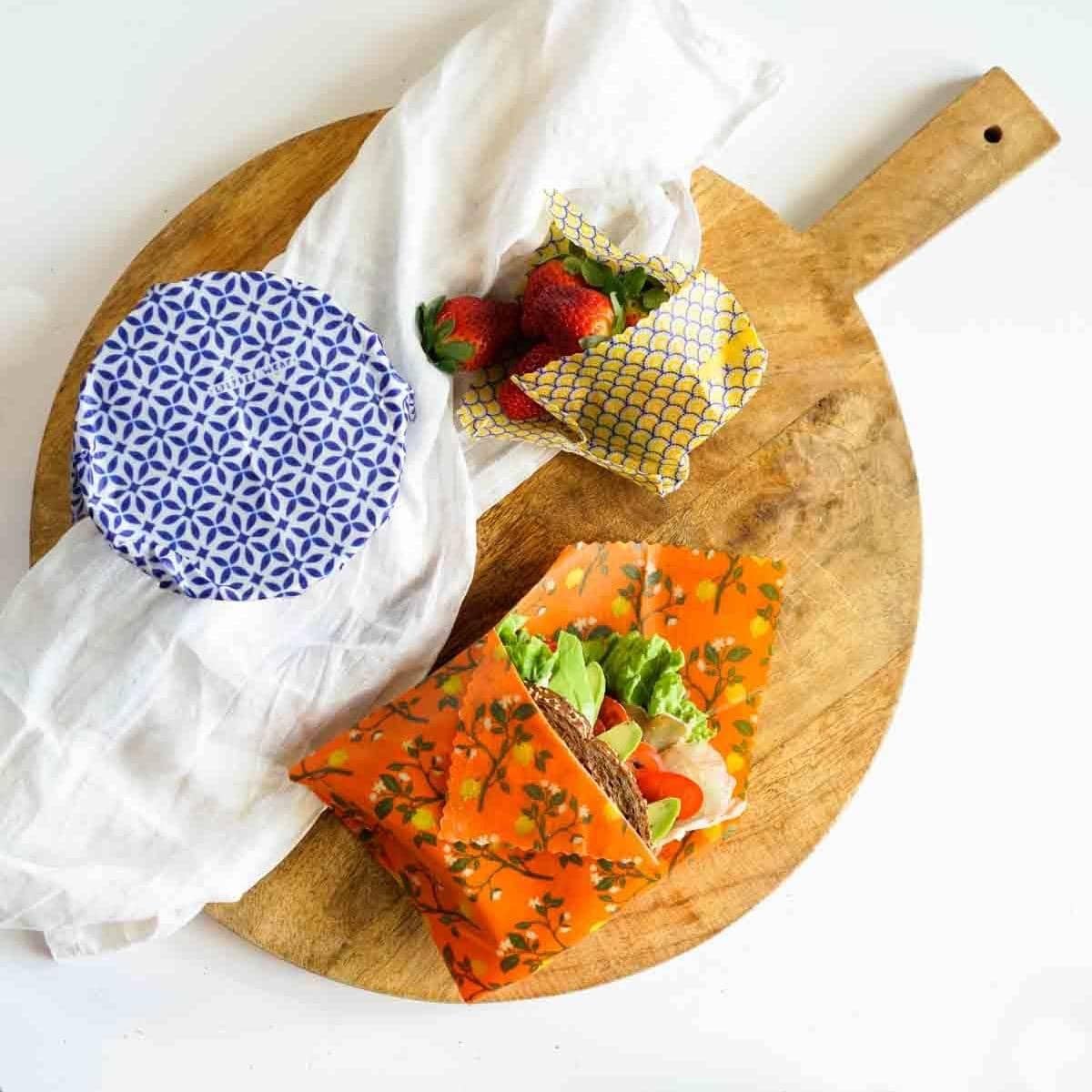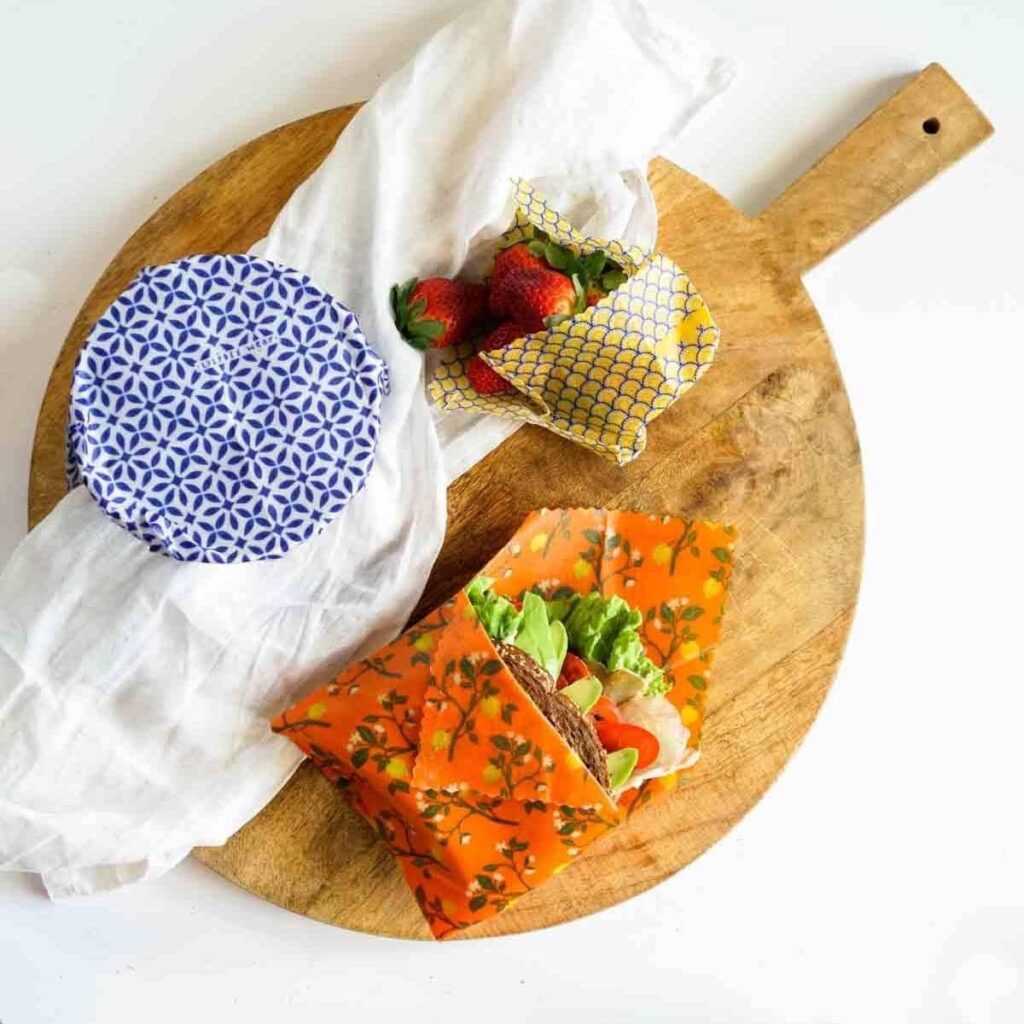 Plastic food wrap is convenient and easy to use, and it keeps raw and cooked food fresher for longer by keeping out moisture and air. It is so widely used in the United States that each year Americans buy enough plastic wrap to
cover the entire state of Texas
. 
In 2020, 5.3 million Americans used
10+ rolls of plastic wrap annually.
Plastic food wrap keeps some dirty secrets under wraps: it's extremely difficult to recycle, can release harmful chemicals, and contributes to pollution, landfill, and plastic waste in the ocean. 
Let's first take a look at what plastic food wrap is made of. No matter whether it's called plastic wrap, Saran Wrap, or cling film, it's made of
polyvinylidene chloride (PVDC), polyvinyl chloride (PVC), and/or polyethylene (PE)
—all different kinds of plastic. And as you may expect, these contain chemicals that aren't so good for you:
Polyvinylidene chloride (PVDC) contains chlorine. A

recent medical study

shows that PVDC can have cytotoxic effects on human cultured liver cells.

Polyvinyl chloride (PVC) also contains chlorine and is a type of plastic resin. Its manufacturing process uses vinyl chloride, a gas that is a

known carcinogen

. 

Polyethylene (PE) can potentially

contaminate food and beverages

. 
Because plastic food wrap is designed to be thin, flimsy, and clingy, it
clogs common recycling machines
. Recycling food wrap requires going to
specialty drop-off locations
and the wrap must be completely clean and dry, which is difficult to achieve when its main use is to preserve food. That's why it's no surprise that
less than 9%
of all plastic products are recycled properly, and the U.S. plastics industry is responsible for at least
232 million tons of CO2 gas emissions per year
. 
When plastic wrap ends up in a landfill or incinerator, the material releases dioxins, which are chemical compounds classified as persistent environmental pollutants by the
World Health Organization (WHO)
. In 2018 the
Environmental Protection Agency
(EPA) estimated that American landfills received 27 million tons of plastic alone, which is hard to wrap your brain around when you consider that plastic also takes a whopping
450 years
to decompose properly. When it goes into the sea, plastic food wrap and other similar forms of packaging—like sandwich bags, candy wrappers, and resealable storage bags—contribute to
46% of the 14 million metric tons of new plastic waste in the ocean each year.
Switch Your Food Wrap to Reusable Beeswax
Want a simple sustainable swap? Switching to reusable wraps for food to prevent waste is much more eco-friendly and also saves your family money. Our
Reusable Food Storage Wraps
can be reused and washed up to 150+ times. One pack, which comes with 3 different sizes, saves enough plastic to wrap a school bus! Plus, our Reusable Food Storage Wraps are made of simple, environmentally friendly, and organic materials:
GOTS-certified
organic cotton, natural beeswax, and organic plant oils. So when you're completely done with them, these beeswax wraps are compostable and biodegradable! 
To clean our beeswax food wraps after use, simply hand wash with cool water and mild dish soap or spray Force of Nature, then air dry. Make sure to store them away from direct sunlight and don't use them in the microwave. Avoid putting them in hot water or the dishwasher. 
Added bonus: our reusable beeswax food wraps also are very cute with their colorful patterns! They're much more aesthetically pleasing and Instagrammable than plastic wrap. 
How to Use Reusable Food Wraps
Because these reusable food wraps are made with natural beeswax, you activate their clingy nature by using the warmth of your hands. Hold it for about 15 seconds and then shape the wrap to form the desired watertight seal. 
Beeswax wrap is surprisingly versatile – here are some ideas to get you started: 
Preserve cut fruits like citrus and avocado in the fridge longer

Use it like plastic wrap over bowls and plates to store leftovers

Lost the lid to a mason jar or container? Use a beeswax wrap!

Use it to wrap a flower bouquet

Perfect for transporting a sandwich or snacks

Swaddle blocks of cheese, bread, or pastries to save their freshness 

Make your fresh herbs and vegetables last longer

Are you an avid baker? Next time when proofing your bread dough, use a beeswax wrap instead of plastic. 

In a pinch or for a picnic, use the beeswax wrap as a serving platter! 
How to Clean Reusable Food Wrap with Force of Nature
As we mentioned, you can simply use mild dish soap and cold water to clean your reusable beeswax wrap, but if you want to really make sure that nothing funky could possibly remain, we recommend using Force of Nature. It kills
99.9% of germs
including
mold
,
Salmonella, and Listeria
, and is a great deodorizer too if you want to remove any previous food's scent. 
Force of Nature is an appliance that uses electricity to convert salt, water, and vinegar into a
multipurpose
cleaner, deodorizer, sanitizer, and disinfectant. No harmful chemicals, residues, or fumes here! The
Force of Nature appliance
creates the antimicrobial ingredient
hypochlorous acid
, which is so gentle it's used in wound healing, eye care, and veterinary care products.  
It is also an EPA-registered medical-grade disinfectant that kills
99.9% of viruses & bacteria
and is even approved for use against
COVID-19
.  
We created
Force of Nature
because we believe you shouldn't have to choose between what works and what's gentle to people (kids and pets too!) and our planet. Learn more about us
here.