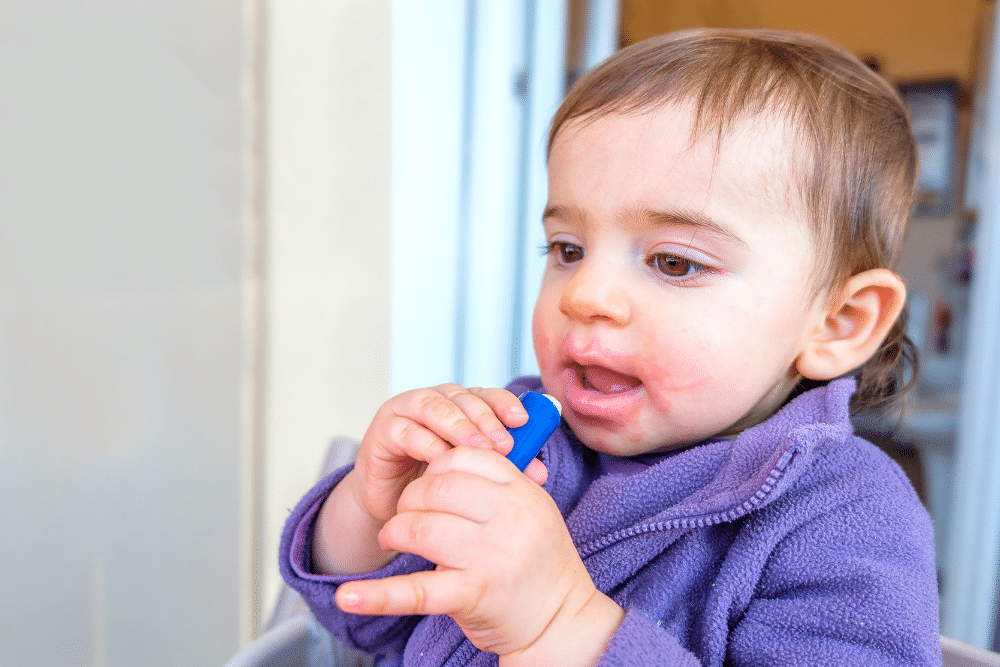 With the cooler air creeping in soon, it's tempting to pick up that old standby lip balm in the grocery store checkout aisle. But before you snag the first one you see (or the one that smells like your favorite soda from 6th grade), consider this: lip balm, as innocent as it seems, often contains multiple toxic ingredients. And since you're liberally applying it to your mouth, you're going to want to avoid those ingredients wherever possible! We're here with the top ingredients to avoid and a few products we're loving right now, to help you choose a non-toxic lip balm that you can feel good about.
Top 3 Things To Avoid For A Non-Toxic Lip Balm
Preservatives/Antimicrobials

like

parabens

and

BHA

/

BHT

. BHA (butylated hydroxyanisole) and BHT (butylated hydroxytoluene) are preservatives used in cosmetics to prevent the growth of harmful bacteria and fungi. These chemicals have

been linked to hormone disruption and organ-system toxicity

. BHA and BHT have also been linked to 

developmental toxicity, reproductive toxicity, irritation, and cancer.

Parabens may

disrupt the normal functioning of the endocrine system

even if you don't swallow them because these chemicals are easily absorbed through the skin where they enter the blood stream.

 Research has shown that parabens can also cause

cancer and result in reproductive toxicity

. For a non-toxic lip balm, definitely skip any that have an ingredient ending in -paraben.

Fragrances and Phthalates

– these two go hand-in-hand, because phthalates are used to help fragrances stick around longer. They've been banned in the European Union due to their linkage to  health issues including 

endocrine disruption, developmental toxicity, reproductive toxicity, and cancer

. The shocking fact about fragrances is that their ingredients don't have be listed on labels, because fragrance ingredients are considered "trade secrets." So that one word, "fragrance," can hide a

cocktail of hundreds of toxic chemicals

that are unregulated. Once these fragrances make contact with your skin, they're can be absorbed into the bloodstream.  Fragrances have been linked with health problems including 

asthma, allergies, hormone disruption

,

reduced fertility, breast cancer, and immunotoxicity

. Be wary of "unscented," as many "unscented" products contain fragrances to cover the aversive natural smell of a product.

Sunscreens

.

Octinoxate

and

retinyl palmitate

, ingredients that are used in products that provide UV protection, can also cause

endocrine disruption and biochemical and cellular level changes in the body

. Octinoxate

mimics the behavior of hormones

in the body. It's a UV absorber, but it's also absorbed through the skin into the bloodstream. To avoid this toxic ingredient, skip any lip balms with octinoxate or its synonyms listed on labels: ethylhexyl methoxycinnamte, 2-ethylhexyl p-methoxycinnamate; parsol, parsol mcx, escalol, 2-ethylhexyl p-methoxycinnamate; omc; 2-ethylhexyl 4-methoxycinnamte; 2-ethylhexyl ester p-methoxycinnamic acid; neo heliopan; 2-ethylhexyl 4-methoxycinnamte. Retinyl palmitate is commonly used in sunscreens and lip products, but can actually

contribute

to

UV-related sun damage.

This ingredient is especially dangerous for children and breastfeeding or pregnant women because it can lead to a potential

overdose on vitamin A

. To avoid it, skip over any lip balms that contain retinyl palmitate as well as these synonyms on their ingredient lists: vitamin a palmitate; axerophthol palmitate; hexadecanoate retinol; retinol palmitate; retinol, hexadecanoate; aquasol a; arovit; optovit-a; retinol palmitate.
Three Non-Toxic Lip Balms We're Loving Right Now
Our Top Pick: Beautycounter Lip Conditioner in Calendula has been EWG verified, meaning it is recognized as having the highest level of safety in their ingredients. This balm comes in a little tub that lasts & lasts. It's combination of avocado oil, shea butter, meadowfoam seed oil, and jojoba oil is intensely moisturizing without being greasy and the infusion of calendula and chamomile oils adds a calming ingredient.
Nobody's Perfect:  The calendula and chamomile oils, while calming, do provide a scent to the balm. Natural fragrances, even those from essential oils, can be problematic for people with allergies, so if you're looking for truly unscented, this one's not for you. That said, we're happy with the rigorous safety standards upheld by both Beautycounter and the EWG, and feel good recommending this guy!
Next Best:
1.Makes 3 Organics Unscented Nourishing Lip Balm is also EWG-verified and features a truly unscented stick formula. With just 3 ingredients, this simple, non-toxic lip balm is one you will want to check out.
Nobody's Perfect: there's not much we can say against this product, but it does contain beeswax and coconut oil, so if you're allergic to either of those ingredients you'll want to avoid this one.
2.Lowen's Natural Skin Care Lip Balm is a great product line if you are interested in natural flavors/scents, but want a safer option. They're also verified by the EWG, so you know they've been rigorously tested.
Nobody's Perfect: As with any product line, you'll want to check out the individual flavors to make sure you're happy with the ingredients and don't have any allergies.
Learn More
We know it's sad to leave some of your cinnamon, sugar cookie or minty-fresh balms in the past, but, we promise, it's for the best! For an even deeper dive, check out our post here, but avoiding the ingredients noted above are a huge step in the right direction towards switching to a non-toxic lip balm. You can also use the EWG Skin Deep Cosmetics Database as a tool to research the lip balm product category, as well as specific ingredients and products across a variety of personal care and cosmetic product types.