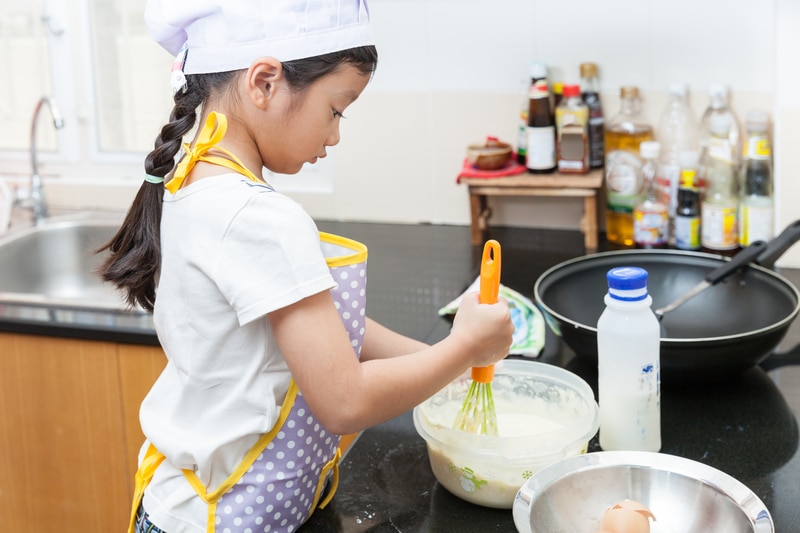 Because you use it to prepare your food, selecting non-toxic cookware is really important. But, like in other categories, all the jargon and marketing-speak can make it hard to figure out what is and isn't safe. We put together this non-toxic cookware guide with some of our current favorites to help you get cooking faster – and safer!
Choosing non-toxic cookware: what to avoid
1. Nonstick Coatings
Many nonstick surfaces, like Teflon, are treated with perfluorooctanic acid (PFOA) which is a Perfluorinated Chemical, or PFC. PFCs are a lipophobic byproduct, which means they repel and resist the absorption of oil, like in a candy bar wrapper or the inside of a microwave popcorn bag (a common source of PFOA in our bodies). These compounds never break down, so when we absorb them, we're stuck with them.
They're linked to cancer and liver damage
, and they've even been found in
99% of 300 babies
born at Johns Hopkins Hospital in 2004, altering the infants' hormone levels.
2.  Aluminum
Aluminum is a soft, thin metal and, when heated, leaches into our food. It's been connected with
brain disorders and behavior abnormalities
and is considered
toxic
, so it's best to use aluminum with caution. Some experts say that using anodized aluminum solves this problem, but we think if you have the choice, it's best to err on the side of avoiding aluminum altogether.
3. Plastic Utensils and Storage Containers
Luckily, this is an easy one, as there are tons of great options on the market today. Choose chemical free cookware materials like wood, bamboo, silicone or stainless steel and storage containers made of silicone or glass. As always, we recommend avoiding plastic as heat can cause the plastic to melt, flake and break down over time, and
leach chemicals into our food
.
Three non-toxic cookware products we're loving right now
1.
SCANPAN Non-stick Pans
Where traditional non-stick cookware brands use a coating that's made of harmful chemicals, SCANPAN's unique bonding process and titanium ceramic surface create a strong, non-stick surface without the use of materials that can leach toxins into your food. 
SCANPAN is outspoken about their commitment to safety, which is another reason we like this line of non-toxic cookware.
Nobody's Perfect: SCANPAN, like most companies, uses different materials across their lines, so make sure you're checking out the details on the products to ensure you're going with the safest options available. Also, because high heat makes it more likely that your cooking material will release chemicals, always let your cookware come to temperature over moderate heat. It might take another minute or two, but it's safer and better for the lifespan of your cookware! 2.
Staub Cast Iron Cookware
Staub's heavy duty cast iron non-toxic cookware is free of lead, cadmium & PFOAs. These incredible cookware pieces don't need to be seasoned before use, and they are naturally pretty stick-resistant (no, really! You can even cook eggs in cast iron!) and will last a lifetime. Nobody's perfect: Staub cookware is an investment (like a lot of quality, non-toxic options tend to be!). You can check out some other ceramic and enamel brands 
here
and
here
 – just make sure you're doing your research and avoiding toxins like lead, which are used for color uniformity. 3.
Stasher Bags
We can't stop singing the praises of these fantastic, non-toxic food storage bags (which is just one of the zillion uses for them) which are a
safer and more sustainable alternative to plastic
! Made from platinum-grade, non-toxic silicone, they're your new best friend not just for storing leftovers, but for marinating & defrosting. After they're done helping in the kitchen, they live a second life as recycled playground pebbles. How cute is that? Nobody's Perfect: Stasher Bags uses the highest quality silicone, which means it does not contain potentially toxic fillers. Unfortunately, not all cookware manufacturers are as vigilant, so give your silicone products
this simple pinch test
and toss any that don't pass, as they could leach toxic fillers into your food as you cook at high temperatures or the silicone surface breaks down over time. We think overall it's best to avoid heating silicone if you can (same goes for plastic!).
Learn More
We're here to help you clean up after your non-toxic cookware adventures with 
Force of Nature
, which is also free from toxic chemicals
. It starts with just salt, water & vinegar, is just as effective as bleach but kid-friendly. It gently cleans virtually any surface in your home without toxic residues or fumes.