Simplify Your Life:
Eco-Friendly Home: 5 Quick Ideas To Jumpstart Your Way to Zero Waste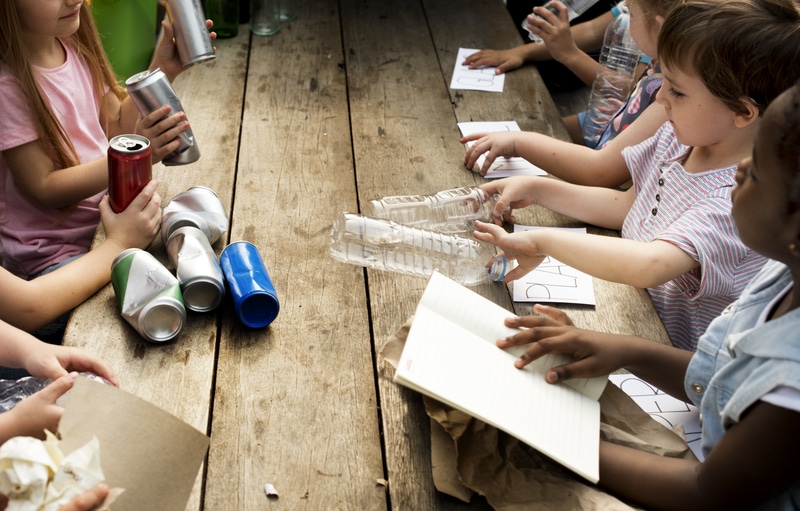 Going zero waste sounds so…hard. And, to be fair, it's not easy if you try to do it all at once. Just like anything, taking small steps truly adds up to making an enormous difference. Here are 5 simple steps you can take to reduce waste in your eco-friendly home.
5 Eco-Friendly Home Hacks To Reduce Waste
Reduce your food waste
Did you know that food waste accounts for around 20% of our total waste stream in the US? And, even worse, 50% of all produce is wasted. This blog post from Trash Is For Tossers features 7 essential items for reducing food waste in your kitchen, including information on making composting not so scary!  Another eco-friendly home tip we loved: use reusable items like wooden scrub brushes and reusable drinking straws so you're not throwing away as many supplies.
Avoid packaging
This is a hard one, we know, but there are some ways you can at least reduce the amount of packaging you interact with. For example, this amazing shop ships products, as you might guess from their name, packaging-free, or in packaging that is 100% recyclable and biodegradable. Shopping at a farmer's market or through a local produce delivery company can also help reduce packaging waste. What do you do if your favorite food doesn't come packaging-free? Get creative! Lauren of Trash is for Tossers gets freshly made tortillas from a local Mexican restaurant, which she picks up in her own container! Likewise, many pizza places will sell you uncooked dough to bring home.
If you forget your reusable shopping bags…
It's the worst. You're at the grocery store with your "helpful" toddler and realize at checkout that you left your super awesome reusable grocery bags at home. What do you do? If you end up having to take plastic bags home, you can just BRING THEM BACK TO THE STORE! You may have never noticed this (we hadn't!) but most large grocery stores have a recycling bin near the door of the store for just this purpose. You can also search for a local plastic film recycling drop spot here. How much better do you feel knowing that, while reusable is better, at least recycled bags can be recycled into materials for decking, benches and playground sets?
You can also sign up for TerraCycle! Terra Cycle offers free recycling programs funded by brands, manufacturers, and retailers around the world to help you collect and recycle your hard-to-recycle waste. Simply choose the programs you'd like to join; start collecting in your home, school, or office; download free shipping labels; and send us your waste to be recycled. You can even earn rewards for your school or favorite non-profit!
Clean up your cleaning cupboard!
Besides the very important fact that cleaning products are often jam-packed with hazardous and toxic chemicals, they're also usually found in single-use, plastic containers. Create your own non-toxic cleaning supplies, or use a non-toxic, eco-friendly home cleaner like Force of Nature. We developed Force of Nature to take simple, household ingredients and turn it into a powerful cleaner and deodorizer that's safe enough to use around your children and pets. From wiping down countertops, to scrubbing tubs, to cleaning wood floors and windows and even eliminating laundry stains and lingering odors, there's not much that Force of Nature can't handle.
 Don't let the perfect be the enemy of the good.
It's okay to be inspired by the amazing people who can fit 2 years of trash in a glass jar! But, don't let that stop you from trying new things and doing your best! You can slowly work towards a zero-waste lifestyle in your eco-friendly home, and if today that looks like bringing your own reusable cup to the coffee shop, we salute you.
Learn More
We're staunch supporters of a non-toxic and eco-friendly home, for the health of our customers and our environment. Learn more about our non-toxic, family-friendly cleaning system, Force of Nature, here.