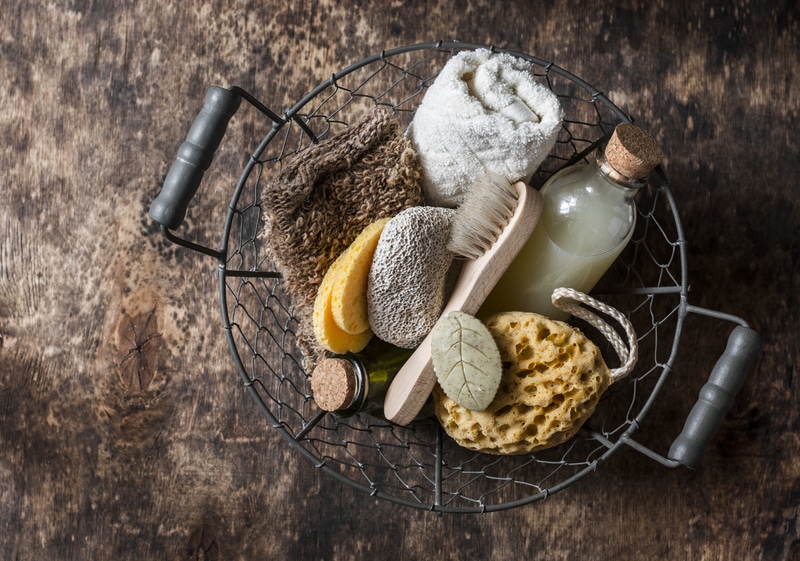 Shampoo – no matter how eucalyptus-y it might smell – can be one of the most toxic products on the drugstore shelf. Even the ones labeled "natural" were never required to be tested for safety and can contain endocrine-disruptors and carcinogens. So how do you tell the good from the bad? We've got you! Read on for our Guide to Natural Shampoo and 3 of our current favorites we think are worth checking out for yourself.
How to Choose a Natural Shampoo: 3 Toxins To Avoid
1.
Fragrances
 and
Phthalates
 – phthalates are a nasty group of chemicals that help fragrance stick around longer, at a cost to your health as they are also carcinogens, hormone disruptors and and respiratory toxins. And, fragrances themselves aren't too sweet either. Fragrance chemicals can 
pass through the skin
 and into the blood and many of them are classified as 
allergens, hormone disruptors, and asthma triggers
. Others are classified as 
carcinogens
 or 
neurotoxins
. The fragrance industry regulates itself, so the 
ingredients in fragrances aren't listed
 because they are considered "trade secrets" and aren't required to be safety tested. Often only one word, "fragrance", is used on the label and 
can hide more than 100
 potentially toxic ingredients. 2.  
Sodium laureth sulfate
(SLES) &
Sodium lauryl sulfate
(SLS)– These are surfactants and emulsifying agents that help create suds and are very common in shampoos. SLES is associated with 
organ system toxicity and skin, eye, or lung irritation
. Another major concern is that often, when SLS or SLES are present in shampoos, the contaminant
1,4 dioxane
is too. That's because the manufacturing process for these sulfates results in their being contaminated with this carcinogenic by-product. To avoid these, look for shampoos that say "sulfate free" and confirm they are not listed on the ingredient label. 3. 
BHA
/
BHT
– On a hazard scale of 1 to 10 at EWG, BHA ranks high at a 10, so skipping shampoos with this one is a big step in switching to a non-toxic natural shampoo. Butylated hydroxyanisole (BHA) and butylated hydroxytoluene (BHT) are preservatives that are found in a number of personal care products including shampoo. These chemicals
accumulate in the body
and can cause
immunotoxicity
,
endocrine disruption, developmental toxicity, reproductive system toxicity, cancer, and organ system toxicity
. To avoid these, skip shampoos with butylated hydroxyanisole (BHA) and butylated hydroxytoluene (BHT) listed on labels.
Three Natural Shampoos We're Loving Right Now
Our Top Pick: 
ATTITUDE Natural Shampoo
 is available in a variety of formulas and includes a fragrance-free option (always our recommendation!). The line is
EWG-verified for safety
, meaning it passes the rigorous standards set forth by the Environmental Working Group.
Nobody's perfect:
The line does offer fragranced versions and uses
potassium sorbate
, a preservative found in fragrance ingredients.
Next Best: 
Beautycounter's
 hair care line offers a wide variety of options, from a simple daily shampoo, to volumizing or smoothing and a line for kids! The brand's commitment to safety and mission-based approach to selling non-toxic personal care products make this a great place to start shopping for natural shampoo. The EWG agrees,
giving the brand top scores and EWG verifications
.
Nobody's perfect:
The line doesn't offer an unscented natural shampoo option outside of the baby wash, and since they use citrus and coconut oils. those with allergies will want to avoid these.
Conscious Skincare's Shampoo line
is also
EWG-verified
and appeal to men and women alike with three formulas and spa-like packaging.
Nobody's perfect:
Again with the fragrances! If you have respiratory issues or allergies in your house, it may be better to seek out a completely fragrance-free product.