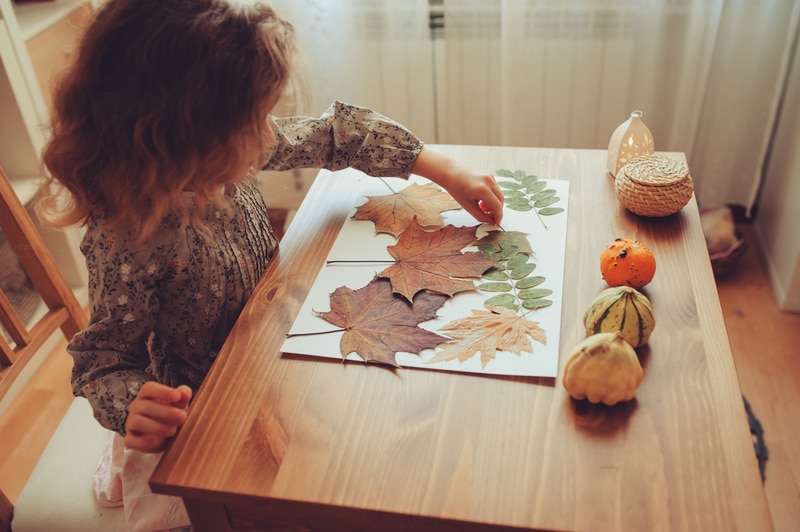 Every season has its perks, but the show nature puts on in the Fall is pretty spectacular. Take advantage of the fiery palette and help your kids appreciate nature with these easy, eco-friendly fall crafts.
3 Eco-Friendly Fall Crafts To Do With Your Kids
1. Make Art With Nature
Fallen leaves are the essence of this time of year and crafts are a great way to show off the fiery colors and iconic shapes. We love these
Fall Leaf Lanterns
-not only are they beautiful and easy to make, but, unlike a lot of crafts that require you to press or dry leaves and flowers, this craft allows you to use leaves the day you find them. Another eco-friendly Fall crafts idea is leaf printing. Using the actual leaf as a type of "stamp" to create patterns is so simple and, yet, the results are really beautiful. Leaves aren't the only option for printing crafts; if you're headed apple-picking, throw a few extra apples in your basket for an apple-printing craft, like
this one!
Eco-friendly Fall Craft Tip:
Make sure you're using an eco-friendly and
non-toxic paint like this one from Natural Earth Paint
, as some paint colorants are made with
highly toxic metals like cadmium, arsenic and lead
.
2. Step Up Your Gourd Game
Don't box yourself in thinking that gourds are just for Halloween! With the wide range of beautiful shapes and shades from white, to yellow, to green, to the classic orange, pumpkins and gourds
are a great way to have fun and decorate throughout the fall season
. When it comes to carving crafts, you're not alone if you're a one-tooth-smile-one-trick-pony!
Check out these easy and family-friendly pumpkin carving ideas.
And, if you're worried about little hands,
these pumpkin painting and pumpkin decorating crafts
might be more up your alley and are so creative and fun, featuring everything from floral embellishments to metallic sequins.
Eco-friendly Fall Craft Tip: 
Shop for your pumpkin at a local farmer's market to ensure your
little pumpkin doesn't boast a giant carbon footprint
.
3. Make New Decor (And New Traditions)
Often, when we think of doing crafts, it's more of an activity and the results of our efforts are quickly forgotten. Making a conscious effort to create a craft that you'd like to hold on to and preserve for the season helps reduce waste while it brightens your home!
We love the ideas in this post
, from hand-lettered chalkboard art to homemade felt acorn wreaths (so cute!) and a "give thanks cork board" that you can proudly display all season long, year after year.
Eco-Friendly Fall Craft Tip:
Do you know the proper way to dispose of art supplies?
This post
helps break down how to properly dispose of paints, solvents and packaging materials to keep your "home studio" (read: kitchen) a green place to create!
Learn More
From getting your creative juices flowing with eco-friendly Fall craft ideas, to minimizing your family's exposure to toxins, we're committed to our customers. Find out more about
our revolutionary cleaning system, Force of Nature
, here. As effective as bleach, yet gentle enough for your young artists to use to clean up after themselves (ha!), we're proud to offer a family-friendly cleaning solution.