Businesses:
How To Disinfect Your Wellness Business With Force of Nature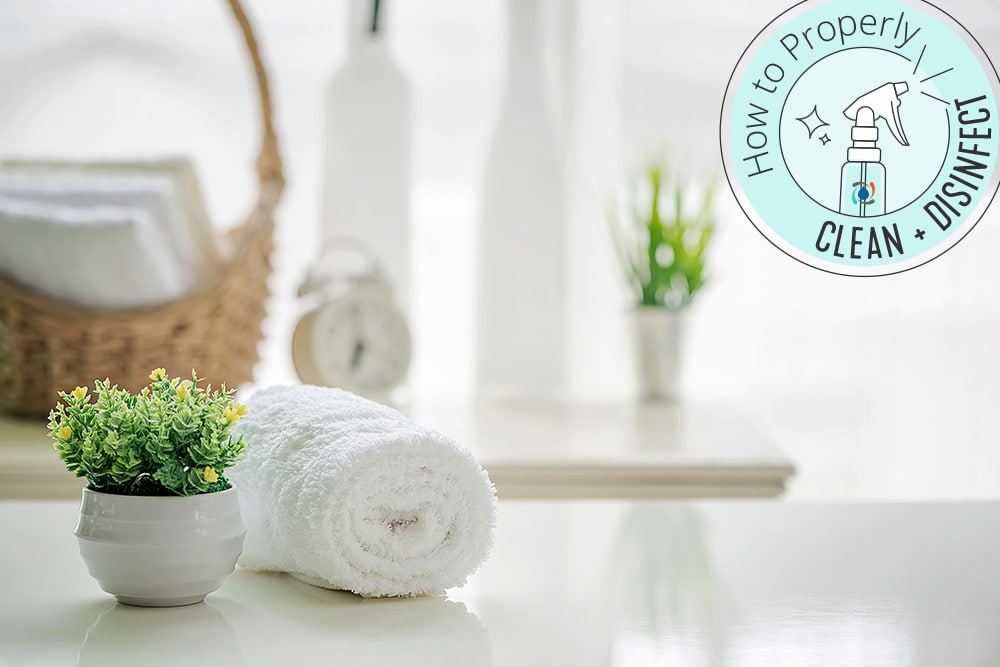 Who couldn't use a little more wellness in their lives? Massages, facials, and other wellness and med spa treatments may seem frivolous to some people, but self-care is critical to your client's wellbeing and health. Understandably, your top priority is keeping your business clean and disinfected to keep your clients and employees safe from germs, which can mean using more products, more often. This is a double-edged sword because the cleaning product industry is so poorly regulated.  Many common disinfectant and cleaning products contain toxic chemicals that can trigger adverse health effects in your clients and staff. Daily exposure to cleaning products has been proven to be as damaging to our health as smoking a pack of cigarettes a day over the long term! Because both your team members and your clients come into contact with the surfaces you're disinfecting, you may be unintentionally putting them at risk. Here's how you can use Force of Nature to effectively clean, sanitize, and disinfect your wellness studio or med spa to better protect your clients and staff.
How To Use Force of Nature To Disinfect Your Wellness Studio or Med Spa
Here's how our revolutionary cleaning system can help you keep your massage studio, wellness studio, or med spa clean, sanitized, and disinfected without any harmful chemicals.
#1. Get 3-in-1 Cleaning, Deodorizing and Sanitizing Power!
There are differences between the terms cleaning, sanitizing, and disinfecting, the most critical being that only the term "disinfectant" means a product is proven to kill at least 99.9% of germs. The Environmental Protection Agency (EPA) requires every product claiming to kills germs to undergo rigorous testing to ensure it kills the microbes it claims to on its label. That's why it's important to check the label to ensure your product effectively kills the germs you are trying to kill. That said, the EPA isn't focused on testing the safety of the ingredients in these products and their impact on health over the long term, so it's important to read labels and avoid harmful chemicals in your disinfectants. Cleaning essentially means removing the debris on a surface and sanitizing means you've reduced the number of germs to the acceptable level by public health standards. Force of Nature is proven to kill 99.9% of bacteria & viruses, including Norovirus, Salmonella, Influenza A, Staph, MRSA & Listeria. The federal EPA has designated Force of Nature for use in hospitals, ICUs, medical clinics, daycares, schools, restaurants & veterinary clinics & more.  We're proud to be on the EPA's List N, the disinfectants approved for use on surfaces against SARS-CoV-2.
#2. Start With"High Touch" Areas
"High touch" areas are surfaces and objects that are handled or contacted often by clients and staff. This can include your waiting room furniture, check-in areas, and switches and knobs like light switches and doorknobs. If you have a water, tea, or coffee station, this is also considered a high touch area. Force of Nature can be used in any of these locations to kill germs and bacteria. At the end of the day, it's a good idea to spray down all these surfaces and let Force of Nature air dry naturally (no need to rinse or wipe).
#3. Sign-in Tablets and Other Office Tech
Devices are some of the most germ-laden objects we come into contact with. Because these gadgets are often passed back and forth between clients and staff, it's important to disinfect often. Force of Nature can be used between uses on tablets, payments screens, computers, keyboards, and remote controls. It's best to spray a clean cloth or paper towel with Force of Nature first and then wipe the device, which (ideally) should be powered off. Don't spray any liquid directly on a device, particularly if it's plugged in or powered on!
#4. Disinfect Treatment Tables
Once in your exam rooms, your treatment table is one of the most important areas to clean and disinfect. Because your client's skin will likely come into contact with the surface, it's even more important to use a product without toxic ingredients that can put their health at risk. Did you know that about 30% of US adults and 40% of US children have asthma or allergies, and that the CDC recommends bleach and quaternary ammonium (quats) not be used around people with asthma or allergies? The reason that's important is that the 2 most common disinfecting ingredients are bleach (sodium hypochlorite) and quats, which means that many businesses are unknowingly putting the health of the customers and staff at risk. Force of Nature has no allergens or irritants, and is certified 100% skin-safe and best for sensitive skin by Mayo Clinic's allergy rating system. The Mayo Clinic designed SkinSafe to help consumers avoid common allergy-causing ingredients across all types of products. Their 100% skin-safe designation is reserved for products that exclude the top most common allergens and those that are best for sensitive skin, including Force of Nature in the household cleaning category. Force of Nature's active ingredient is hypochlorous acid (HOCl), the same solution our immune systems use to fight infection, and it has been used in wound healing, eye care, and veterinary care products for decades. You don't need to worry about rinsing after using Force of Nature or wearing protective gear, which makes your cleaning process that much easier.
#5. Disinfect Treatment Tools
Outside of your treatment table or chair, your staff is also handling instruments, tools, and equipment like lights, carts, TV screens, or tablets treatment and styling tools, as well as may have accessories like aromatherapy products or music systems in your treatment rooms. Force of Nature is gentle enough to be used on any of these surfaces, while also being an effective disinfectant that kills 99.9% of germs, bacteria, and viruses.
#6. Protect Your Investment
On top of protecting your staff and clients from health issues caused by toxic chemicals, your treatment equipment, furniture, and instruments are valuable, too! Harsh cleaning products can corrode or damage your equipment. Force of Nature is safe to use on virtually all surfaces, without damage or corrosion, including vinyl, wood, stainless steel, tile, glass, as well as granite, marble, and other sealed stone surfaces.
#7. Disinfect Employee Areas
If your staff uses a shared locker room, break room, or kitchen, Force of Nature can be used to clean and disinfect areas containing personal belongings or which are used for eating and food preparation. This includes lockers, benches, chairs, countertops, appliance exteriors, refrigerator door handles, cabinet and drawer pulls and can be used around food without concern – you can even use it as a cleaning rinse for produce!
#8. Keeping Restrooms Fresh and Disinfected
Restrooms are an obvious germy environment that needs frequent cleaning and disinfecting. Use Force of Nature throughout the day to effectively disinfect your bathroom surfaces, including toilets and toilet handles, faucets, stall door handles and locks, bathroom entrance door handles, paper towel dispensers, and even on floors! We love  refillable mops for disinfecting floors, too. For all these surfaces, simply spray them with Force of Nature and let air dry for maximum germ-kill. Force of Nature is also a powerful deodorizer because it kills the bacteria that causes odors, so you can feel good that your restrooms smell as clean and fresh as they look.
#9. Disinfecting Personal Belongings
We bring a lot to work with us! Force of Nature is gentle enough to be used on the stuff we touch and carry around all day, like keys, sunglasses, phones, IDs and badges, and bags. Before leaving for the day, your team members can use Force of Nature to clean their belongings to avoid tracking germs and bacteria into their cars and homes.
#10. Best of All: Never Run Out!
With Force of Nature, you're in control. You use our system to create your multi-purpose cleaner, deodorizer and disinfectant on-demand, as you need it – no hoarding or stressing about running out included! With our subscribe and save service, your capsules will ship right to your door, so you never have to worry about placing an order (and it's cost-effective, too!). Just as great, it saves you money too, costing just 7¢ per ounce.
Learn More
We know how hard small businesses are working to keep their spaces clean and disinfected for their clients. We're proud to support wellness studios with our revolutionary cleaning system, Force of Nature, to effectively clean, deodorize and disinfect without exposing your staff or patients to harmful chemicals. Learn how we can help you keep offering your clients a safe space to relax and recharge.