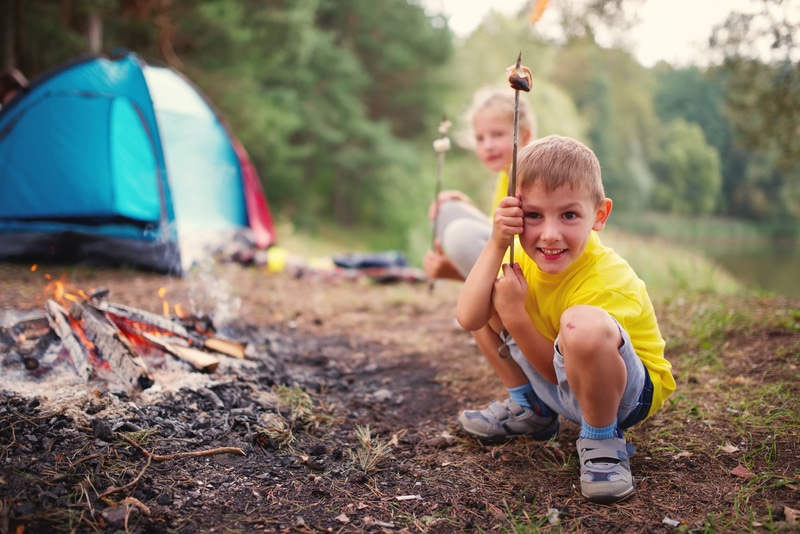 There's a lot to love about summer: the long days, outdoor adventures and the slower pace that a break from the school year provides. However, it's also a time where our exposure to toxic chemicals can increase. The need for more substances like sunscreen and bug repellant, as well as the increase in temperature make this the perfect time of year for finding safer options and committing to a chemical free lifestyle. Here are five ways to keep you and your family a little safer this sunny summer season.
Top 5 Tips for Staying Safe and Living A Chemical Free Lifestyle This Summer
1. Find a safer way to get bugs to buzz off
At best, biting bugs are a major buzzkill (see what we did there?) at outdoor events and, at worst, they can spread disease or cause allergic reactions. The alternative of dousing ourselves in toxic chemicals isn't super appealing either. So how can you stay bug-free and maintain your chemical free lifestyle? Try
one of these top-rated natural bug repellents
that use essential oils and other nontoxic ingredients to keep bugs at bay.
Knowing how to apply bug spray effectively is important: always apply sunscreen first and, when you need the big guns like deet or picaridin-based sprays, wear long clothing and spray it on your clothes only. Never spray on skin you plan to cover up with clothing as it can increase health risks. When applying bug spray to kids, spray it onto your hands first and wipe on their skin like sunscreen to avoid inhalation or getting bug spray in their eyes.
2. Know your grilling and food safety
Eating outdoors at a picnic or a barbecue is one of the great joys of this time of year. But higher temperatures and relaxed schedules can be a dangerous combination when it comes to food safety. Refresh your knowledge of
USDA Food Safety Guidelines
. Make sure you're storing and preparing food safely, including refrigerating it after just one hour if the temperature is over 90 and always boiling leftover marinade before serving it. Choosing glass or stainless containers can help you
reduce your exposure to BPA and BPS, which are commonly found in plastics and are known endocrine disruptors
. Lastly, keeping kitchen equipment and utensils clean is a great way to reduce risk and choosing nontoxic products like
Force of Nature let you clean effectively while maintaining your chemical free lifestyle
. Force of Nature is as effective as bleach on your cutting boards and coolers, but safe enough to use moments later for food storage and prep.
3. Become a safer sunscreen expert
We know, your eyes are glazing over at the mere mention of this ubiquitous summer safety tip. But, hear us out. Yes, sunscreen is important, but this is a tough one because many conventional sunscreens
may be doing more harm than good
. In fact, many sunscreens you may think are safer because they claim to be "natural" still contain harmful ingredients like toxic fragrances and preservatives.  That's because there are no federal standards for what makes a sunscreen "natural".  Fragrance chemicals are manufactured from petroleum and coal tar and are classified as carcinogens, hormone disruptors, neurotoxins, skin and respiratory irritants. Most also contain phthalates, an ingredient used to make a fragrance last longer, but it's not listed on labels.  It's a particularly nasty one linked to hormone-disruption, reproductive & developmental toxicity, cancer & respiratory issues.
Luckily for you, we can help you identify the
top 5 ingredients to avoid
 as well as what to look for: non-nano zinc based formulas. Here's
the info you need
to understand why it's so important to choose a chemical free sunscreen and
choose a safer sunscreen
for your kids.
4. Choose a safer way to stay hydrated
Adequate hydration is important, but make sure you're not storing plastic bottles in a hot car or garage, as
exposure to heat can cause chemicals from the plastic
to leach into the liquid. The good news there are lots of safer options designed to fit all the lunchboxes and beach bags in your life. We love Alphamom's
roundup
of stainless, glass and BPA free plastic water bottles, including careful reviews of each option and testing for leaking, condensation and whether or not they fit ice cubes.
5. Don't forget about your furry family members
Dogs and cats are extremely susceptible to the increased temperature of the summer. Never leave your pet in your car with the engine turned off, even with the windows cracked, as they can develop heat stroke within minutes. When traveling, take the time to review some pet safety travel tips, like the safest location for your pets carrier in the car, and borrow or buy any gear you might need.  While an afternoon walk may sound like a lot of fun for the humans, imagine doing it barefoot! Hot asphalt can burn sensitive paw pads in just seconds, so leave your four-legged friend at home or walk in the morning when the ground is cooler.
Staying on top of the latest and greatest in safer products is a lot of work, but, luckily, many chemical free lifestyle brands like us here at Force of Nature are committed to educating our consumers on ways to keep their families safer.
Check out our blog
for more great articles and tips on high quality, nontoxic products and consider trying out
our chemical free cleaning system for 30-days, satisfaction guaranteed
(right now you can try our best-selling starter set for $30 off and it ships free!).