Ingredient Safety:
Can Force Of Nature Really Deodorize As Well As Febreze?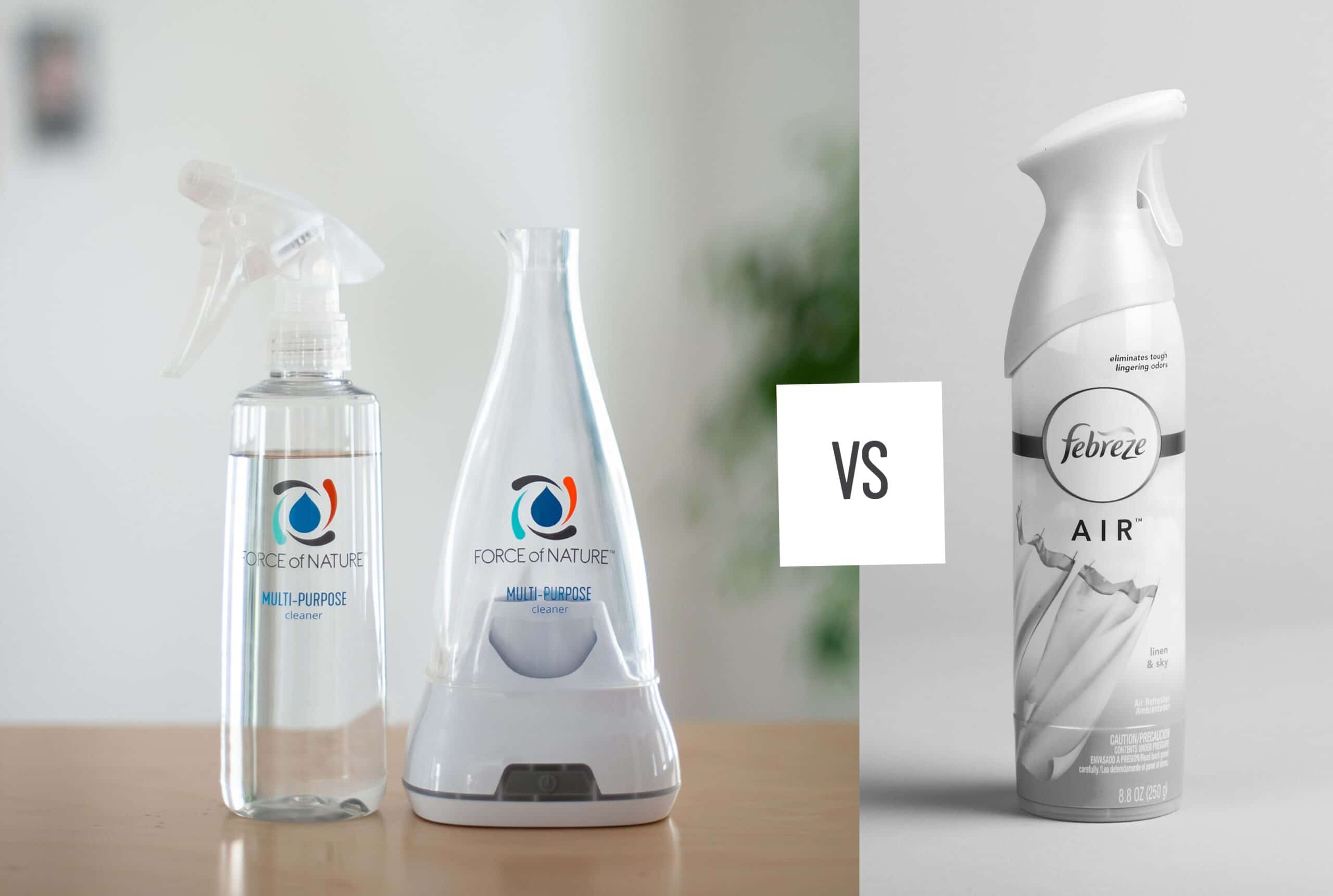 Life is messy and, a lot of times, that means it's stinky, too. From wet pets to kids and even your workout gear, keeping your home and car smelling fresh and clean is a constant battle. In attempting to eliminate odors, many consumers reach for readily-available and popular products like Febreze  and Glade Plugins. It's worth doing research on deodorizer and air freshener ingredients, because unfortunately, this category of household products is packed with ingredients that can be toxic to kids, pets and people with common health conditions like asthma and allergies. An example – you've probably noticed that all air fresheners and deodorizers seem to be fragranced – finding unscented options is practically impossible. Thanks to the lack of regulation of fragrances as an ingredient category, manufacturers don't even have to disclose what's in their fragrance cocktails, which commonly contain phthalates. These ingredients are linked to all kinds of health problems, including the increase of asthma, allergies, and hormone disruption – particularly in kids who are disproportionately at risk to the toxic chemicals in conventional cleaning and deodorizing products. Just as frustrating is the fact that many air freshener products just mask odors, covering up the smell of bacteria and fungus that are still there causing odors.
A recent study found that daily exposure to toxic cleaning products is equivalent to smoking a pack of cigarettes a day. It doesn't take long for these impacts to take hold, either: some asthma sufferers continue to show reduced lung function the day after exposure to bleach. So how do you effectively kill stink without toxic chemicals, for good? We've got you. On top of being a power-house 3-in-1 cleaner, sanitizer, and EPA-registered disinfectant (and one that's included on List N to kill all strains and variants of SARS-CoV-2), Force of Nature is a powerful deodorizer. It gets to the source of the problem by killing odor-causing bacteria and is just as effective as Febreze. It starts with just salt, water, and vinegar, and uses electricity to create a formula that's certified to be 100% top allergen-free by SkinSAFE, Mayo Clinic's allergy rating system. It's also free from respiratory irritants and is so gentle it can even be used to without rinsing. You can use Force of Nature to deodorize, clean, sanitize, and disinfect your home, athletic gear, upholstery, carpets, and car without worrying about wearing protective gear. Here's more on how you can ditch toxic deodorizers for good.
Force of Nature: Your One-Step Deodorizer That Kills Stink For Good
From car floor mats to hockey pads and everything in between, Force of Nature can deodorize your life without harmful toxins. Here are our top three uses for using Force of Nature to effectively prevent and eliminate odors.
1. Athletic Gear, Yoga Mats, and Performance Apparel
Do you blame sweat for stinky gear? The truth is: human sweat is almost completely odorless! The odor you smell in your sweat-wicking cycling gear and your kids' hockey gloves (the absolute worst!) is caused by the bacteria that lives on our skin and breaks down protein molecules in our sweat, producing that unpleasant smell as an unfortunate side effect. We hear you – as interesting as this weird fact is, you really just want to know how to get rid of it.
Force of Nature kills 99.9% of germs, viruses, and bacteria, including those that cause odor and locked-in gym stink. Here's how you do it:
Before spraying any fabric with Force of Nature, spot test an inconspicuous area first to ensure the dyes are colorfast.
The first time, and especially for deeply set odors, spray everything down with Force of Nature until it is fully saturated. For best results, let it air dry, but wait at least 2 minutes before washing.
For ongoing use, spray the sweatiest areas, or areas that tend to retain moisture (like the inside of gloves, boots, and shoes) with Force of Nature in between uses to stop new bacteria from setting up shop.
Letting your gear air dry lets Force of Nature have the maximum amount of time to work.
2. Pet Stuff
What would we do without our furry family members? The love and joy they bring into our homes is unmatched – it's been proved scientifically that pets release a feel-good chemical in our brains to lift our spirits and reduce stress. With all that love and joy – they also bring in messes and smells! Force of Nature is a highly effective and useful pet deodorizer, killing odor-causing bacteria without putting your pets at risk from toxic chemicals that can linger on surfaces, continually exposing them to risk.
Our top uses for Force of Nature to kill pet smells:
Cleaning up pet messes: remove as much of the soil as possible, then spray the area with Force of Nature until fully saturated and allow to air dry. Force of Nature will help remove the lingering odor that may otherwise signal to your pet that the area they've chosen is a permanent solution for their bathroom needs. If the mess is on a rug or carpet, make sure to first test in an inconspicuous spot to ensure the dyes used are truly colorfast.
Cat litter boxes: just as much as you hate that litter box smell, cats don't want to use a stinky litter box either! Keep your kitty's lav clean and fresh by spraying the litter box with Force of Nature each day to deodorize it – it's safe for your cat's paws and nose!
Pet bedding: spray Force of Nature on your pet's beds and allow to air dry to both prevent and eliminate odors. The mist is so fine that you can use it even when your best buddy is refusing to rouse themselves from bed!
Pet toys: pet toys are always in your pet's mouth, so it's important that you are cleaning them with something that doesn't leave harmful residues behind that can impact their health. Force of Nature is a great choice for deodorizing pet toys because it kills the odor at its source, but is gentle enough that they can chew on a toy the moment after you spray it.
3. The Super Stinky Stuff: Trash Cans, Recycling Bins & Diaper Pails
This is the final frontier! No matter how clean your home is, and how hard you try, you have no control over the bacteria-fueled odor of trash cans, recycling bins, and diaper pails! Luckily, we've got the solution.
The first time, when cans are especially stinky, clean the inside with Force of Nature to remove any surface residue, then spray it with a fresh coat of Force of Nature and allow it to fully air-dry.
For ongoing odor prevention and maintenance, spray the can inside every time you change the bag. Force of Nature stops those nasty odors but contains no harmful chemicals to put you (and your baby) at risk.
We're Here To Destink Life
Life stinks sometimes, but getting rid of gross smells doesn't have to put you and your family at risk. We're proud to have created a people-and-earth-friendly solution that you can use as a deodorizer, cleaner, sanitizer, and EPA-registered disinfectant with no toxic ingredients. Learn more about our natural cleaner and disinfectant.