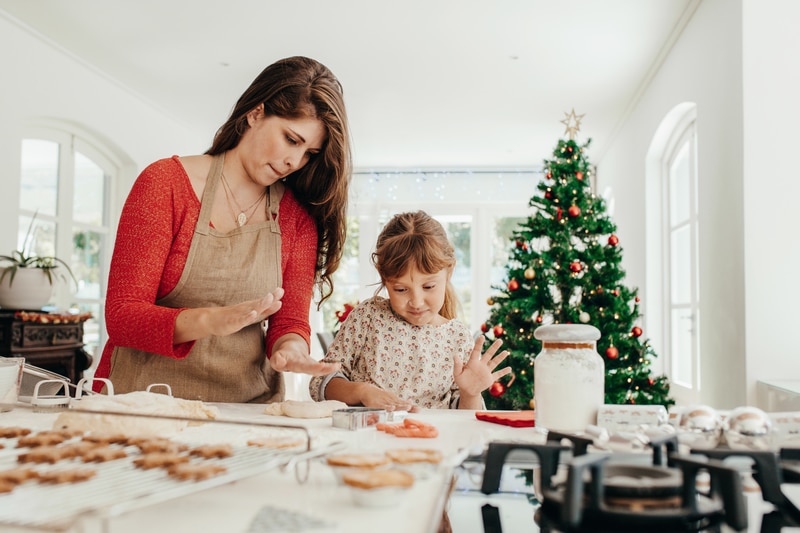 Happy Holiday (Shopping) Season! With the sheer volume of holiday-centered advertising, deals and endless gift options, we know this time of year can make us feel a little inundated with information as consumers. We're here to help spark your gift-giving creativity with some helpful info and a few fun finds that are sure to please everyone on Santa's (or one of his human helpers!) lists. We're starting with our non-toxic holiday gift guide for foodies. We're sure you read all three parts of our informative and amazing NonToxic Kitchen Series (right? right!), but if you need a reminder, here's where you can find
part 1
,
part 2
and
part 3
. You'll find an in-depth look at the best places to focus when trying to reduce your toxin exposure in the kitchen. For today, we've focused on ways to delight the foodie in your life and as a super-awesome bonus, keep them safer in the kitchen and, hopefully, inspire them to make us many more delicious goodies. And if that teensy bit of self-interest gets us on the Naughty List, we're okay with that.
Your Non-Toxic Holiday Gift Guide for Foodies
The No-Brainer: Kitchen Goodies!
Ceramic is a great choice for safe cooking because it doesn't
leach chemicals
. This beautiful
Ensemble Rectangular Baker
goes in the oven and then heads right to your table in the cork tray. At 15' x 9.5" it's a great size for everyday use. This non-aerosol, stainless steel
William Sonoma Olive Oil Sprayer
is on our Christmas list! It dispenses ¼ teaspoon of oil in every spray in a fan like shape, making it easy to ditch that toxic nonstick spray once and for all. Pair it with a delicious speciality olive oil like this organic, cold-extracted and sustainably produced
Kasandrinos Extra Virgin Olive Oil
.
A home kombucha brewing kit
means your foodie friend can brew up their favorite probiotic beverage, experiment with flavors and even harness the power of fermentation to make their own kombucha wine!
The Gift That Keeps Giving:
Even the most erstwhile foodie can get find themselves in a recipe rut. A subscription box service that sends recipes, ingredients and inspiration can give them the fuel they need to get fired up in the kitchen again. Check out this awesome
roundup
from The Good Trade of Organic and Healthy Options For the Conscious Consumer. For the caffeine-fiend on your list,
Grounds for Change
offers a fair trade, organic and carbon free coffee club in 3, 6, 9 or 12 month subscriptions. Help them brew up a nontoxic cup with a gorgeous, glass coffee maker
like this Chemex
. It's hard to know what products our Gluten Free, Vegan or lactose intolerant friends can enjoy, so consider a membership to one of these
13 healthy snack box subscriptions
. With options from tea to a seasonal ingredient box that includes music to cook to, you'll be sure to keep them snacking happy long after their nut-flour, flax-egg holiday cookies are gone.
The Splurge:
The ultimate foodie gift: the ability grow hyper-local, super-sustainable ingredients at home!
The Tower Garden
lets you grow your own herbs and vegetables in a vertical, hydroponic tower that's small enough for an apartment balcony and uses 90% less water and than traditional growing methods. Get inspired with
this list of over 150 wellness-promoting plants
that can be grown in the garden. Would your favorite Foodie love to have the secret tool of professional chefs in his or her arsenal? Then you might want to check out this
Sous Vide
 Cooker with…wait for it! WI-FI! It attaches to any pot, you add water, then it 
heats and circulates water to evenly cooking food edge to edge. Untethered from the kitchen, you can monitor & control your cooking from wherever you are (holiday shopping, perhaps?). 
The Stocking Stuffer:
These
gourmet seasoned sea salts
from Hepps just might become your foodie's all-time favorite secret weapon. Did we say Truffle Salt? Applewood Smoked Sea Salt? Lime Sea Salt? Yes we did! Mmmmm. This is our top pick in our non-toxic holiday gift guide for foodies. Another idea that your foodie will love: 
Bacon Marmalade
. Need we say more? It's sweet, it's salty, and everything is just better with bacon (especially when it's hormone and nitrate-free!). As an added bonus, use code
FREESHIPNOW to get $7.99 off or free shipping from Farm to People. 
Don't let the condiment section of the fridge go un-foodied!
Preservation & Co
sauces have no added-preservatives and you'll love being able to pronounce the simple ingredients – like peppers, water and salt. Try the Green Sriracha for something unexpected. You can get 10% your order with code FORCEOFNATURE between now and 12/31/2017.
Bees Wrap
is a sustainable food-wrap that helps reduce the use of plastic in the kitchen, which is a boon for both us humans and the environment. Just like plastic wrap, you can use it to save half a sandwich, pack a lunch or cover a bowl.  Made with organic cotton, beeswax, organic jojoba oil, and tree resin, it's a must for every foodie's kitchen.
The Eccentric Pick
You can't help but smile when you see
Danny the Salt Monster
. Salt is not just a cook's most oft-used seasoning, it's one that may have
some impressive health benefits
(no, really!). Available in ten cadmium free glazes, Danny is sure to cheer up every cook's countertop AND they are offering a 10% discount to our readers with code CLEANXMAS (good until 12/31/17). And if you're looking for a salt, may we suggest this sustainable, hand-harvested and striking black
Icelandic Lava Salt
, which is blended with activated charcoal, a natural detoxifier. And, of course, every kitchen needs our toxic chemical free
Force of Nature cleaning system
. As effective as bleach and safe enough to spray right on your produce and cutting boards, it's sure to become every foodie's kitchen cleanup sidekick! We hope this non-toxic holiday gift guide for foodies will help make shopping a little less crazy this season, and that most of all, that perfect gift keeps you at the top of your favorite foodie's invite list. Happy shopping!