Chemical Free Living:
The Ultimate List of Cleaning Chores For Kids Ages 2-10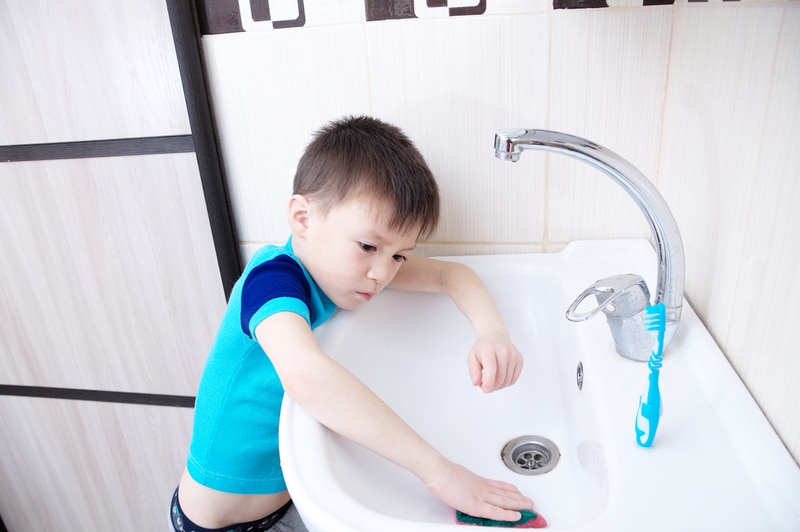 Teaching young children to clean & organize isn't just something that helps parents out, it's actually a way of helping kids develop essential skills. Experts have found that a clean room can actually make us feel better (and a disorganized, dirty room can make us feel worse). As kids grow up, they need to learn how to keep a space clean and organized for their own well-being, and it's best to start teaching them how to clean when they're young. How many times a week are you late because one of your munchkins has lost that stuffed animal, train or toy that just can't be left behind? Teaching kids to keep their rooms clean and their favorite belongings well-organized can actually reduce a ton of frustration in the home. Teaching your kids to clean is also an opportunity to impart the importance of using non toxic cleaning products. That's because cleaning products, like a lot of products, have dodgy labels and lax regulation that mean even the so-called "natural" ones probably aren't nearly as safe as you think. It's never too early to start teaching your kids to be Ingredient Police. More on that below! Here are age-appropriate cleaning projects that you can introduce to your Masters of Mess:
Age 2 to 4 years – Sorting and Decluttering
Sorting is a great way for kids as young as age 2 to have fun and learn about colors, numbers and categories with some guidance from you. Sorting laundry, toys, or books can give you the opportunity to chat with your child and teach them that cleaning can be fun! Start with some bins with simple labels with pictures for laundry, toys, books, stuffed animals, costumes – whatever major categories of stuff your kids have. After you help them the first couple of times, they'll be able to do it on their own surprisingly fast.
Also, kids love giving back. While getting rid of clutter can be hard for adults, kids really get into the spirit of the idea that unwanted items can help others in need. Teach this lesson early by maintaining a "give back box," where unwanted items are placed and routinely dropped off for donation.
Ages 5 to 6 years – Washing Dishes and Making the Bed
When kids are first learning to wash dishes, you'll need to supervise, but over time they'll develop the skills to do this on their own. As you are taking turns washing or drying, you're also creating time to connect with your child. As they are just starting to learn, have them focus on cleaning their own cups, plates, bowls & utensils.  These kiddie items typically aren't breakable, and cleaning their own eating stuff will help create an association in their minds of "if I make something dirty, I need to clean it". This is good! Kids love experimenting with water, so make sure you build in a few minutes afterwards for your child to just enjoy the water, bubbles & sponges. When all the utensils are clean and dry, they can sort them & put them away into the right compartments in your drawer.
Making your bed is a simple chore that starts the day off right and makes a room look neat and tidy (even if it's still littered with toys!). It's easiest for kids to learn to make the bed if you don't use a cover sheet on their beds, but with help and a little practice, kids can learn to get their covers in place. They can also learn to place their jammies under their pillows instead of strewn across the floor!
Choosing non toxic cleaning products for your laundry & dish detergents is important and will help you avoid exposing your child to dangerous allergens, asthmagens, hormone-disruptors & carcinogens. Use this handy checklist of the top toxic chemicals to avoid in laundry detergents & this one for the top toxic chemicals to avoid in dish detergents.
Ages 7-9 years – Sweeping, Mopping, Vacumming
Sweeping is a skill that has to be practiced, but kids between 7 and 8 years of age can definitely begin learning to master it. Sweeping and using a dustpan are skills that help develop hand-eye coordination, so have patience as they learn how to sweep the floors – it's not as easy as it looks for little arms! Kids love brooms so much that it helps to build in time either before or after for playing with the broom – it can turn into a great horse, laser, flag pole or whatever your creative little mastermind comes up with! You might also consider buying them a kid-sized broom to make it a little easier for them.
Kids can be excellent moppers too. Some mops are messier than others though, so you'll want to closely supervise until they have it down. Can you say "kitchen flood"?! We like the spray mops with refillable bottles, not only because they reduce the flood risk but also because you can fill them up with your own non toxic cleaning products.  A great option for floor cleaning is Force of Nature, because not only is it free of fragrances, preservatives, SLS, dyes, allergens & irritants, it's so safe you don't even need to rinse it. This can be a real time-saver as well as make it easier for your little Mop-Master.
Vacumming can be super satisfying for kids because the impact of their efforts is so visible.  And there is nothing that teaches them to pick up their Legos better than when they suck up their favorite piece by mistake! The first time you'll want to coach them on not slamming it into the walls and getting under all the furniture, but after that they'll probably be able to handle it with little to no coaching.
Ages 10+ – Cleaning the bathroom
Here is when you finally get your payback for constantly cleaning up the latrine smell in your bathroom (if you have a son, you know what we mean!).  Pre-teens can clean the sink, mirror, potty and tub once you give them the right tools.  Arm them with the scrub brush, toilet bowl brush, sponge & have them go to town.  Of course you want them using non toxic cleaning products because bathroom cleaners are full of dangerous chemicals like bleach & ammonia. Instead check out a cleaner like Force of Nature, which uses electricity to turn just salt, water & vinegar into a cleaner & deodorizer as effective as bleach but with no dangerous chemicals. It has no harmful fumes or residues yet cleans as well as conventional cleaners like Windex & Scrubbing Bubbles.
Keep it Fun!
Our last but maybe most critical tip: Dial up the fun factor!  For example, you can hide a coveted item someplace amongst all the clutter so that they have a reward when they've cleaned the area up enough to find it.  And you can use music to keep them engaged – let them play DJ, or set goals for what they'll aim to clean by the end of the song.  Here are some great tips that will make cleaning tons of fun thanks to the brilliant Intentional Mom.
The Truth About "Natural" Cleaners: They Are Not Non Toxic Cleaning Products
Before you recruit your kids, don't forget to double check your cleaners to ensure they are non toxic cleaning products, including your all-purpose cleaner, bathroom cleaner, laundry or dish detergent & deodorizer. Cleaning product manufacturers aren't required to show their full ingredients list on their labels. Even cleaners labeled as "natural" are often full of toxic ingredients like phthalates, SLS & methylisothiazolinone. These ingredients are associated with everything from endocrine-disruption, neurotoxicity, asthma & allergies yet are present in most of the leading "natural" brands. That's because there are no federal regulations dictating criteria for what makes a product "natural". Always choose cleaning products that are free of nasty chemicals to avoid exposing your little helper to harmful chemicals.
Learn More
Children come with constant stream of messes & clutter to clean up. From Legos lying in wait to stab a bare foot, to the latrine smell around a little boy's potty, they leave us lots of fun messes to clean up.  But helping the family to clean up offers important skills and learning opportunties for your children. It's a great chance to help them show responsibility and feel important as a contributing member of the family. It's also a great way to educate them about the importance of using non toxic products & teaching them that they should be ingredient label detectives. Did you know that out of 62,000 chemicals that have been approved for use in the U.S., only about 300 have been tested for safety?  If you need help making sure that your family is using truly non toxic cleaning products, check out our Chemical Free Product Guide and learn more about chemical free cleaning products like Force of Nature, a multi-functional cleaning product that can clean and deodorize any surface in the home safely without toxic chemicals. Happy Cleaning!