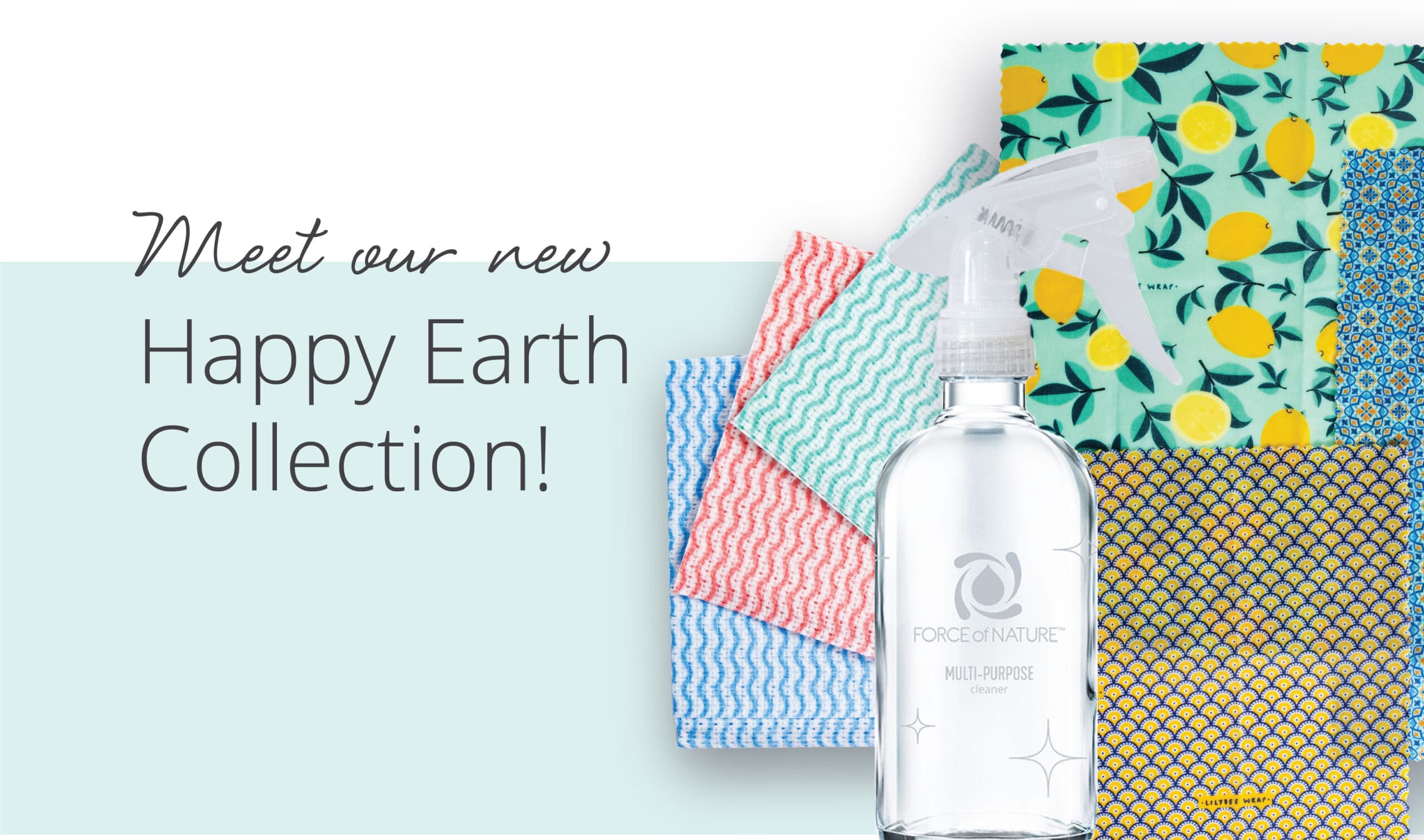 Since 2016, our customers have trusted us to provide them with our incredible all-in-1 cleaner, sanitizer, and disinfectant – not to mention deodorizer, degunkifier, and general life-degrosser (technical terms!). During the pandemic, you've trusted us to help protect you with our EPA-registered disinfectant that's
approved for use against coronavirus SARS-CoV-2, the cause of COVID-19
. We're proud to have created a gentle, family-friendly disinfectant that you can make on-demand in your own home, even amidst widespread disinfectant shortages. Now, we're excited to expand our lineup of Force of Nature products with new accessories and our best-ever value on a bundle. Read on to learn more about the launch of our Happy Earth Collection, chock full of new products, and some great savings too.
Our Happy Earth Collection Is Here!
From beautiful new products to our best value bundle ever, we've refreshed our product line with earth-friendly gear that you're sure to love.
NEW! Glass Bottle
You asked and we delivered! We know our customers are always looking for ways to reduce plastic in the home and are excited to share our brand new glass spray bottle for your favorite multitasking cleaner & disinfectant. Our glass spray bottle holds a full batch of Force of Nature for a beautiful and eco-friendly way to clean – and it looks great on your countertop, too.
Shop the new bottle
and, to all the customers out there who shared their feedback, thank you – we hope you love it as much as we do.
NEW! Reusable Beeswax Wraps
That's a wrap on single-use food storage wrap! The perfect, eco-friendly alternative to plastic wrap or aluminum foil, our wraps can be used for up to a year. Plus, did we mention they're sustainably sourced and organic? We love using our reusable wraps to wrap a sandwich in a lunchbox, save the other half of an onion or apple, cover a bowl of leftovers, and so much more. All you need is the warmth of your hands to activate the watertight seal. Each pack of
beeswax wraps
includes three different sizes of wraps and comes in three super cute patterns colors: Moroccan Kitchen, Sicilian Citrus and Sweet Pears.
Our best value bundle, with the most savings ever, is here! You'll get everything you need to make 50 bottles of our powerful multi-purpose cleaner that cuts through grease, grime, soap scum, and sticky messes with squeaky clean, sparkling results. Our Super Saver Bundle is also our most eco-friendly bundle, because it includes 9 reusable cloths, which together allow you to eliminate 25 rolls of paper towels! They're super soft and absorb up to 4 times their weight in liquid. You'll love the limitless uses for Force of Nature beyond your kitchen, bathroom and playroom – deodorizing athletic gear and pet beds, disinfecting baby toys, cleaning fruits and veggies, and so much more.
Our Super Saver Bundle Includes:
50 Activator Capsules, each makes one 12 oz bottle of all-in-one cleaner, deodorizer & disinfectant
9 Cleaning Cloths (12 x 16 in)
Electrolyzer Appliance
Power Cord
12 oz Planet-Friendly Reusable Spray Bottle
Quick Start Guide & User Manual
Shop our newest Bundle here
.
We Love Finding Ways To Help Families Make Sustainable Swaps
We're real people with very real (often messy) homes and lives! We are proud to have created a powerful, effective cleaner and disinfectant without using toxic and harmful chemicals. We love nothing more than hearing how our customers love to use Force of Nature in their homes, cars, offices, and everywhere else. We take your feedback and ideas seriously and are so excited to launch these products as a result of the ways you want to make cleaning more eco-friendly in your homes. Ready to snag some of our new products for yourself?
Shop for your Super Saver Bundle and accessories
.