Businesses:
How To Clean and Disinfect Your Uber or Lyft and Keep Your Riders Safe!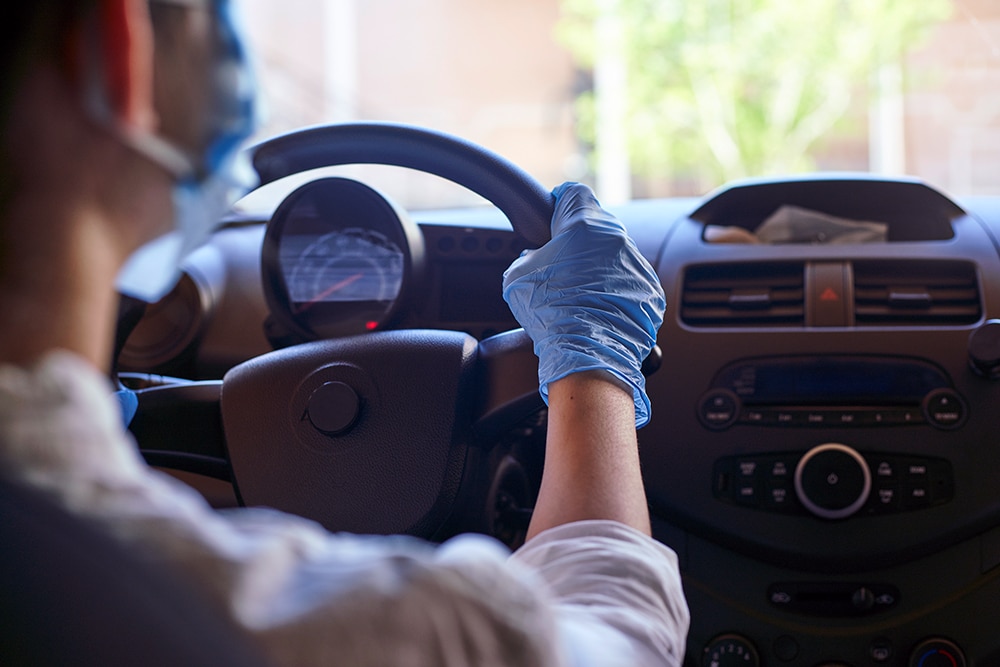 Every small business has had to make adjustments during the pandemic to keep their clients safe; ridesharing and transportation businesses are no different. As more communities open up and travel begins to pick up again, it's more important than ever to know how to safely disinfect and clean your vehicle to protect your riders and yourself! You're likely already following the protocols set out by your employer, but it's important to consider which products you are using to clean and disinfect, as they can contain toxic and dangerous chemicals that put both you and your riders at risk. Because you are sitting in the vehicle for long periods, frequent exposure to these chemicals can be dangerous to your health. One recent study found chronic exposure to cleaning chemicals to be as harmful to your health as smoking a pack of cigarettes a day. Here's how our toxic-chemical-free 3-in-1 cleaning, deodorizing, and disinfecting system, Force of Nature, can help you keep your Uber or Lyft free of 99.9% of germs, bacteria, and viruses.
5 Ways To Use Force Of Nature For A Clean, Disinfected Lyft or Uber
Before we get into all the great ways you can use our powerful cleaning system, here's what you don't want to use: conventional cleaning products that contain harmful chemicals like bleach (sodium hypochlorite) and quats (quaternary ammonium compounds). Bleach is caustic and can cause corrosion on surfaces, like your vehicle's interior, as well as trigger health conditions like allergies and asthma, with asthma sufferers displaying reduced lung function even the day after exposure to bleach. Quats are a class of compounds used as antimicrobial agents and are found in most disinfectant products and scientists are raising the concern that they have not been sufficiently studied to be deemed safe to use in cleaning products. They're linked to a laundry list of health issues including hormone disruption, reproductive health problems, skin, and respiratory irritation, and triggering asthma and allergy symptoms, even in those who have never had asthma.
1. Disinfect High Touch Areas
High-touch areas are areas that riders and drivers often encounter, such as door handles, air conditioning, music controls, seatbelt handles and latches, and trunk handles (when stowing luggage). Between rides, spray these surfaces down with Force of Nature and let them air dry. If they're a little damp when the next rider gets in, that's okay! Force of Nature is safe on surfaces without needing to rinse or wear protective gear. Our active ingredient, hypochlorous acid, is even used in medical, veterinary, and dermatology offices to heal wounds and skin because it's so gentle.
2. Disinfect Interior Surfaces
Unlike bleach and other caustic disinfectants and cleaning products that can cause damage or corrosion to your vehicle's interior, Force of Nature is safe to use on just about any surface including plastic, stainless steel, ceramic, enamel, glass, sealed stone, laminate, porcelain, tile, plastic, vinyl, rubber, chrome, and more. You can spray a cloth first and then wipe your navigation equipment, including your cellphone or tablet, but don't spray anything electronic directly with Force of Nature (or any other liquid!). Before you start work for the day, give your vehicle a spray with Force of Nature and either let it dry naturally, for maximum disinfection, or wipe with a cloth to clean the surfaces.
3. Treat Spills and Stains
Force of Nature is a great fabric and stain treatment. The sooner you get to it, the better! If there's any solid matter, like a piece of melted candy, remove as much as you can first, then fully saturate the stain with Force of Nature and wait 2 minutes before using a cloth to wipe up any remaining stain. Make sure to test an inconspicuous spot for colorfastness first, because the dyes and fibers used in your upholstery can vary and may not be colorfast. Force of Nature cleans fabric stains as well as Resolve, but won't' remove color like bleach does.
4. Deodorize
Force of Nature kills odor-causing bacteria, which means it's an excellent deodorizer. It doesn't just mask the odors like typical deodorizers, it kills them at the source. If you have set-in odors, the first time you use Force of Nature to remove the odor, you'll want to spray the offending area until it's soaked and let it dry naturally (no rinsing!). This will kill the odor-causing bacteria at its source. For day-to-day odor control, spray Force of Nature onto surfaces at the end of the day to stop new odors from forming. And if you're spray upholstery, make sure to start with that spot test to ensure the fabric is colorfast.
5. Reset
At the end of every shift, it's a great idea to liberally spray the back seat of your vehicle and any surfaces riders have interacted with. Spray thoroughly and then let air dry naturally. Force of Nature kills 99.9% of germs including Norovirus, Salmonella, Staph, MRSA, Listeria, Influenza A & Pseudomonas when used as directed. Force of Nature is on the EPA's list N, the disinfectants approved for use against Covid-19. The EPA has registered Force of Nature for disinfecting and sanitizing hospitals, ICUs, schools, daycares, veterinary clinics, and more.
Even better news: Force of Nature is made on-demand, whenever you need it, so you never have to worry about running out of disinfectants, even during shortages like those we experienced during the pandemic. It allows you to completely eliminate wasteful single use plastic bottles too, AND saves you money because it's only 7 cents per oz.
Get 5 Stars Every Time
Now that you have a plan for cleaning and disinfecting that will protect yourself and your riders from germs and toxic chemicals, all you have to worry about is providing excellent customer service.  We're proud to offer Uber and Lyft drivers an effective cleaning, sanitizing, and disinfecting solution that they can feel good about using around their riders, even those with allergies, asthma, and other respiratory conditions. Ready to start your journey with Force of Nature? Check out our revolutionary cleaning system, Force of Nature.