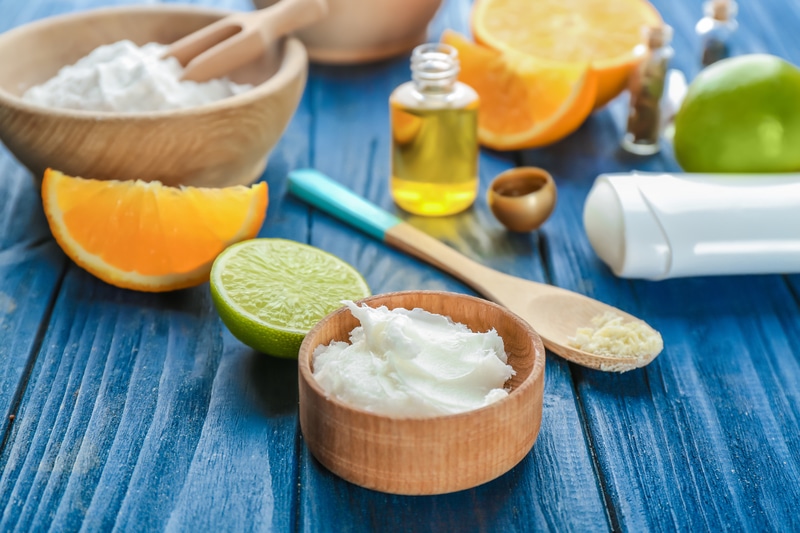 Choosing the right deodorant can feel like a lose-lose situation, especially when you're trying to be more conscious about choosing safer products. It can feel like your options are either a conventional deodorant loaded with toxic ingredients that have been linked to a variety of health concerns like neurotoxicity, cancer, and hormone disruption, OR you choose a clean, non-toxic deodorant and run the risk of it failing miserably and, thus, smelling pretty bad. What are you willing to risk? The good news is – there doesn't have to be a risk at all. It's entirely possible to find truly non-toxic options that won't increase the chances of developing health problems but will also keep you stink-free all day long. Below, we're talking about the top three ingredients to avoid in a non-toxic deodorant and sharing some of our favorite cleaner deodorant alternatives to make your purchasing decision that much easier.
Top Three Ingredients to Avoid in a Non-Toxic Deodorant
Checking product labels in the deodorant aisle? Keep your eyes peeled for these three worst offenders often found in these products – and avoid them at all costs!
Aluminum
Aluminum is often used in antiperspirants to block sweat from reaching the surface. However, some of that aluminum may be absorbed by the skin close to the breast, causing concerning estrogen-like effects. Estrogen is known to promote breast cancer cell growth, and researchers are concerned that aluminum from deodorants could be a possible contributing factor to
breast cancer development
in women. While researchers haven't found direct causation, many still believe the area of concern calls for
more research
.
Triclosan
Triclosan may not be a name you've heard of before, but it should be. In 2016, the FDA banned the ingredient from antibacterial soaps, yet it still permits its use in other products, like toothpaste, acne products, and – you guessed it – deodorant. Triclosan is a
synthetic pesticide
that has been linked to an increased risk of breast cancer, liver cancer, liver damage, hormone disruption, and
multi-drug resistant bacteria
, known as super-germs. Triclosan is an active ingredient, so if it's in your deodorant, it will be listed in the "drug facts" box. But just because it's not there doesn't mean there's not something similar lurking in the product.
Always check
for its close chemical relative, triclocarban, in the ingredients list.
Fragrances
As lovely as a cucumber or fresh linen fragrance can be in a deodorant, these added ingredients can come at a high toxic cost. At the end of the day, fragrances are chemicals too, and these chemicals can enter the bloodstream
through the skin
. Fragrance chemicals are known hormone disruptors,
carcinogens, neurotoxins, and irritants to the skin and respiratory system
. Unfortunately, fragrances are only
regulated by the industry itself
, and most formulas are kept as proprietary
trade secrets
, so you may never really know what toxic chemicals are hiding behind the seemingly innocent word "fragrance" on your product label.
Our Top Picks for Non-Toxic Deodorant
If you're looking for a truly effective non-toxic deodorant that doesn't sacrifice performance, Native Deodorant is the way to go. It's made without any aluminum, triclosan, or synthetic fragrances and comes in a variety of fun scents using natural oils to create "flavor" experiences like coconut & vanilla, eucalyptus & mint, and lavender & rose. It glides on smoothly, doesn't leave any residue, and keeps you feeling fresh all day long.
Keeping it real:
Sometimes, even natural fragrances can trigger allergies. Some people might also have an allergy to their primary ingredient, fractioned coconut oil.
This non-toxic deodorant from Primal Life Organics uses a combination of magnesium and non-nano zinc oxide to absorb wetness and help the body optimize its natural deodorizing process. Try it in a smaller size before you commit to the 3oz stick, designed to last three months! If you have sensitive skin, go with the White Coconut formula, which doesn't contain any essential oils or charcoal.
Keeping it real:
You may need to be patient for a little while your pits "detox" and your body adjusts to the formula. Fair warning, there may be a bit of stink. But as you adapt, the product becomes more effective. Steer clear of the black formula, featuring charcoal, if you want to avoid discoloring clothes.
Purely Great is EWG-verified, which means that it's received the highest possible safety rating after undergoing a scientific review process. This non-toxic deodorant comes either on a stick or in a jar and comes in naturally-scented and unscented options, so there's something for everyone.
Keeping it real:
This deodorant is available as either a stick or in a jar. The jar packaging can take a little time to get the hang of, so opt for the stick option if you're new to the natural deodorant thing.
Finding the Best Non-Toxic Health and Wellness Alternatives
Most deodorants and antiperspirants rely on at least some of the toxic ingredients listed above to work more effectively at keeping you stink-free, making it a challenge to find non-toxic alternatives for deodorants that actually work. If you need a little extra support to make the right choice,
EWG
can help you research ingredient safety information and
non-toxic deodorants
that have met their highest standards. (For a deeper dive into this world, check out our
Chemical Free Product Guide on Deodorant
.) At Force of Nature, we know just how privileged we are to be used around your home and family, and we want to help you find non-toxic alternatives beyond just our
family-safe and effective on-demand cleaning system
. You can learn more about natural cleaning and chemical-free living in
our blog
, or get your very own 3-in-1 disinfecting, sanitizing, and
cleaning starter kit
.