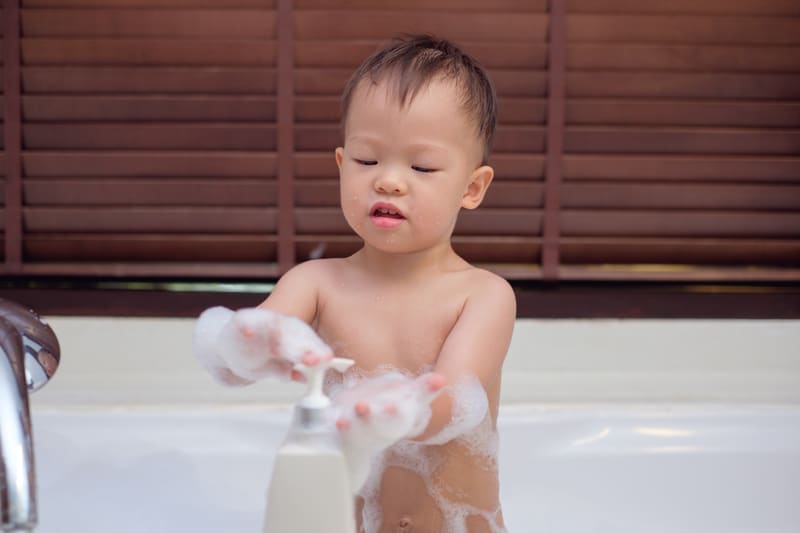 It's not easy to pick a natural body wash amongst all the colorful bottles in the drug store. That's partially because the features most people look for in a body wash – rich, foaming lather and a yummy scent – are likely what causes it to be harmful both to humans and to our environment. We developed this natural body wash guide to help you learn how to avoid potential toxins and to recommend a few of our current favorite products to help.
Top 3 Ingredients To Avoid For A Natural Body Wash
Fragrances & Phthalates
It's counterintuitive to think that scent would be one of the features we would want to avoid when shopping for an natural body wash! Because fragrance recipes are considered trade secrets, manufacturers can avoid disclosing hundreds of potentially toxic substances, many of which have been associated with endocrine disruption, organ toxicity, neurotoxicity, allergies, asthma, and even cancer. The Environmental Working Group warns consumers to read the word "fragrance" or "parfum" and translate it to mean "hidden chemicals." To avoid fragrances, choose only fragrance free body washes and use high-quality, uncontaminated essential oils to fragrance them yourself if you can't live without scent. Always choose fragrance-free products over "naturally" scented products, as even so-called "natural" fragrances can be as unsafe as synthetic ones. In fact, even "unscented" products may contain fragrance ingredients that are masking scents, so make sure to read the label.
Phthalates make scents last longer, so they are usually found in products that contain fragrance, though you won't see this toxic ingredient listed on labels. They have been banned for cosmetic use in the European Union and the National Toxicology Program has designated them "reasonably anticipated to be a human carcinogen." Tack on some reproductive & developmental toxicity and endocrine disruption, decreased sperm counts and damaged sperm, and you have yet another very compelling reason to avoid all fragranced products.
Are you wondering how the fragrance industry gets away with this? Sadly, the fragrance industry is self-regulated. That means that there's no agency overseeing fragrance ingredient safety & chemical disclosure to consumers.
Cocamidopropyl Betaine
Cocamidopropyl betaine is a surfactant, so it is used in formulations to increase sudsing, giving you that foamy lather we equate with soap. It can cause allergic dermatitis and skin irritation and increased rates of sensitization have led to cocamidopropyl betaine being named Allergen of the Year by the American Contact Dermatitis Society.
To avoid this ingredient, read product labels and only choose products that are free of the following ingredients: cocoyl amid propyldimethyl glycine; 1-propanaminium, 3-amino-n-(carboxymethyl)-n,n-dimethyl-,n-coco acyl derivs., inner salts; cocamidopropyl dimethyl glycine; 1-propanaminium, n-(carboxymethyl) –n, n-dimethyl-3-[(1-oxococonut) amino]-, hydroxide, inner salt; 1propanaminium, 3 aminon (carboxymethyl) n,ndimethyl, ncocoacyl derivs., hydroxides, inner salts; hydroxide inner salt 1-propanaminium, n-(carboxymethyl) –n, n-dimyethl-3-[(1-oxococonut) amino]-; CADG; cocamido betaine; cocaminopropyl betain; cocoyl amid propylbetaine; cocoyl amid propyldl methyl glycine solution; cocoyl amide propyldimethyl glycine; hydroxide inner salt 1-solution.
Methylisothiazolinone (MIT) & Parabens
Parabens, used as preservatives and antimicrobials are linked to a host of health risks and, because they wash into our sewer systems, have even shown up in the tissue of marine life like dolphins, sea otters and polar bears.
Methylisothiazolinone is a preservative that's often used in place of parabens in personal care products. Unfortunately, this ingredient can cause allergic reactions, irritation to the skin, eyes, and lungs, is linked to neurotoxicity and is toxic to aquatic life.
To avoid methylisothiazolinone, be sure to read ingredient labels and avoid products that contain MIT and any of the other synonyms like MICROCARE MT or NEOLONE 950 PRESERVATIVE used to designate the presence of this chemical. If you have sensitive skin, you should take special care to avoid products that contain MIT. Finding a non-toxic, eco-friendly body wash is a great step for those with sensitive skin.
3 We're Loving Right Now
Our Top Pick: Attitude Sensitive Skin Natural Body Wash, Fragrance-Free is made with plant- and mineral-based, hypoallergenic ingredients and does not contain irritating or cancer-causing chemicals like sulfate or ethoxylated surfactants. It's dermatologist tested and certified by the National Eczema Association. It has also earned the EWG Verified seal, the highest marks for safety awarded by the Environmental Working Group, who independently test and verify the products themselves.
Nobody's Perfect: It does contain potassium sorbate, a preservative, but given the EWG's verification of safety and the limited data on this ingredient, we still think this is a great choice over others in the category.
Next Best
Nurture My Body All Natural Fragrance Free Body Wash is made with certified organic ingredients and without chemicals, sulfates, parabens and is fragrance free. It has also earned great safety ratings from the Environmental Working Group's Skin Deep Database.
Nobody's Perfect: There isn't a ton of data on some of the ingredients in this product.
C'est Moi Vanilla Vibes Cleansing Body Wash is a fragranced option for those who just can't live without a fragrance – and it has been verified by the EWG. It's free of synthetic fragrance, phthalates, sulfates and parabens and the company does not test on animals.
Nobody's Perfect: We said no fragrances! But, if you're going to do it, and you don't typically suffer from skin sensitivities and allergies, we do like that this product packs the EWG-verified seal.
Learn More
Finding a natural body wash that still makes showering a spa-like occasion is possible! While we think the natural body wash products in this article are worthy of checking out yourself, it's important to continue to seek out responsible brands and the latest information. One resource for safe alternatives is the EWG Skin Deep Database, where you can search for both ingredients to learn more about them or search for products that are free of toxic substances. A great way to find out about new products is to follow brands (like us!) who are committed to supporting others in the non-toxic space. Take it one step at a time and know that any shift towards safer products is a good thing – and, if you're going to take that first step, avoiding fragrance is our #1 place to start!