Non-Toxic Product Guides:
What's In Your Diaper Bag? Our Top Natural Baby Products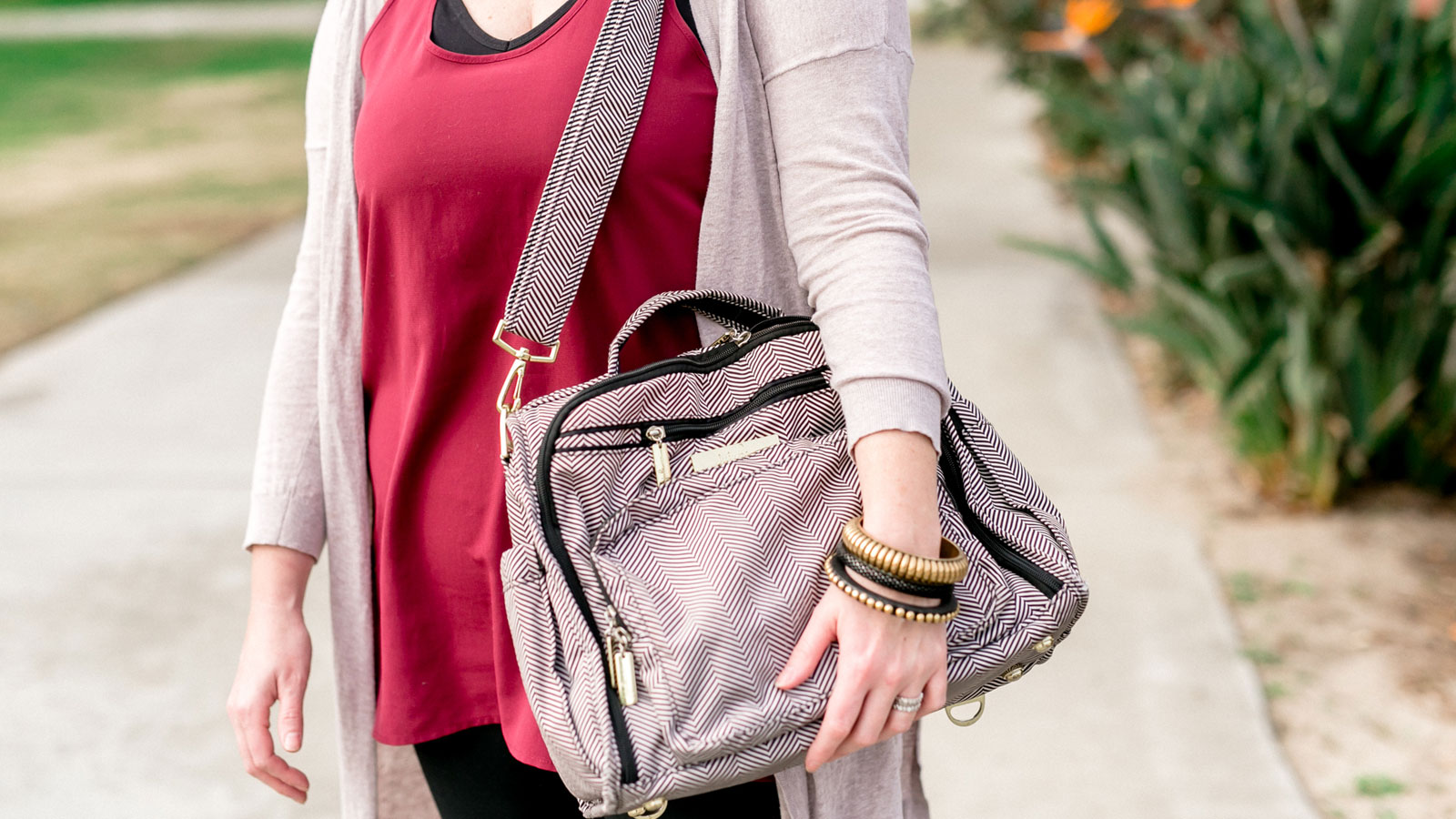 The parent uniform isn't complete without…the diaper bag! Whether it's bursting with supplies for every possible disaster situation or just a stale granola bar, a squeaky toy, and an emergency diaper change, the important thing is to avoid products that can be toxic to yourself, your baby and the environment. It's sad, but despite the cute packaging, baby products can pack a toxic punch.
Our Top Picks For Natural, Non-Toxic Baby Products for Your Diaper Bag:
Natural, Non-Toxic Diapers
Conventional diapers, wipes and rash cream can contain toxic chemicals that are actually harmful to your baby, which is especially concerning considering their bodies are still developing. Some ingredients to watch out for are:
Instead, seek out natural baby products like sustainable diapers that are free from latex, dyes, and fragrances. Some of our favorite brands are Dyper (a delivery service – how convenient is that?), Bambo Nature and Amazon Mama.
Natural Baby Wipes
Some brands to check out are Attitude and Everyone Baby Wipes, which both rate highly on the Environmental Working Group's Skin Deep Database and are EWG Verified.
Natural Diaper Rash Cream
We love these safer, non-toxic versions that have no petroleum or nasty synthetic fragrances: Beautycounter Diaper Rash Cream and Attitude Natural Baby Diaper Rash Cream.
Wooden Toys
Wooden toys decorated with non-toxic paint like these are a great way to up your non-toxic diaper bag game. Not only is plastic a major issue for our natural environment and a health hazard to humans, but conventional paints can contain toxins (like heavy metals) which are especially dangerous for babies who will often put toys in their mouths! 
Silicone Snack and Food Storage Bags
We like Stasher Bags, which reduce your use of single-use plastic. We love that these awesome reusable, 100% platinum food-grade silicone bags come in a rainbow of beautiful colors and a range of sizes.
A Wet/Dry Bag
These are great for cloth diapers, bathing suits, or wet/messy clothes (hey, it happens!). We love these reusable, lined Planet Wise wet bags that are PVC-free and keep the rest of your non-toxic diaper bag clean and dry!
And, of course, our non-toxic diaper bag secret weapon…
A Travel Size Force of Nature!
Spray down restroom changing tables, restaurant tables, high chairs and dropped toys and pacifiers (why is that game so fun?) to reduce some of that on-the-go parenting ick-factor.
What are your favorite non-toxic, natural baby products?
We love hearing from parents – because we're parents, too! That's why we're so passionate about our family-friendly, eco-friendly cleaning system, Force of Nature. We've harnessed the power of salt, vinegar, and water to create a multi-purpose cleaner that's as effective as bleach, but safe enough for your diaper changing table!