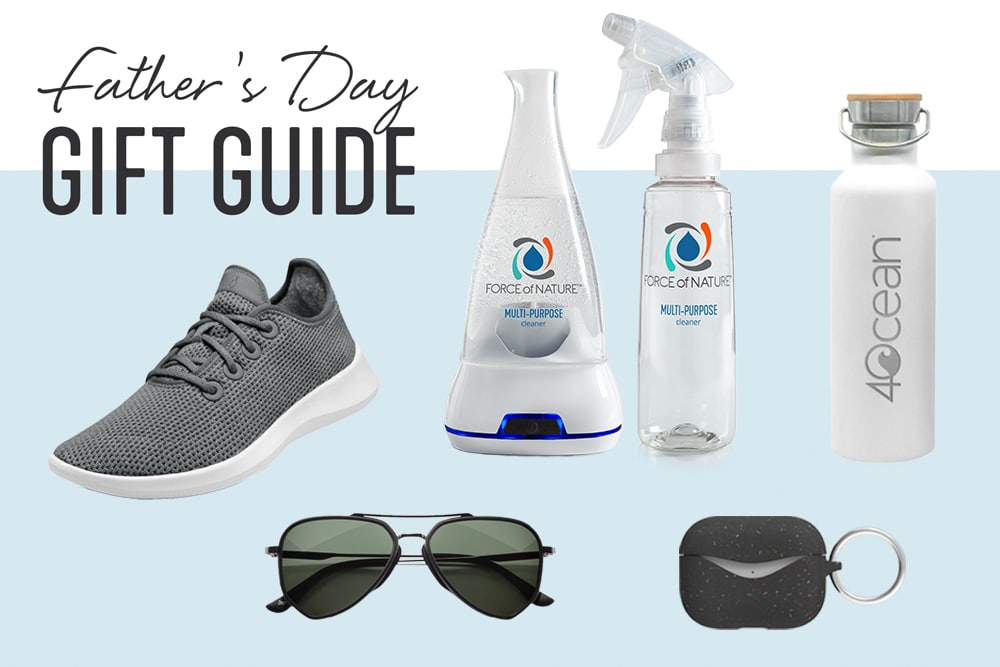 2023 Father's Day Gift Guide
Father's Day is around the corner, so we combed the internet for creative gift ideas and fun products for the awesome dads in your life. Here are some of our favorite eco-friendly, sustainable, and just plain fun gift ideas for the guy who gives the best piggy-back rides, always knows how to fix the WiFi, and does all the voices even though he's read that book a million times.
An Eco-Friendly Case for his AirPods (or Phone)
Pela
makes the world's first compostable (really!) cases for AirPods, AirPods Pro, Phones, and more. Their signature Felaxstic material is soft, durable, and 100% compostable, so you can feel great about reducing waste while accessorizing Dad's gadgets – and the little keyring loop will help him keep tabs on those easy-to-lose little guys, too.
Reusable Water Bottle
4Ocean reusable water bottles
aren't just cool looking, they prevent 345 plastic bottles from entering landfills and the ocean! These double-walled, vacuum-insulated stainless steel water bottles can be used for hot or cold drinks and, best of all, every bottle purchased funds the removal of one pound of trash from our oceans, rivers, and coastlines!
A Better Night's Sleep
Sustainable, technical sleepwear brand,
dagsmejan
, combines cutting-edge technology with a rigorous commitment to sustainable materials and manufacturing to create sleepwear that is scientifically proven to boost sleep comfort. Whether you sleep warm or cold, dagsmejan has the luxurious, feather-light, breathable pajamas that promise to give dad a good night's sleep.
Seriously Sustainable Sunglasses
Sunski
, an independent sunglasses brand based in California, believes that good design should be good for the planet. From supporting environmental nonprofits to using recycled materials, no plastic packaging, and offering a lifetime warranty, Sunski makes it feel good about looking good in their classic shades.
Eco-Friendly Running Shoes
Make those miles he logs more satisfying with light and breezy
Allbirds Tree Runners
, which are made out of eucalyptus! And they're machine washable, too (you're welcome!).
This Amazing Book of State Parks
The photography in
this book
of 500 state parks across all 50 states will have you ready to rent an RV and head out for an adventure.
The Coolest Cordless Mini-Blender
From protein shakes to vegan smoothies (and even the occasional margarita), this rechargeable
Blendjet
blender can handle 15 blends on a single charge and comes in a whole rainbow of colors, too.
For Film Buff Dads
This
100 Greatest Movies
Scratch-Off poster.
Print His Best Friend
Pop his forever fur baby's cute face on pretty much anything with
pop your pup
.
A Venus Flytrap
Because:
A carnivorous plant
! Who hasn't always secretly wanted one of these?
Learn More
This Father's Day, and every day, we love being a part of helping you and your family lead happy, healthy lives. That's why we created our non-toxic, family-friendly cleaning system,
Force of Nature
– an EPA-registered disinfectant proven to kill 99% of germs, but gentle enough to use around your kids and pets. Learn more about the
science behind our powerful little appliance
.