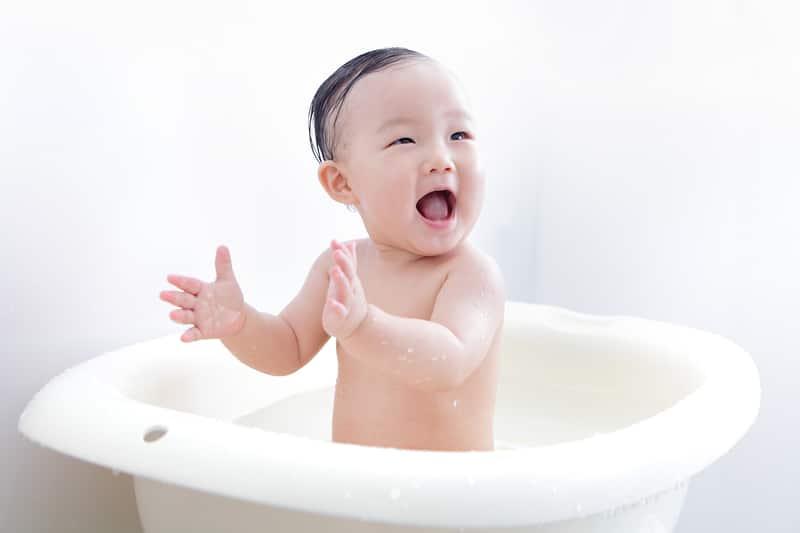 While baby products should be amongst the safest on the market, the sad truth is that they are some of the worst offenders out there for containing toxic ingredients. And, since babies are 10 times more vulnerable to those chemicals than adults, it's even more critical that we find safer, non-toxic baby shampoo for our precious people. Here are some of the top chemicals to avoid in a non-toxic baby shampoo, and a few of our current favorites out there.
The Top Ingredients to Avoid in Baby Washes and Shampoos
1. Fragrances
and
Phthalates
:  Okay we know there are few smells as sweet as a freshly bathed baby or toddler.  But enjoy the sweetness without fragrances because fragrances are associated with
hormone disruption
,
skin & respiratory allergies
.  If you have allergies in your family, you know it is nearly impossible to know what ingredients are actually triggering them. This is because the word "fragrance" on a label often hides a
toxic cocktail of multiple ingredients
. Phthalates are used in fragrances, but aren't listed on labels, and they aren't restricted for use despite their association with a
host of health concerns
including
reproductive issues and developmental problems
in unborn children, as well as
asthma and respiratory problems
.
Bottom line: your best bet is always fragrance free.
2. Parabens
:  These are synthetic preservatives common in baby washes and baby shampoos, as well as many personal care products for adults.  The
CDC has detected them
in almost all Americans tested. They are linked to a
multitude of health risks
including cancer, endocrine disruption, reproductive toxicity, neurotoxicity and skin irritation.  
Seek and avoid: any ingredients ending in -paraben.
3. 1,4-dioxane:  This known carcinogen is thought to be in more than 50% of all baby soaps, especially in those called "tear-free". It's a contaminant that occurs when a surfactant has been "ethoxylated", or chemically combined with the compound ethylene oxide. When you see the word 'laureth', it means it is ethoxylated. Tear-free shampoos are ethoxylated. This contaminant can penetrate the skin each time you use the product on your baby, and it's been linked to cancer, reproductive issues, kidney & liver damage & liver problems.
Seek and avoid: polyethylene, polyethylene glycol, polyoxyethylene, sodium laureth sulfate, ceteareth, oleth, oxynol, -xynol, PEG, ingredients ending with -eth, -oxynol and those containing the words laureth, laureate, myrrh, ceteareth or oleth.
4. Formaldehyde
& Formaldehyde-Releasing Preservatives: These are
known carcinogens
yet are common in baby shampoos.  They can be added directly or released by other preservatives. There is a long lost of chemicals that could fall within this group, so our advice is to look for the words "formaldehyde-free".  
Seek and avoid: Formaldehyde, quaternium-15, dimethyl-dimethyl (DMDM) hydantoin, imidazolidinyl urea, diazolidinyl urea, sodium hydroxymethylglycinate, 2-bromo-2-nitropropane-1,3-diol (bromopol).
Three Non-Toxic Baby Shampoos We're Loving Right Now
Our Top Pick: Super-Duper Clean Kids' Body Wash is a gentle, fragrance free formula that  is specially formulated for babies and free of irritants and hidden, harmful ingredients. It's also tear-free (without crazy chemicals!) and doesn't strip the skin of moisture. A registered B Corp, Beautycounter is a mission-driven organization that seeks to improve legislature around cosmetic safety as well as provide safer products for every member of the family.
Nobody's Perfect: This formula contains sodium benzoate, a preservative, of which there is very limited data suggesting it may have some toxic properties in sensitive individuals (like immunocompromised).  
Next Best:
ATTITUDE Baby 2-in-1 Natural Hair and Body Foaming Wash is EWG verified, giving it the highest safety honors bestowed by the Environmental Working Group. The line uses natural, plant based ingredients and is free of artificial fragrance or perfume, concerning preservatives and toxins discussed above like phthalates, formaldehyde, PEG and Sodium Laureth Sulfate (SLS).
Nobody's Perfect: the brand's line of non-toxic baby shampoo features fragrances, which, even when natural, can still trigger allergic reactions in some children.
 Tom's of Maine earns a

great rating from the EWG

and is easily purchased on Amazon or locally at health food stores like Whole Foods. The line

keeps it simple with just two formulas:

a lightly fragranced and a fragrance free option, (always our choice, especially for babies!). We also love that the brand is

super transparent about their ethics and ingredient selection process.
Nobody's Perfect: Their formula contains lactic acid, which naturally occurs in our hair and skin to retain moisture. There is some evidence that lactic acid can be irritating to the skin and eyes, so if your little one is super sensitive or has eczema, you may want to find a non-toxic baby shampoo formula that doesn't use this ingredient.
Learn More
Non-toxic baby shampoos are being developed every day, so make sure to utilize resources like the EWG Skin Deep Database and their Baby Shampoo rankings to find a product you love. To learn how to find toxic chemical free options in cosmetics, personal care, laundry and cleaning products, check out our Chemical Free Product Guides here. Happy tub time!