Simplify Your Life:
Your 4th of July Simple Party Food Guide Is Here!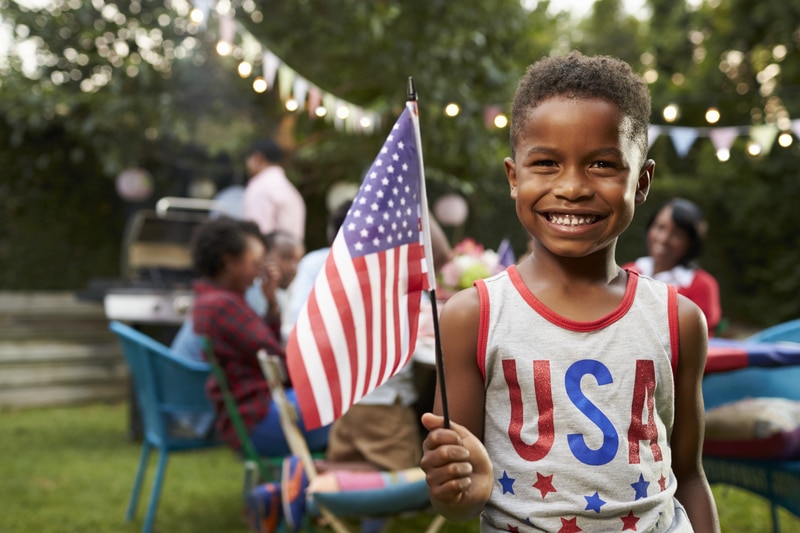 The 4th of July is the fun, festive heart of summer, with school a distant memory and so many long, sunny days left ahead. Before you plan your 4th of July bbq or picnic, check out these simple party food ideas that you can make with your kids – or eat them all at home, we won't tell!
6 Simple Party Food Ideas You Can Make With Your Kids
When it comes to simple party food, the kabob is king! And, as if on purpose, shades of red and blue abound right now in the height of summer's berry season. Clean your berries with a spray of Force of Nature, then let your little helpers kabob to their heart's content. Choosing organic for Dirty Dozen produce items like strawberries and raspberries to help reduce your family's exposure to pesticides and other agricultural chemicals. Make the marshmallow a better choice by grabbing non-GMO, or brownie points for making your own – these are gluten free and boast collagen which is good for our joints!
Using fresh fruit and yogurt (or, in this recipe, coconut milk!) helps you get that red, white and blue look without using artificial colorings. Artificial food dyes are linked to health issues like cancer and behavioral issues in children. Always check labels, because even white and brown foods can have hidden artificial coloring!
Red, White and Blueberry Trifle
This is a great option for little kids because part of its charm is the imperfect, messy nature of a trifle! Using fresh fruit keeps it healthy and bright and it can be scaled up and down for any size crowd. Switch up the cake flavor based on what your crowd loves best (but we're partial to chocolate chip!).
Firecracker Rice Krispie Treats
How cute are these? Make them as safe as possible by avoiding artificial food dyes and sticking with naturally colored sprinkles to add color and fun! Search for organic cake decorations and check the ingredients to make sure you don't see colorings like Red #3 and Yellow #5 on the list.
S'Mores are one of the most fun ideas, in theory. In reality, little kids, fire and sharp sticks sounds more like a recipe for disaster, not a delicious treat. That's why we love this simple party food idea for a S'Mores dip that gets gooey in the oven! Your kids will love helping crate the layers (how fun is the idea of adding strawberries in there?). Add a stack of graham crackers or cookies and you're going to have to chase the adults away from the dessert table!
Skip the high fructose corn syrup-laden sodas and juices and, at the same time, secure your invite to every party ever, by bringing a homemade, berry cocktail. You can control the sweetness level and you can use organic berries, which helps you avoid pesticides. Making simple syrup yourself is a fun, easy cooking project to do with kids, and lets you select natural cane sugar or your choice of sweetener, as well as the amount of sugar used!
Sweetener Tip: Just because a recipe calls for a certain amount of sugar, doesn't mean you have to use that much. Here's a great article from Food52 to help guide you on how to adjust the sweetness in your baked goods.
From simple party food ideas for your 4th of July celebrations, to helping simplify your cleaning cabinet with our family-safe cleaning system, Force of Nature, we're here for you! Keep your home party-ready, and easy to clean up afterwards, with our revolutionary cleaning system that's as effective as bleach, but safe enough for your baby's high chair.