Simplify Your Life:
Win-Win: How To Keep Your Kids Busy & Support Businesses, Too!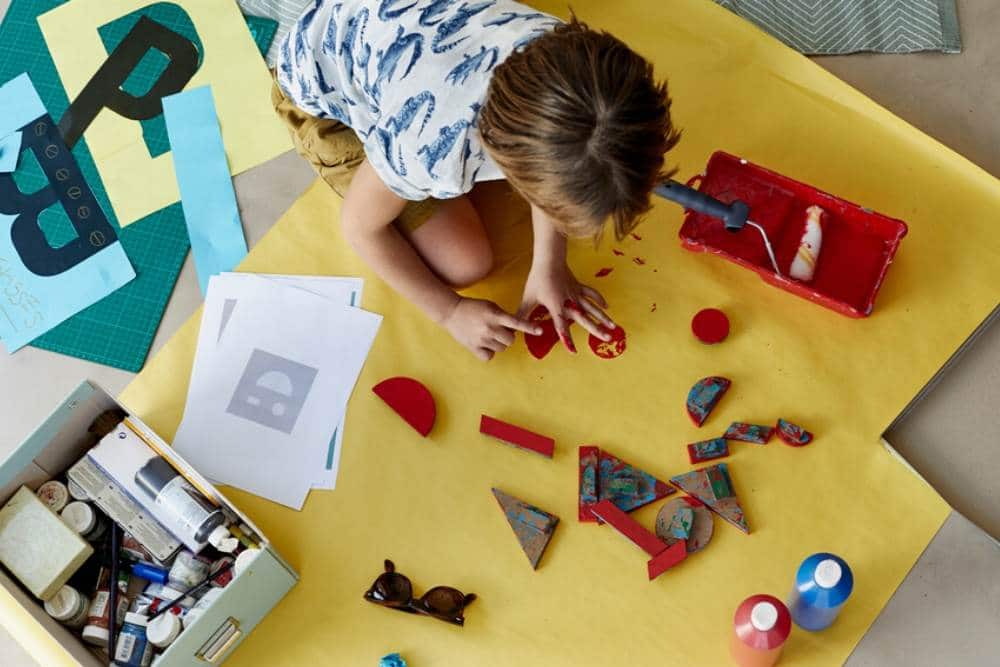 Thanks to the novel coronavirus, our lives have all changed in the blink of an eye. Just as fast, social media exploded into a frenzy of elaborate homeschooling curriculum and color-coded daily schedules. We don't know about you guys, but worrying about how to create gold-standard education for our children at home was not helping us stay calm under the current (already very stressful) situation!
Here's what we can do: spend quality time with our children, help them stay engaged and busy, and support small businesses and companies who are creating high-quality, engaging material so we can check our overflowing work email for 5 seconds without interruption (maybe!).
Wouldn't that be nice?
First things first: don't freak out!
Let's take our standards and lower them. Even more. A little lower. Theeeeere ya go. Take any preconceived notions about hours of prairie-life homeschooling and throw them out the window. Most homeschoolers are receiving 2-3 hours of education a day, with younger children only receiving 1-2 hours a day. If you have older kids, your school should be supplying you with content and guidance. If your kids are younger, they're likely still working sensory and play-based content, of which the internet is teeming with content that can help you check the "they received education today" box.
And, happily, reading with your kids is one of the most important ways you can impact their later reading and cognitive skills.
So, now that you know you aren't going to be holding your child back from quality education by homeschooling for a few weeks (unless you were already homeschooling, in which case, hats off to you!), how do you keep them happy and not whining for snacks during your conference calls? We got you.
Online Education Resources
The educational community is rallying together to provide tons of amazing resources for families during this time. Here's an incredible, continuously updated roundup of free resources for schools during COVID-19, and below are a few of our top picks.
Khan Kids
Cost: FREE!
Khan Kids offers fun, free educational programming for children ages 2-7 on their app. Multiple children can use the same app, each one will have an avatar and the age-based curriculum will adjust for them. They're also providing sample daily learning schedules by age to help you plan your day.
ABC Mouse
Cost: Might be free through your district, otherwise $9.95/month after 30 days.
ABC Mouse is an award-winning curriculum for kids 2-8 that can be used on your phone, tablet or computer and free for 30 days. The product's parent company Age of Learning is offering the service free to schools, as well as their other products Adventure Academy and ReadingIQ, so check and see if your school district is participating.
Osmo
Cost: Pricing starts at around $60 for a starter kit (depending on current deal)
Osmo is an ingenious device that works with iPad and Fire tablets to bring learning to life. The technology allows your child's drawings and activities to come alive on the screen, allowing them to interact with material in a totally new way. You start with a starter kit and can then buy additional games based on your child's interests.
Streaming & Reading Options (Because Mom & Dad Need to Work or Eat A Snack)
Streaming services have stepped up and created fun options for viewers young and old during the pandemic. Here's a roundup of viewing and reading resources as well as a couple of our favorites, below.
Audible
The audiobook subscription is offering a free selection of stories, handpicked by their editors, for all ages. You can hear Scarlett Johansson read Alice's Adventures in Wonderland or Kenneth Grahame read The Reluctant Dragon for free as long as schools are closed.
Let Alexa Babysit
Here is the ultimate list of free things Alexa can do with your kids from playing Head's Up to reading them a story, talk to Elmo, run a virtual lemonade stand or Kids Court (solving sibling squabbles with the structure of the U.S. Justice System)!
Netflix Party
Cost: Free after Netflix subscription
Your kids (and you!) can watch Netflix movies and shows in sync with friends using this clever google extension.
Hulu's Free Live News Stream
Cost: Free to Hulu/Disney+ Subscribers
Not for kids, but helpful for parents, especially cordcutters! Hulu has partnered with ABC News to offer 24/7 news coverage to subscribers during this crisis.
Art & Museums
Just because you're stuck at home doesn't mean you can't be surrounded by beautiful works of art – or create them yourself! Here are some of our favorite ways to add a little culture and creativity to our days.
Art is Elementary
This YouTube channel created by an art teacher gives free, 15-min art lessons with materials you already have in your house so kids can explore different mediums and artistic styles.
Mo Willem's Lunch Doodles
Every day, beloved illustrator and Kennedy Center Artist in Residence, Mo Willem offers a free doodle lesson that teaches kids to create his imaginative characters step-by-step.
"Visit" a Museum
Many museums are opening up their doors digitally to let kids in to see their collections. Here are the Top 10 Virtual Museum Tours including the Smithsonian, Met, Getty, Moma and Louvre!
Monthly Box Subscriptions
Even during non-global-pandemic times, kids love these subscription crates for a reason: they're high-quality and tailored for their ages and – best of all – they come in the mail just for them which is just plain awesome. Here are 9 subscription box companies offering free and discounted options during COVID-19, and here are a few of our favorites, too:
KiwiCrates
Cost: Pricing varies depending on line and length of subscription from around $60/3 months
These awesome monthly STEM kits are tailored for your child's age from 0-104 (yes, you read that right – Eureka crates are available for adults to get in on the fun)! Bigger kids will explore topics like time (building marble timers) and space (creating a solar system diagram). Even young toddlers can enjoy these monthly shipments featuring topics like the farm, making simple crafts like felt puppets, dinosaur fossils and rain sticks.
Free bonus: they're also updating their site with daily free resources and printables for parents.
WeCraft Boxes
Cost: $29.99/kit for individual boxes with discounts for subscriptions
For little makers, these age-based craft boxes will be a huge hit! The monthly subscription box comes with a theme including a craft and all the materials to complete it including a story and photo instructions.
Little Passports
Cost: Starting at $12/month (15% off right now)
Little Passports offers a monthly subscription service that brings fun and creative ways to explore the world right to your home. You select the right subscription by age and receive a monthly kit packed with fun activities for kids 3+.
For Parents
Yale's Free Course on Happiness
Cost: Free
We could all use a little more happiness right now! Yale University is giving everyone free access to their happiness-themed course, The Science of Well-Being. In this course you will: "engage in a series of challenges designed to increase your own happiness and build more productive habits. As preparation for these tasks, Professor Laurie Santos reveals misconceptions about happiness, annoying features of the mind that lead us to think the way we do, and the research that can help us change. You will ultimately be prepared to successfully incorporate a specific wellness activity into your life."
Learn More
This is a tough time for everyone and the most important thing we can do for our children isn't to provide an Ivy League education but to create an atmosphere of resilience and hope, where they feel safe. We're here to support you throughout this time, with fun ideas and tips for keeping your family happy and healthy. That's exactly why we created our family-friendly cleaning system, Force of Nature – an EPA-registered disinfectant proven to kill 99.9% of germs, but gentle enough to use around your kids and pets. Learn more about the science behind our powerful little appliance.
Enjoy this post? Share with a friend!