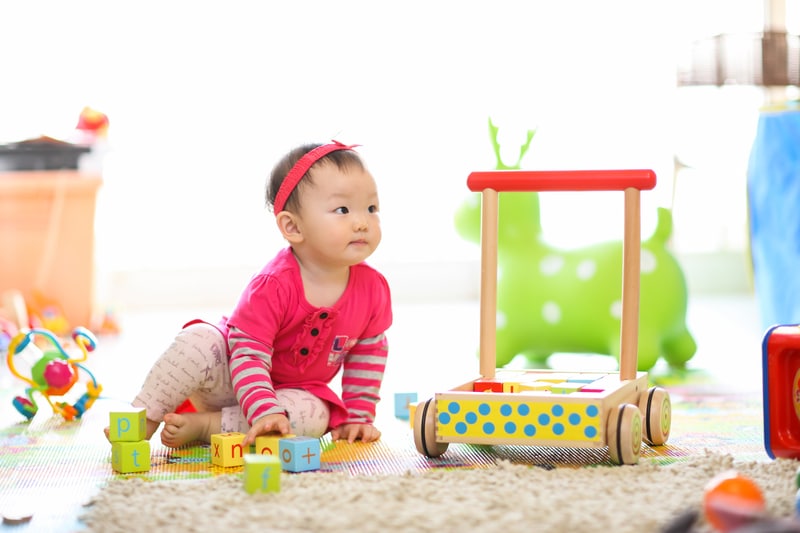 Christmas may have come and gone, but, chances are, the evidence still remains scattered over every surface of your home. Sadly, sometimes toy storage is even less attractive (and, in some cases, toxic!) than the toys themselves. It's not too late to start the new year fresh with organized, eco-friendly toy storage, thanks to our three part strategy and eco-friendly product recommendations.
3 Simple Steps To Clutter-Free, Eco-Friendly Toy Storage
Step 1: Purge ruthlessly!
We know you probably didn't want to hear that, but it's the single most important step in the process of wrangling your children's wobbly blocks and wooden trains. As much as we respect the covert get-rid-of-them-while-your-kids-are-asleep approach, we love Erin Spain's approach in her post
The 20 Toy Rule: How We Decluttered Our Playroom & Simplified Our Life
. She included her kids in the process, allowing them to select 20 toys and (with some exceptions, like Legos) put the rest away in storage bins to be donated. In the future, toys will be held to a one-in-one-out policy, keeping their spic and span playroom maintainable. Another great option is to store some of the gifts right away in
a "Rainy Day Closet,"
like Mix And Match Mama. Your kids can then look forward to dipping into the closet stash on rainy days or sick days throughout the year.
Step 2: Shop smart!
Investing in the right eco-friendly toy storage isn't just good for the environment, it helps cut down on toxic products in our homes as well. Using natural materials and ones with low-VOC and lead-free paint helps to eliminate potential hazards, which is particularly important in the rooms where our children play, crawl and, inevitably, put things in their mouths! Like the toys that go in them, it's best to avoid
PVC and Vinyl-based products
,
plastic
(
even BPA-free plastic may not be a safe alternative
), and those painted with paint that may contain
lead and heavy metals
. Exposure to products containing these components have been linked to a laundry list of health issues, from
respiratory conditions and asthma
, to
infertility
and
neurological side effects
. For more articles and information, check out
our blog
and
toxic chemical glossary
where we break down the downsides to common toxins hidden in our homes. The old toy boxes of yore are no longer your only option thanks to some really beautiful and affordable options made of sustainable materials. The other problem with large toy boxes is they end up being a black hole of toys. By choosing smaller options, like bins and baskets, you're able to better organize the contents and control the chaos! We love bins for things that all "go" together like balls, baby chewy toys and stuffed animals for younger kids, or keeping train sets, vehicles, play kitchen food and work bench tools.
These rope bins
from Land of Nod are made of 100% cotton and
these animal bins
are 100% organic cotton with a variety of adorable friendly little felt critters made from recycled pop bottles! How's that for eco-friendly toy storage? And
wire baskets like these
let you see what's inside them, enticing kids to come play with toys that may waste away in obscurity in the bottom of a toy box. In general, look for organic natural fibers that haven't been treated with chemicals (
like flame retardants
) and, for structured bins, ones that have been painted with safe paints. Choosing American made products is one way to reduce your risk of heavy metals in paint (the Consumer Product Safety Commission holds US products to
certain standards
). Supporting brands who are transparent about their manufacturing and finishing processes is another great way to not just get safe toys and storage for yourself, but to make sure they're available for others as well. A final note on paint: as tempting and beautiful as it can be to upcycle thrift-store and hand-me-down furniture, take care in doing so as older furniture (mainly from early-to-mid 20th century) may have been painted with paint containing lead in the years before 1977
when stronger restrictions
were placed on using lead. Furniture pieces like shelving and wooden bins can be another great way to display and store toys and come in all kinds of attractive styles, like
these stylish gray wooden
ones that incorporate baskets, or
these dreamy Danish-inspired bookcases
that can make the toys and books they display look even more fun to play with.
Step 3: Organize intentionally!
Even at a young age, children understand what "goes together." We love the Montessori method on organizing toys by use or category on shelves and in bins, keeping puzzles with puzzles and play food near the play kitchen. With a smaller collection of toys, it's easier to display them neatly on shelves, making them more enticing for little hands and imaginations. Living Montessori offers guides on
how to set up Montessori spaces at home
for every age group. And, finally, consider storing some of your toys out of sight in a closet or in bins in the garage or basement and rotating them out to freshen up the selection. As an added bonus, these toys will be even easier to donate if no one remembers or misses them while they're in hiding. We hope these three tips to simplify eco-friendly toy storage will help you create a pinterest-worthy oasis at home (or at least a space where Legos don't impale your feet on the daily). And, once you're organized, don't forget to keep your toys sparkling clean without toxic chemicals by using our safe, effective cleaning system, Force of Nature. It's just as effective as bleach yet so safe you can spray it on al those baby toys (& pacifiers!) with no need to rinse. Learn more about the science behind our revolutionary product
here
.