Eco-Friendly Home:
Tips for Throwing an Eco-Friendly Birthday Party Your Kids Will Love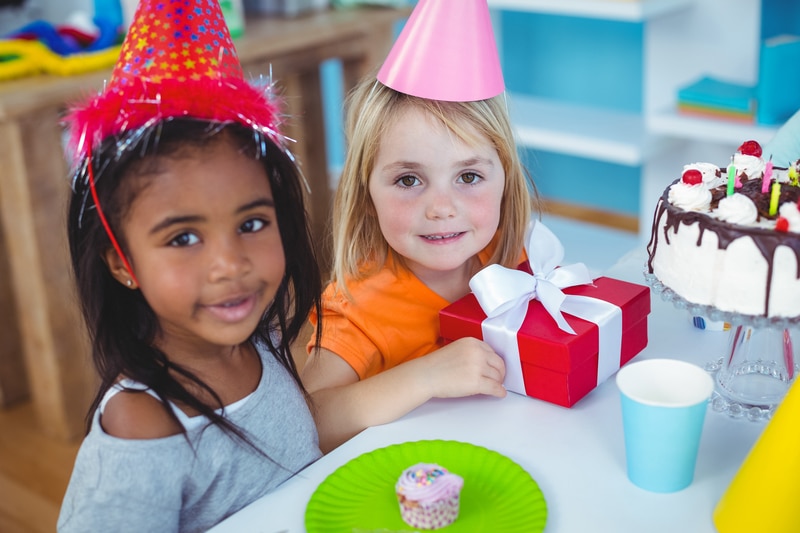 Throwing an eco-friendly birthday party can bring to mind sending invitations studded with wildflower-seeds and having the party in a forest. While that sounds lovely, your child might be more interested in the superhero-themed, sugared up, plastic toy extravaganza he's attended for every one of his classmates. Sadly, between the wrapping paper, disposable dinnerware, streamers and balloons, it's hard to figure out how to make a kid's birthday party a little easier on the environment. Luckily, no matter what your theme colors are, we've got some great tips to make sure your party is a lot greener this year, without making it the theme of the event. If your little one is eco-minded, great! If not, these tips will still help you find a balance to give you both a party you feel great about.
Your Foolproof Eco-Friendly Birthday Party Plan
Step 1: Rethink your go-to party formula.
Why does throwing an eco-friendly birthday party mean rethinking the way you throw birthday parties in general? Considering each aspect of the party and whether or not you really want to do it simplifies the process by removing the need to "green" up every traditional element of a birthday party. Take a few minutes and talk to your child about what they love about other parties they've been to. Chances are they will remember that their friends were there, the cake and (maybe) the location. Individual goody-bags filled with plastic toys made in China? Probably not at the top of their list. Getting down to a simple list of what your child really enjoys will help you make decisions on what to include and what to axe (we'll say it again: goody bags! But, if you can't escape the goody bag pressure, try one of these 10 Environmentally Sound Goody Bag ideas from One Green Planet).
Traditional Party Swaps
Tableware: investing in a set of reusable partyware is one great way to handle this. You can use it, clean it, box it away and bring it out at your next event. This reduces waste and will save you money over purchasing disposable dinnerware over and over. For bigger kids, these $0.99 tempered glass options are a steal and these modern Frank plates are attractive enough for grown up attendees as well, and have a great lip for those eating while standing!
If you just can't wrap your mind around that clean up, consider using more earth-friendly alternatives like those made from recycled materials or sustainable materials like bamboo. Sound dull? Think again! Check out these adorable options from Susty Party, a company that is committed to making plastic-free (here is just one reason why this is important!), non toxic and biodegradable party supplies. The company offers everything you could need for a festive shindig, from cups and plates to garbage bags and paper towels. Even better, they give back in multiple ways: many of the products are made by the blind and visually impaired and some profits go to causes like supporting female entrepreneurs. For a traditional party look, with fun animals and bright colors, Green Party Goods has developed a collection of party supplies that include biodegradable balloons, decorations and party hats.
Single-serve drinks: Pouches and juice boxes really add up and contribute to the waste from children's events. Try whipping up a big batch of this easy (two-ingredient!) watermelon lemonade and serve it in a big glass dispenser with an old-timey spigot! Kids will love customizing their drink with extra fruit and a fun paper straw. Jam jars and small mason jars make great single-serve cup options for bigger kids and are a great way to reuse jars.
Homemade Decorations: if you're feeling crafty, blogger Jordan Ferney of Oh Happy Day! has the most adorable ideas for party decorations that your birthday boy or girl can help you with. How awesome is this giant balloon number and this simple tutorial for a superhero-themed party? Plus, making your own decorations lets you control what you expose your kids to and, just as importantly, what you don't.
Rethink Gifts
Does your child need another 20 toys? If not, writing "please no gifts" on the invitation instantly removes a huge portion of the waste that comes with birthday parties. This post from Brightly has a bunch of great ideas on non-toy birthday parties, with book-related and arts-and-crafts options for fun activities that all the party guests can get in on. We love the idea of a book swap, where each guest brings a wrapped book and during the party every child gets to open their book and take it home with them! You can also ask guests to consider an optional donation to an organization your child selects, such as the great charity and donation ideas in this blog post from Really Are You Serious.
All that said, don't feel you need to provide another option; simply saying no gifts is fine! In this case, here are some ways to word your invitations.
Party Alternatives
Does your child really want a party? It may be that they're just doing it because everyone else does. Some kids would love to do something special with their family or have an experience with a few close friends instead of the big traditional party.
Look into behind-the-scenes options at a location they already love. Many zoos have behind-the-scenes tours where kids can see the animals up close and sometimes feed or pet them. Aquariums often offer exciting extras like scuba diving experiences and whale-spotting tours. When you add up the cost of a birthday party, these types of experience can even be more affordable and (best of all!) they give back to an organization you're already passionate about supporting.
Remember what's important.
Making a birthday party special is mostly about making the birthday boy or girl feel special themselves! Customizing the experience to their personality will help you decide what to include and how best to make the event a green one! And, as always, when it's time to clean up from your eco-friendly birthday party, we're here to help you do so without toxic chemicals by using our safe, effective cleaning system. Learn more about Force of Nature and the science behind our revolutionary product here.