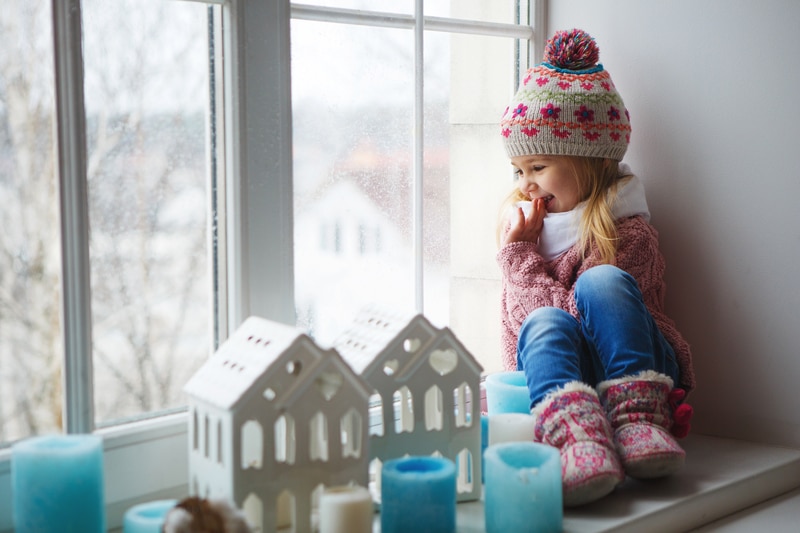 Okay, so the holidays are over and the days are still short, dark and freezing (for a lot of us at least). While it may be easy to look forward to other seasons, there's some pretty great stuff about winter! Here are 5 eco-friendly winter activities to help your family love this season so much that you'll miss it when it's gone. Maybe.
Learn to Love The Season With These Eco-Friendly Winter Activities
Invite Nature In
While we know that being outside is a great way to
improve our physical
and
mental health
, winter might not be the first (or even third) season that comes to mind when you think about spending time in the great outdoors. One way to keep enjoying nature throughout the winter months is to bring the outside in! Indoor plants are
natural air purifiers
, and can even
make us happier!
You may not know that it is possible to grow plants outdoors in the winter months – you can even
grow vegetables outdoors!
(Not that we're suggesting that you do!) Growing a simple indoor herb garden helps you keep fresh herbs and leafy vegetables on hand to incorporate into your meals, and it can be one of the most rewarding eco-friendly winter activities for your kiddos. This round up of
15 amazing indoor herb gardens
will make you excited to start a vertical box planter or hanging garden of your own. And, while you might not want to invite them inside, another fun winter activity is
feeding winter birds
. Make one of these
fun homemade birdseed feeder ideas
with your kids and position them near enough to a window where you can peek out and see your feathered friends come to grab a bite!
Go Full Theme Ahead
This is something we naturally do around the holidays – we read beloved books, make special recipes and spend time together enjoying seasonal activities that we associate with this time of year. You can recreate this feeling by coming up with a simple theme for the week or month and try to incorporate it in a few different ways. For example, a "snow" theme can lend itself to a ton of fun: a trip to the library for
cherished favorites
you may have forgotten, gathering around a mug of hot cocoa with
these fun marshmallow snowmen
on top (extra points if you
make your own marshmallows
!) No snow outside?
Make your own with baking soda
and (for bigger kids) explore the science of the snowy season with these
25 science experiments.
Get Hygge With It
Sorry, we couldn't help it.
The Danish "Hygge"
is derived from the same word as the English "hug," pronounced "hoo-guh," and essentially boils down the cozy contented feeling of enjoying life's simple pleasures down into one, simple word. The Danes are no strangers to long, cold winters and their commitment to all things cozy may be one of the reasons they've topped the chart as the
world's happiest country.
So how do you get more hygge? For starters, put the phone and computer away and get comfortable with getting cozy. Break out the boardgames, light candles, pop your own popcorn, but on a great movie the whole family loves. Even a slushy winter Monday night can be hygge: get a chili going in the crockpot in the morning so you can walk in the door, get right into your comfiest, hygge-iest sweatpants and get right to the snuggly part. Want to know more about hygge? Here are
9 Things To Know About Hygge
.
Get Outside (And Then Back Inside)
Between the weather and all the gear needed to get outside in cold temperatures with kids, winter can be a bit isolating. One great way to shake up your winter routine is to find a second location for your family to hang out that you can spend some serious time at. When's the last time you went bowling? How about roller skating? To a morning movie (or a matinee)? How about your local children's museum (or even a regular-old grown up museum)? These climate controlled oases are brightly lit, full of other human beings, food, shops and remind you that life is still out there. Make a bucket list of winter activities (check out these
Winter Bucket List Ideas
for inspiration!) right in your own backyard. When your brood starts bouncing off the walls, pick one at random and head out for some family fun. And, you can feel good about supporting local businesses in your community through the winter!
Get Away
Even the most winter-hardened New Englander could use a change of scene in the dark days of February and March! Whether you're in the mood for
a family-friendly Vitamin D-filled beach vacation
, or
embracing the wintery world at a ski lodge
, the simple act of planning and anticipating a vacation can
boost your happiness for up to eight weeks!
 Getting your kids in on the planning can help give the entire family a hit of that vacation-anticipation dopamine. Get out the iPad and do some internet research. Watch the videos resorts post and check out YouTube for user-uploaded videos from different locations you're interested in. If a vacation isn't in the budget or time doesn't allow for a long trip,
a well-planned staycation
can be just as much fun! Letting bigger kids do some of the research legwork makes them feel included, but even
littler kids can help brainstorm and research along with you
. Need more guidance? Here are
three ways you can get your kids in on the planning
. Wherever you go, the excitement of planning together can make the lead up to the vacation a vacation in and of itself! Whichever winter activities you end up choosing, we're always here to keep the clean up eco-friendly with our nontoxic, family safe cleaning system, Force of Nature. Learn more
here
.