Ingredient Safety:
Disinfecting Levels & Are They All Equal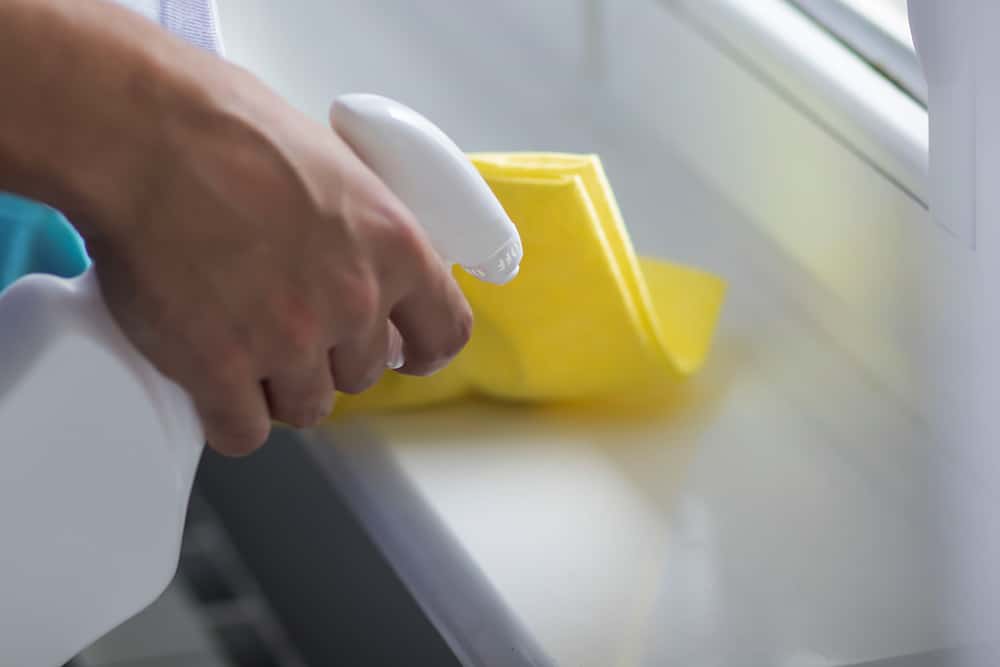 It's safe to say, by this point, we all get the picture that disinfecting is important to protect ourselves from sickness-causing germs! But, with so many products to choose from, with differing levels of efficacy, and stressful disinfectant shortages, how do you know what to use? And, with increasing concern about the safety of the ingredients in disinfectants, particularly at the higher quantities we're using during the pandemic, how do you know what's safe to use around your family? Here are the top things to keep in mind when choosing a disinfectant for your home.
How To Pick The Best (And Safest!) Disinfectant For Your Home
1. It Has A 99.9% Effective Claim On The Label
So here's the deal about disinfecting (versus cleaning and sanitizing): the term disinfectant is regulated by the Environmental Protection Agency (EPA). This means it has to undergo very specific testing in which it demonstrates that it effectively kills 99.9% of the germs, viruses, and bacteria that it claims to on the label. The EPA won't allow a manufacturer to make efficacy claims unless they have independently reviewed the data to support the claim and approved it. But, remember, just because they are regulating the disinfectant's ability to kill germs, viruses, and bacteria, they are not confirming that the disinfecting ingredients are safe to come into contact with your skin, eyes, or respiratory system.
2. The Label Says It Kills The Germs You Are Trying To Kill
So, now that you know it's an EPA-registered disinfectant, does it list the germs you want to kill? Not every disinfectant kills the same germs or has been tested on the same germs, so it's important to read the label and ensure the product you are using is designed for the bugs you're trying to protect your family from. The EPA tests disinfectants to ensure they kill the specific germs that they claim they do on their labels. Because of this, you can't use all disinfectants to kill all germs. For example, Force of Nature is an EPA registered disinfectant that kills 99.9% of germs, including Norovirus, Salmonella, Influenza A, Staph, MRSA & Listeria. It's also EPA registered for disinfecting hospitals, ICUs, emergency rooms, medical equipment, schools, daycares, and more.
3. It's On The EPA's List N
If COVID-19 is your main concern, as it is for most of us right now, you'll want to select a disinfect that's included on List N. This is the EPA's list of disinfectants that have been tested and approved for use to kill SARS-CoV-2, the novel coronavirus that causes the COVID-19 illness. These products are approved for use on hard surfaces, so you can use them in your home to disinfect high-touch areas, like those in kitchens and bathrooms. You can also search for your products here to see if they meet the EPA's criteria for use against SARS-CoV-2. Force of Nature is on the EPA's List N, the disinfectants approved for use against SARS-CoV-2, the cause of COVID-19.
4. It Does Not Contain Hazardous, Toxic Ingredients
Cleaning products are poorly regulated and manufacturers don't need to prove their cleaning products are safe for consumers to use. It's important to learn more about the chemicals in your cleaning products and avoid the most dangerous ones. The label of your product will contain important instructions for use, including wearing protective gear like gloves and masks, ensuring ventilation, and safety instructions if you do come into contact with the chemicals.
One of the things we love most about our product, Force of Nature, is that you do not have to wear protective gear or take precautions like rinsing surfaces after using our disinfectant, thanks to our superhero active ingredient: hypochlorous acid (HOCl). HOCl is the same substance our own immune systems make to fight infection and has been used in medical applications for decades – right now is beloved by dermatologists to help treat and heal irritated skin and "maskne." Force of Nature is also certified 100% skin-safe and best for sensitive skin by SkinSAFE, Mayo Clinic's allergy rating system. It's also safe to use on virtually any surface in your home and in all kinds of applications for disinfecting, cleaning, treating laundry, and even deodorizing!
5. You Can Make It On-Demand
This one's a bonus because we know how upsetting and stressful it can be to face disinfectant shortages at the store and crazy prices when you're worried about being able to protect your family. Our cleaning system uses tap water, plus a capsule of simple, household ingredients (salt, vinegar, and water) to create our powerful EPA registered disinfectant right on your kitchen countertop. You can also subscribe and save on our capsules, so they'll come right to your home whenever you need them – and before you run out!
We Are Here For You
We know this continues to be a stressful, confusing, and uncertain time, and we are right beside you in your fight to keep your home clean and safe for your family. From our revolutionary cleaning system to providing resources, tips, and how-tos on our blog, on our social media, and in our newsletter, we are dedicated to arming you with the information you need to keep your home disinfected and your family healthy. Learn more about our EPA-registered disinfectant, Force of Nature, and how it can help you disinfect your home effectively.