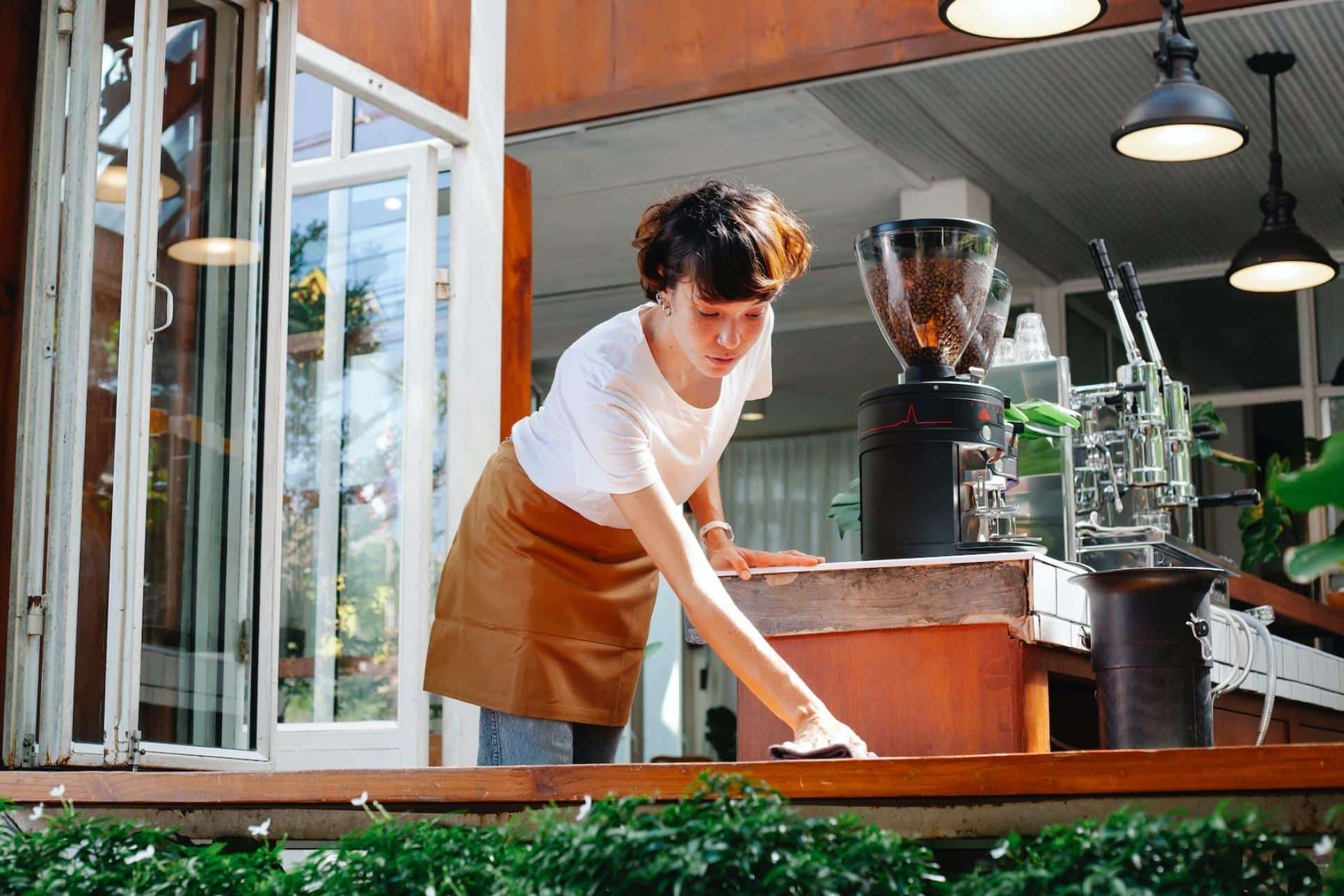 Thanks to the COVID-19 pandemic, we've become much more aware of how viruses on surfaces can put our clients and staff members at risk. In an attempt to keep sickness-causing germs at bay, we can rack up a laundry list of single-use cleaners for the various surfaces and uses in our facilities- many of which have some nasty chemicals and can be as dangerous to our health as smoking
a pack of cigarettes a day
! Luckily,
Force of Nature
offers an all-in-1 cleaning, deodorizing, and EPA-registered disinfecting and sanitizing solution that can be used on virtually every surface in your facility. Our convenient, on-demand cleaning system and subscribe-and-save program mean you'll never have to worry about disinfectant shortages or supply chain issues again. Best of all, our formula harnesses the power of hypochlorous acid (HOCl) to provide an effective, but gentle, cleaning solution that you can feel good about using around your clients and team members. Here's what you need to know about using Force of Nature in your facility, from bathrooms to floors and everywhere in between.
A Note About Cleaning Chemical Safety
Because of gaps in regulation in the cleaning industry, many products contain harmful, toxic chemicals that
are directly linked to serious health problems like asthma, cancer, and hormonal disruption
. This is particularly concerning for your team members, who have daily exposure to the chemicals you use in your facility and particularly because of our increased disinfectant and cleaning product usage during the pandemic. The scientific community is now considering exposure to these products
an important public health concern
.
How Our All-in-1 Multi-Purpose Cleaner, Deodorizer, Sanitizer & Disinfectant Can Tackle All Your Business Cleaning Needs
1. Bathrooms and Locker Rooms
Whether your facility has a single restroom or a large restroom and locker area for clients and staff, bathrooms are a high priority for cleaning and disinfecting. Here's how to use Force of Nature to keep sickness-causing germs, viruses, and bacteria away from your valued team members and clients. Use Force of Nature to:
Clean, Sanitize, and Disinfect all your Bathroom Surfaces including

Toilets
Showers
Sinks
Paper towel dispensers
Soap dispensers
Cabinet and drawer handles or latches
Door handles, knobs, and locks
Tile, grout, and ceramic surfaces

Make Glass and Mirrored Surfaces Sparkle

While many glass cleaners contain toxic chemicals like ammonia and alcohol, Force of Nature contains no toxic chemicals like ammonia and alcohol, so you can use our solution without gloves, eye protection, or a mask. We recommend spraying, then wiping until the surface is 100% dry with a soft cloth or paper towel.
2. Clean and Disinfect Your Flooring and Floor Coverings
Hard Floor Surfaces Many floor cleaners can be harsh and even damage your flooring material. Force of Nature is gentle to use on sealed stone and can be used on a broad variety of flooring materials including:

Granite
Marble
Quartz
Unfinished and finished hardwood
Laminate
Stainless steel
Porcelain
Plastic
Concrete
Acrylic
Fiberglass
Rubber
All kinds of businesses rely on Force of Nature for their floor cleaning and disinfecting needs from bathrooms to kitchens to exam rooms and waiting areas. For small spaces or a quick cleanup, Force of Nature can be used in the canister of a refillable spray mop.
Cleaning and Stain-Treating Carpet and Upholstery

Traditional carpet and upholstery treatments, like Resolve, can contain harmful, toxic ingredients. For these surfaces, Force of Nature is an effective stain-treatment, carpet cleaner, and even deodorizer. As with any stain treatment or fabric cleaner, always test an inconspicuous spot first to ensure the dyes used are truly colorfast, and wait until the tested area is dry before proceeding.
3. Disinfect Equipment and Surfaces
 Medical, Spa, Aesthetic, or Treatment Room Equipment

Your equipment is an investment in your business and your disinfectant should not degrade or damage it! Force of Nature won't corrode your valuable equipment and can be used to clean and disinfect:

Exam and treatment tables
Lighting
Trays
Countertops
Door handles
Drawers and cabinet latches and pulls
Chairs and stools
Much more!

Technology

Computers, keyboards, and tablets can all be cleaned and disinfected between uses with Force of Nature. Power the devices down first and wipe them with a clean dry cloth or paper towel that has been sprayed with Force of Nature – never spray any liquid directly on an electronic device.

Dining, Kitchen, and Other Food Preparation Areas

Cross-contamination and the spread of sickness causing bacteria and germs are common in food preparation and eating areas. Force of Nature can be used to replace virtually every kitchen-specific product from stainless steel appliance cleaners to countertop cleaners and all-purpose sprays. One of the reasons Force of Nature is a great choice for these areas is because it does not leave harmful residues behind. Go ahead and use Force of Nature on:

Microwaves
Countertops
Refrigerators
Appliances
Sinks and faucets
Cabinet and drawer pulls
Dining tables and chairs
Kitchen flooring
Much more!
Reminder: The Top Ingredients To Avoid For Safer Disinfecting
Because
companies don't have to prove the chemicals they are using are safe
before putting them into products, disinfectants and cleaning products can pose serious risks to the health of your employees and clients. Here are some of the most caustic ingredients to avoid when selecting a product for your business.
The All In One Cleaning, Disinfecting, Sanitizing & Deodorizing Choice
We're proud to offer business owners a true win-win with Force of Nature. With our powerful, EPA-registered disinfectant, multi-surface cleaner and deodorizer, you can take comfort that you are effectively disinfecting and cleaning your facility without putting your clients and team members at risk from conventional cleaning chemicals. To make it even more convenient for large organizations and high traffic spaces, we've created our larger capacity system:
Force of Nature Pro.
 This revolutionary appliance uses electricity to create an all-in-one cleaner, deodorizer, and EPA registered sanitizer & disinfectant that is on
List N
, the EPA's list of disinfectants approved for use against COVID-19. Our Force of Nature Pro Electrolyzer Appliance uses a proprietary mesh coating containing rare earth metals to catalyze the conversion of tap water, salt, and vinegar into a powerful does-it-all cleaner and pathogen-killer and makes 32 or 64 oz of our formula. It has an electronic control system that senses and automatically adapts to accommodate differences in water chemistry and temperature to ensure that every batch meets the EPA's stringent
99.9% germ-kill
requirements. If you're purchasing for a large business or organization, we can customize pricing, assortment and training for you! Just click 
here
 to get started.