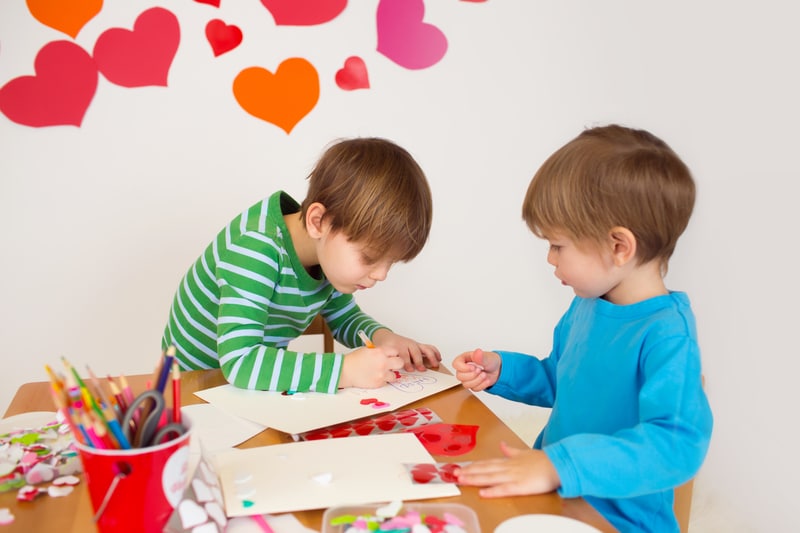 Love it or hate it, Valentine's Day comes every year. At best, it's a little on the cheesy side, at worst it's just a reason to buy overpriced stuffed animals and candy that are quickly forgotten. Still, we're hopeless romantics at heart, and we believe that we can make Valentine's Day fun and non-toxic! Plus, if you needed another reason, celebrating minor holidays can actually
boost your happiness
! So, this year, we're thinking outside the candy box to give you these five ideas for a non-toxic Valentine's Day that everyone in the family will love.
5 Ideas for family-friendly & non-toxic Valentine's Day
Wear Your Heart On Your (Chef's) Sleeve
Why should candy have all the fun? Bring the spirit of Valentine's Day to any meal (you know, the stuff you eat before the chocolate!)
with these ideas for heart-shaped pancakes, grilled cheese and many, many more!
Even boring, nutritious fruits and veggies can get in on the action with the little help from a heart-shaped cookie cutter.
Thumbs Up For This Adorable Activity
While construction paper hearts and store-bought Valentines are fun,
these thumbprint hearts
really stole our….well, you know. These non-toxic Valentine's Day ornaments are a timeless, beautiful keepsake of your favorite people's tiny hands and they can make a second appearance each year on the Christmas tree. Best of all, you can make them with your kids using
a simple baking soda
or
salt dough
. It'll spark a tradition you will want to keep up every year.
Bake Your Heart Out
Cooking and baking together isn't just a fun activity that kids love to help with, it's also good for them! Including kids in the kitchen can help lead to
lifelong habits of healthier eating
and it's a fun way to bond and spend time together. Baking is especially great, because it's mostly measuring and pouring (no knives necessary), the cook time gives you time to clean up, and afterwards you get to decorate.
This heart-shaped cake
would be so much fun to make with your little ones and it is much easier than you would think! Imagine the pride on your kids' faces when they unveil this beauty after dinner on Valentine's Day. Bonus: all that from-scratch baking definitely earns you take-out for dinner!
Non-Candy Valentines
You knew we were going to sneak this in somewhere! You might break the heart of the high fructose corn syrup industry, but you can still keep everyone else happy with these amazing non-toxic Valentine's Day round ups. From race cars and stamps to seeds and recycled crayons, you'll love these
25 Non-Candy Valentine's Ideas
, these
Eco-Friendly Valentine's Ideas
, and – for your special valentines- these organic,
Non Toxic Gift Ideas
.
Decorate
Pinterest's over the top examples of gifts, decorations and table settings can zap any parent's motivation to decorate for minor holidays. Well, don't let it! Kids are mostly excited by the feeling of celebrating and the novelty of the day. Here are some really simple non-toxic Valentine's Day decorations. This roundup features an
easy paper heart garland
that uses just construction paper, scissors and a stapler! That's our kind of crafting. Pick up some heart-shaped balloons at the grocery store and hide them in the garage or a spare room overnight.
Pop them on the table in the morning
, add anything pink and red from around your house (like the heart suit cards from a deck of playing cards!), scatter a handful of sequins or glitter on the table and you'll be amazed at how festive your regular old breakfast routine can feel!
Learn to fold a napkin into a heart shape
! Write a secret Valentine message on your kids' bathroom mirror in lipstick or dry erase marker. Scribble some hearts on your walkway or driveway with sidewalk chalk. Remember, Valentine's Day is about showing your love. Your kids will enjoy any little detail you manage to create for them. Don't overthink it and just have fun!  And for any spills and messes that come up while you're cooking and crafting, we're here to help you make Valentine's Day (and every day!) safer with our non-toxic, family-friendly cleaning system,
Force of Nature
. Simple household ingredients turn into a powerful cleaner, because…science! Learn more
here
.